Navajo grandmother and well-known artist inspires OHIO grad student
Published: November 10, 2020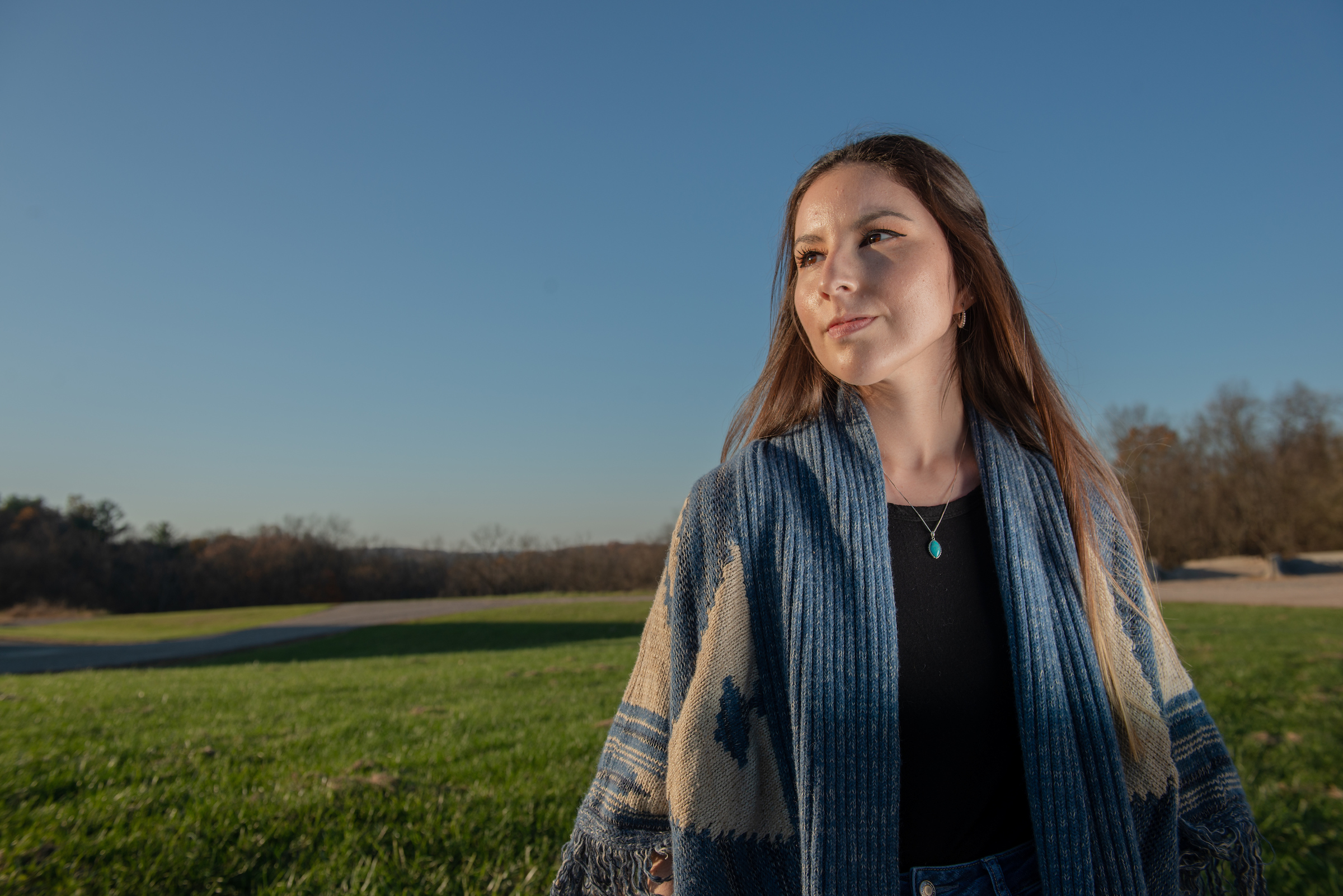 Julia de Sa
One OHIO graduate student is using her journalism studies to advocate for Native Americans and discuss the issues they still face today. Sarah Liese (Navajo and The Turtle Mountain Band of Chippewa Indians), who's working towards her master's in journalism, believes it's important to raise awareness and to amplify voices that get left out of the media.
Before Liese started at OHIO, she received a fellowship with the Native American Journalists Association student newsroom, where she had the opportunity to be mentored by OHIO's Dr. Victoria LaPoe (Cherokee) and learn about Indigenous publications such as the "Navajo Times" and "Indian Country Today." She now continues her work with LaPoe as a research assistant at OHIO, researching media coverage of Indigenous people.  
"Accurate and dimensional inclusiveness of Indigenous voices is essential to a well-functioning world," Dr. LaPoe explained. "Indigenous people are not one monolithic group. The media needs to accurately seek and connect with sources throughout the hundreds of tribes that make up millions of Indigenous voices. Not connecting and including those voices, silences them and can lead to unfair policies that directly impact peoples' lives, and misrepresenting people as 'in the past' or caricatures erases humanity. If you erase humanity you erase rights, directly harming current and future generations, while invalidating an accurate depiction of history." 
For Liese, heritage month is every month. When asked about what she thinks about this November, which is National Native American Heritage Month, it continues to be about her family.
Liese's grandmother Mary Morez was born on the Navajo Nation in 1946. After being stricken with polio, Morez was later adopted into an all-white family. She went on to study art in college and, while she was there, she met her husband, a man from North Dakota's Turtle Mountain Band of Chippewa Indians.  
"Since my grandmother was a famous Navajo painter, I grew up with her paintings around the house," Liese said. "She depicted a lot of important things to the Navajo culture in her paintings. I always knew that it was an important part of my culture, but not being raised on a reservation and not getting to interact with Native kids made it harder for me to learn more and to identify that I am Native American."
Growing up, Liese said her mother always tried to instill a sense of pride in her for her Native American heritage. 
"When I think of my grandmother, who played a really big part in my life, she makes me proud to be a Native American because of all the struggles that she's had, and breaking past these things that defied against her," Liese explained. "She was resilient, she was strong and brave, and she went after what she wanted. And when I think of Native Americans, I think of their resilience and how strong they are." 
Liese remembers a time when she visited her cousins on the Navajo Nation, and her cousin said a prayer and killed a sheep to eat. She specifically remembers how they used every part of the sheep, nothing going to waste. 
Remarking at the resourcefulness of the Indigenous people, Liese recalls a Navajo prayer, "Walk in Beauty," that describes the philosophy behind the culture. It's the idea of respecting nature, acknowledging the beauty, harmony and balance in everything and to be connected to the Earth, to nurture it and avoid being wasteful. 
Liese believes there are many lessons for the United States to take away from the concepts of Native culture. She also said the country's history with Indigenous people needs to be recognized. 
"The way we talk or write about history can evolve and interpretations can change," she noted.  "As a kid, you're taught that Columbus was a hero and as children, we just kind of accept it. Now, we're questioning that and shifting the narrative. He wasn't the guy you think he was. He did these terrible things to Native Americans. It's important to take back the narrative and to shed light on the truth."