Ohio University celebrates the life and immeasurable legacy of alumnus Ray Fogg Sr.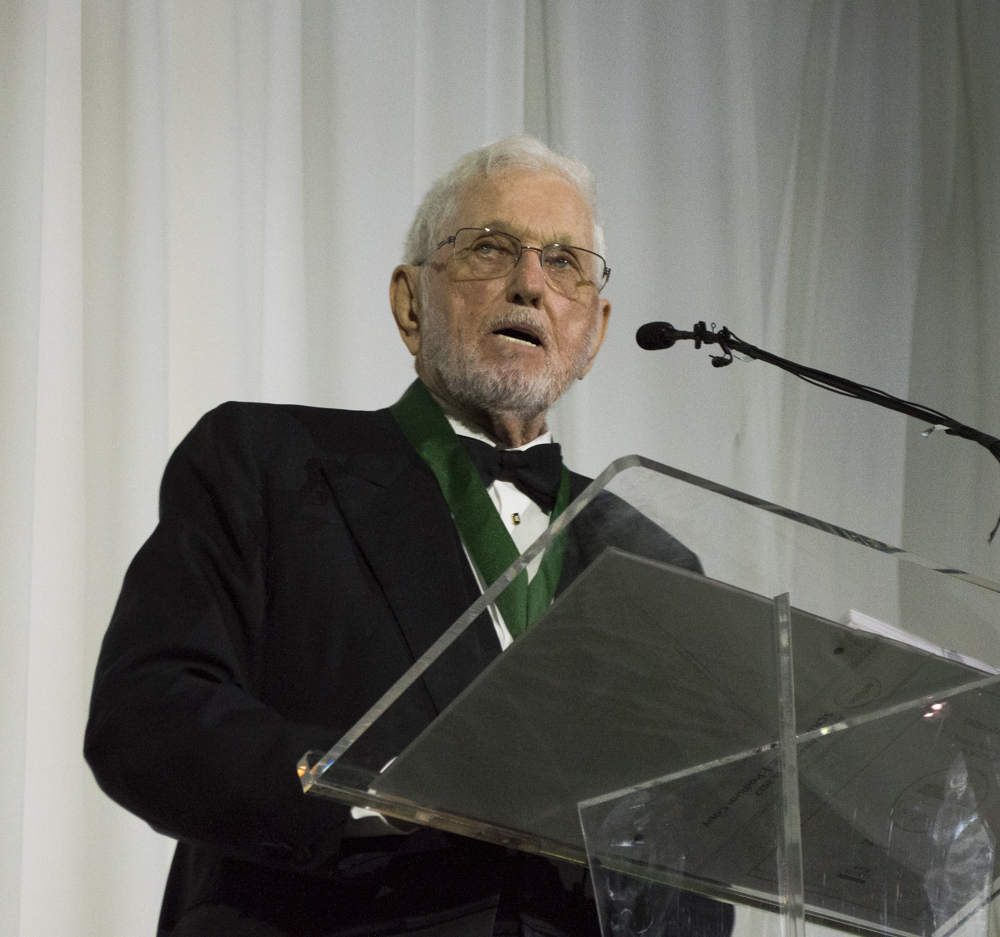 Ohio University mourns the profound loss of Raymon B. Fogg Sr., BSCE '53, HON '14, whose innate entrepreneurial mind, humanitarian heart, and lifelong commitment to service exemplified the Bobcat spirit and were an inspiration to the entire OHIO community.
After graduating from high school in Conneaut, Ohio, Fogg drove a friend to Athens and "just stayed." A member of the Air Force ROTC, he served as president of the OHIO Chapter and the Ohio Student Council of the Ohio Society of Professional Engineers before graduating with his civil engineering degree in 1953.
He founded Ray Fogg Building Methods, Inc., an engineering, contracting and development firm in Cleveland in 1959. Over six decades, the company has constructed more than 3,700 buildings in northeast Ohio including commercial, industrial, office and recreational properties, plus the development of multiple industrial parks.
A dedicated alumnus, Fogg was a trustee emeritus of The Ohio University Foundation Board, always graciously generous with his time, talent and treasure to ensure OHIO continues to provide the transformative educational experience he was proud to have received.
"Ray Fogg was truly one-of-a-kind, and I send my deepest condolences to his family, friends, and all those the world over who will feel this loss," Ohio University President Hugh Sherman said. "Ray's decades of unwavering support for OHIO have made a remarkable contribution to the excellent academic experience our students receive, especially within the Department of Civil Engineering."
Fogg received the Ohio University Alumni Association's Medal of Merit in 1997 and the Alumnus of the Year Award in 2017. He was also inducted into the Russ College of Engineering and Technology's Academy of Distinguished Gradates in 2000.
"Ray was a dear friend of the Russ College and Ohio University," Russ College Dean Mei Wei said. "He was extremely passionate about undergraduate education and an extraordinary example of an engineer who created for good. It is a sad day for the College."
It was in the Russ College where Fogg focused much of his time and counsel, having served on the Russ College Board of Visitors and the Department of Civil Engineering's Advisory Board.
"Many will rightly remember Ray for his professional accomplishments, his extensive humanitarian work, and his service and philanthropy in support of Ohio University and the Russ College. But for me, he was equally a great friend," Russ College Dean Emeritus Dennis Irwin said. "I could never have predicted when I met him over 20 years ago that he would become such an important part of my life. He was a gracious host, a caring and attentive confidant, and a true intellectual."
Fogg's service-driven character drove him to contribute well beyond OHIO, into his local professional communities where he engaged with organizations and volunteer boards such as the Greater Cleveland Growth Association, the National Benevolent Association, the Cleveland Inter Church Council, and many more too numerous to mention.
A natural humanitarian, he was inspired by the devastation caused by Hurricane Fifi in 1974 to fly his own aircraft to Honduras to deliver food. Assessing the scale of the damage, he stayed to teach the locals how to rebuild their village. After the 1976 earthquake in Guatemala, he and a volunteer work force he had trained in Honduras taught Guatemalans how to build 35,000 new homes.
"Ray always had an incredible confidence that he could help no matter what the disaster or where it was. Whether an earthquake in Central America or a drought in Africa, with little more than a suitcase and his intellect he would jump in his plane and go make an incredible difference in so many lives, solving dozens of problems in the remote parts of the world not with might and machinery, but with cleverness and ingenuity," said Dick Dickerson, BSCE '80, an Ohio University Foundation Board trustee and current chair of the Russ College Board of Visitors. "I'm sure part of it came from his father, who was a brilliant engineer, but part I'm sure came from his engineering education at Ohio University. He was proud of his university, and he worked hard to make it even better."
Fogg also served on the College's Advisory Board for the Construction Engineering Management Program, the development of which he encouraged, guided and championed.
"As a humanitarian, wine connoisseur, aviator and civil engineer, Ray Fogg has been an inspirational alumnus of the Russ College and the Civil Engineering Department," said Russ College Associate Dean for Academics and former Civil Engineering Chair Deb McAvoy. "It was his combined passion in civil engineering and the reconstruction of cities devastated by disasters that led to his founding the Construction Engineering Management Program within the Civil Engineering Department and more recently the Construction Management and Business Lecture Series. We truly believe Ray's legacy will be witnessed for decades as our graduates continue his work by creating for good in the world."
Fogg's selfless commitment of his time to advance the Russ College was mirrored in his philanthropic giving, which he generously directed to numerous areas of the University, leaving a legacy of impact that will surely be felt for generations.
He not only maintained a remarkable capacity to give of his own resources but often went further, actively inspiring those around him to share in his passion for philanthropy, as demonstrated by his effort to establish the Ray Fogg, Sr., Construction Management and Business Lecture Series, which was recently endowed through the generosity of fellow alumni.
According to Irwin, one of Fogg's many remarkable qualities was his commitment to using his skill and intellect to help his fellow man, whether on a global scale, aiding in international disaster relief, or on an individual level, readily sharing his wise advice with whomever needed to hear it, often over a glass of wine but always with his trademark smile.
"It would take a book to describe the impact he has had on me personally and professionally," he added. "A great friend to many, and definitely to me, has passed from this earth. I will miss him deeply for as long as I live."
Arrangements are planned for June 28 and 29 in Independence, Ohio. Full details and an obituary are available online.