From Bobcat to Ben-Gal: OHIO alumna combines career and cheer following graduation
Published: March 16, 2022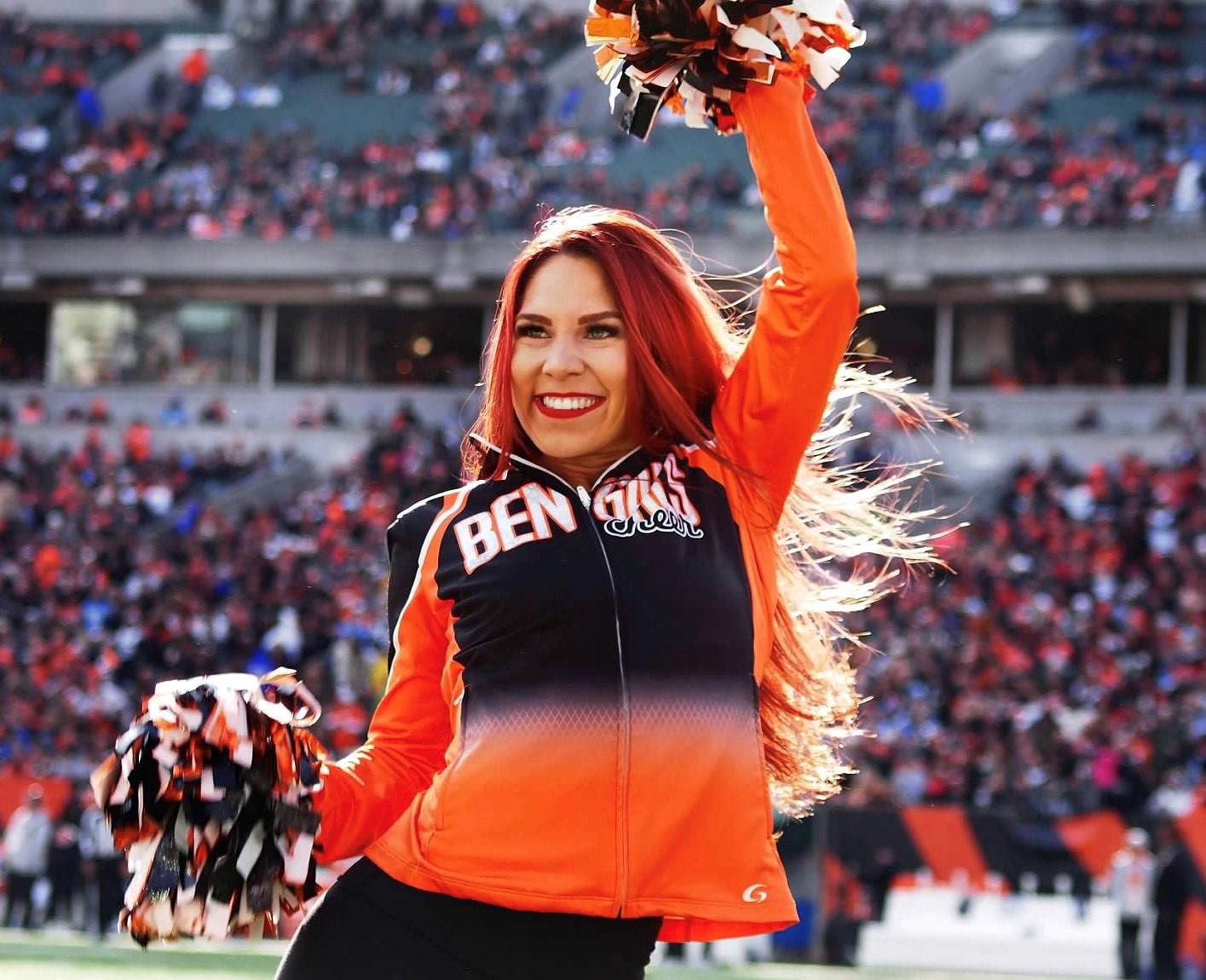 Steve Francis
Joe Burrow wasn't the only one with ties to Athens, Ohio, to make the Super Bowl LVI in Los Angeles. Ashley Martinez, an OHIO alumna and former Bobcat cheerleader, completed what turned out to be a magical rookie season as a member of the Cincinnati "Ben-Gals" cheerleading squad.
Martinez graduated from OHIO in 2013 with a degree in applied nutrition. Following graduation, she went on to become a registered dietitian nutritionist and moved to Cincinnati to continue working for the Kroger Company, where she began her career as a bagger at the age of 14.
However, after some time in Cincinnati, Martinez couldn't shake the feeling that her cheering days weren't behind her.
"When I moved to Cincinnati in 2016, I just felt so deeply in my heart that I was not done with cheerleading," Martinez said. "My last year at Ohio University, I actually had to quit cheerleading, and quitting a sport I loved so much was heartbreaking."
In her four years with Ohio University's cheer team, Martinez got to watch the Bobcats pull off a March Madness upset and win their first bowl game in football; however, nothing could prepare her for her first season with the Bengals. 
Previously, she considered several options, including adult cheer teams around the city, and the Cincinnati Bengals cheer squad wasn't something initially on her radar – then, the COVID-19 pandemic struck.
"NFL cheerleading is a very different style than collegiate cheer," Martinez said. "At the time, I didn't see myself doing that because I didn't have the technical skills. But, when COVID hit, we were in quarantine and there was nothing to do."
It was during quarantine that Martinez came across an Instagram post advertising tryouts for the team, and this newfound free time enabled her to learn a different style of cheer. Martinez said the primary requirement to join the Ben-Gals was the ability to do a double turn, a maneuver that she would spend the next six months learning and perfecting.
"At that time, a former member of the Ben-Gals posted about virtual dance classes with Elly Shepley, a former NFL cheerleader for the New York Jets. I reached out to her through Instagram, signed up for privates, and she became my virtual coach," Martinez said.
Martinez went on to make the final round of virtual tryouts; however, the process was postponed due to the pandemic. Luckily, she was given an automatic bid to the final round the following year. She got right back to work training weekly in her one-bedroom apartment, and in parking garages, with Shepley for over a year.
"I transformed from where I started," Martinez said. "When tryouts came around this season, I was like, I'm ready; this is the opportunity of a lifetime; this is what I've been praying about, and I've got to make this happen. So, I made the team, and it was one of the biggest accomplishments of my life."
Although such dedication may seem unattainable to an outsider, Martinez said that the process was built upon the skills and passion she developed while at OHIO.
While a student at Ohio University, Martinez juggled a challenging program, working at Kroger and WellWorks, being a member of the cheer team and playing an active role in the Latino Student Union, one of her most memorable roles during her time in Athens.
"Being a part of the Latino Student Union was so fun," Martinez said. "Having a Hispanic background, it's important to embrace your culture, especially when you move somewhere new, and I found being a part of that group very near and dear to my heart."
Today, Martinez remains just as busy and engaged with her community in Cincinnati. In addition to being an NFL cheerleader and full-time employee for the Kroger Company, Martinez is working on finishing culinary school and serves as a group fitness instructor with System of Strength in Cincinnati.
"I've always said, even during my time at Ohio University, if you absolutely love something, you will make time for it. I have a love for more than one thing, so I make time for all of those things," Martinez said.
In addition to her numerous passions, she credits her community for providing her the support system she needs to make her pursuits a reality.
While the result of Super Bowl LVI wasn't the outcome that most of Athens, or Martinez, were hoping for, she said it's an experience that will be with her forever.
"It was the opportunity of a lifetime. I reflected a lot on my road to the Super Bowl," Martinez said. "Only a small number of people ever get to experience what I did, and I continued to reflect on all the hard work, obstacles, setbacks and that never-give-up mentality that I had to get me to that very moment. It all came full circle."
Martinez has begun her off-season training and plans to re-audition for the Cincinnati Ben-Gals this spring. You can follow her journey on Instagram by following @ashleysapron.