Students explore and discover academic paths at 20th annual Majors Fair
Published: October 7, 2022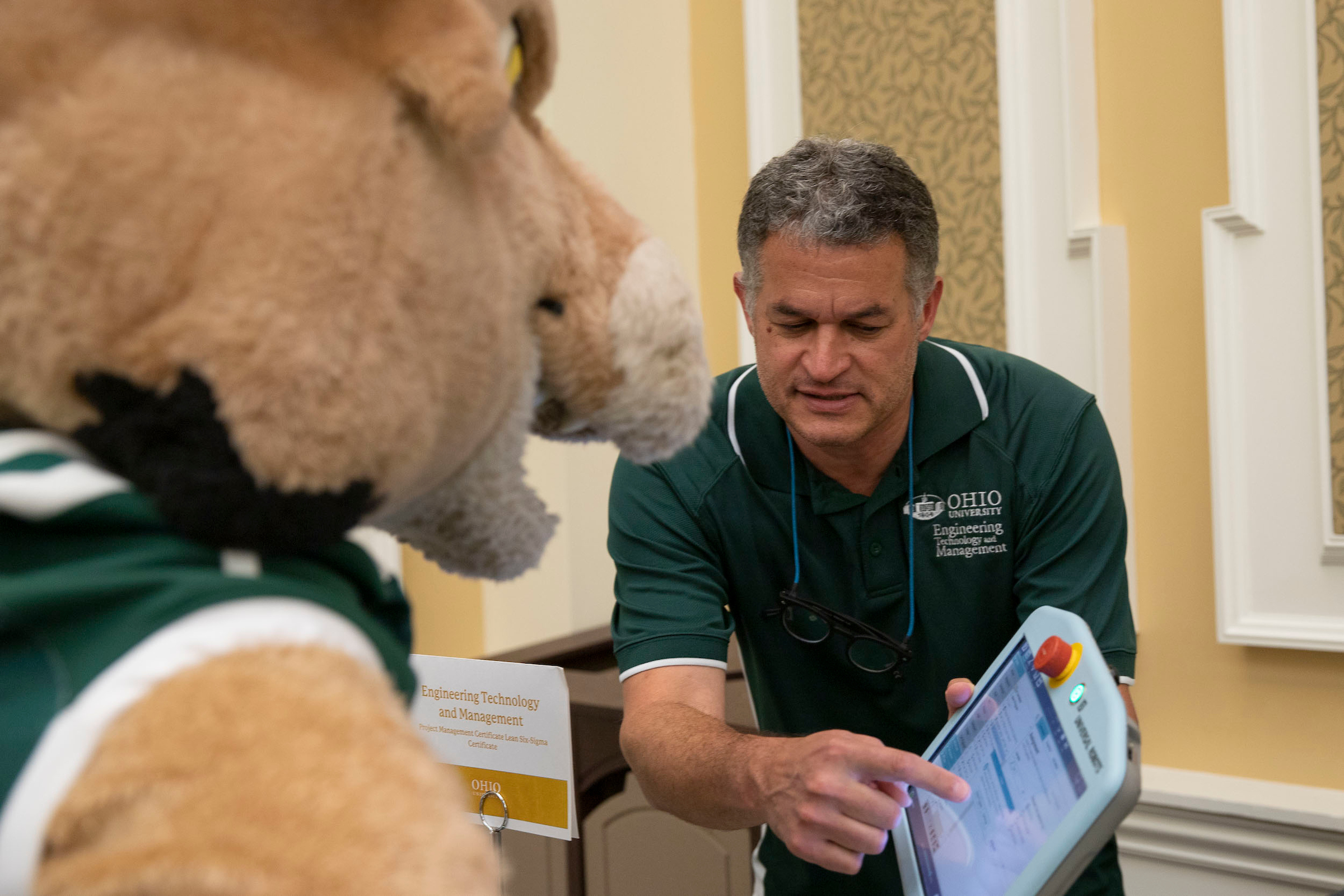 Ohio University students took advantage of the opportunity to explore their OHIO academic options at the annual Majors Fair on Thursday, Sept. 29, in Baker University Center Ballroom. Though the annual Majors Fair went virtual during the height of the COVID-19 pandemic, the annual event marked its 20th anniversary this year.
Faculty and staff representing OHIO's nine academic colleges and its more than 250 majors, as well as minors and certificates, connected with students to answer questions and help them find the right academic pathways for their interests and passions.
Carson Bartholic is a first-year undecided student in University College who attended the fair to learn about OHIO's majors.   
"At the Majors Fair, I was able to discover a program that I would like to pursue for the rest of my college career," he said. Bartholic now plans to pursue a degree in engineering technology and management.
First-year marine, freshwater, and environmental biology major Brenna Davis came to the Majors Fair to explore options for minors and what kinds of jobs are available to students coming out of various majors.
"I learned about several different majors and talked to multiple people outside of my major," Davis said. "I would absolutely recommend going to the Majors Fair, especially if you're an undecided student."
Faculty and advisors who have been participating in the annual Majors Fair since its inception 20 years ago gathered for a moment of celebration at the Fair, hosted by the Center for Advising, Career and Experiential Learning.
Todd Myers, chair and professor of Engineering Technology and Management in the Russ College of Engineering and Technology, has been staffing a table at the Majors Fair since it started 20 years ago. He brought a robot along to help spark conversations and focused on students' career goals and how the academic programs can help them reach those goals.
"It's been a pleasure to come to the Majors Fair every year to talk to students about their goals and aspirations," Myers said.
Associate Professor and Undergraduate Chair of Chemistry Lauren McMills helped plan the very first Majors Fair. She said the event has grown and serves as a one-stop-shop for students to connect with resources and learn more about academic programs without having to traverse campus and set up appointments with multiple offices. McMills reminds students that changing majors is normal.
"Changing your major is so common," McMills said. "Don't be afraid to change your path. There's a community here to support you."
Lori Mardis, associate director of student success for the College of Business also served on the first Majors Fair committee and is glad to help students find their paths at OHIO. She said students can reach beyond their own college or major to enhance their education with majors, minors and certificates from diverse disciplines.
"There are many ways that students can customize their journey at OHIO," Mardis said.
"The Majors Fair has been a vital element of social work outreach," said Associate Professor Warren Galbreath, director of the undergraduate social work program in the College of Health Sciences and Professions. "Often students come to campus wanting to help people but are unaware of the social work major. The Majors Fair is the department's opportunity to make more students aware of the major and the opportunities social work graduates have in the community."
For more information about major exploration contact Allen Advising, or visit the Major Exploration web page.