Happy and Humble: Cece Hooks shatters OHIO and MAC basketball scoring records
Published: February 2, 2022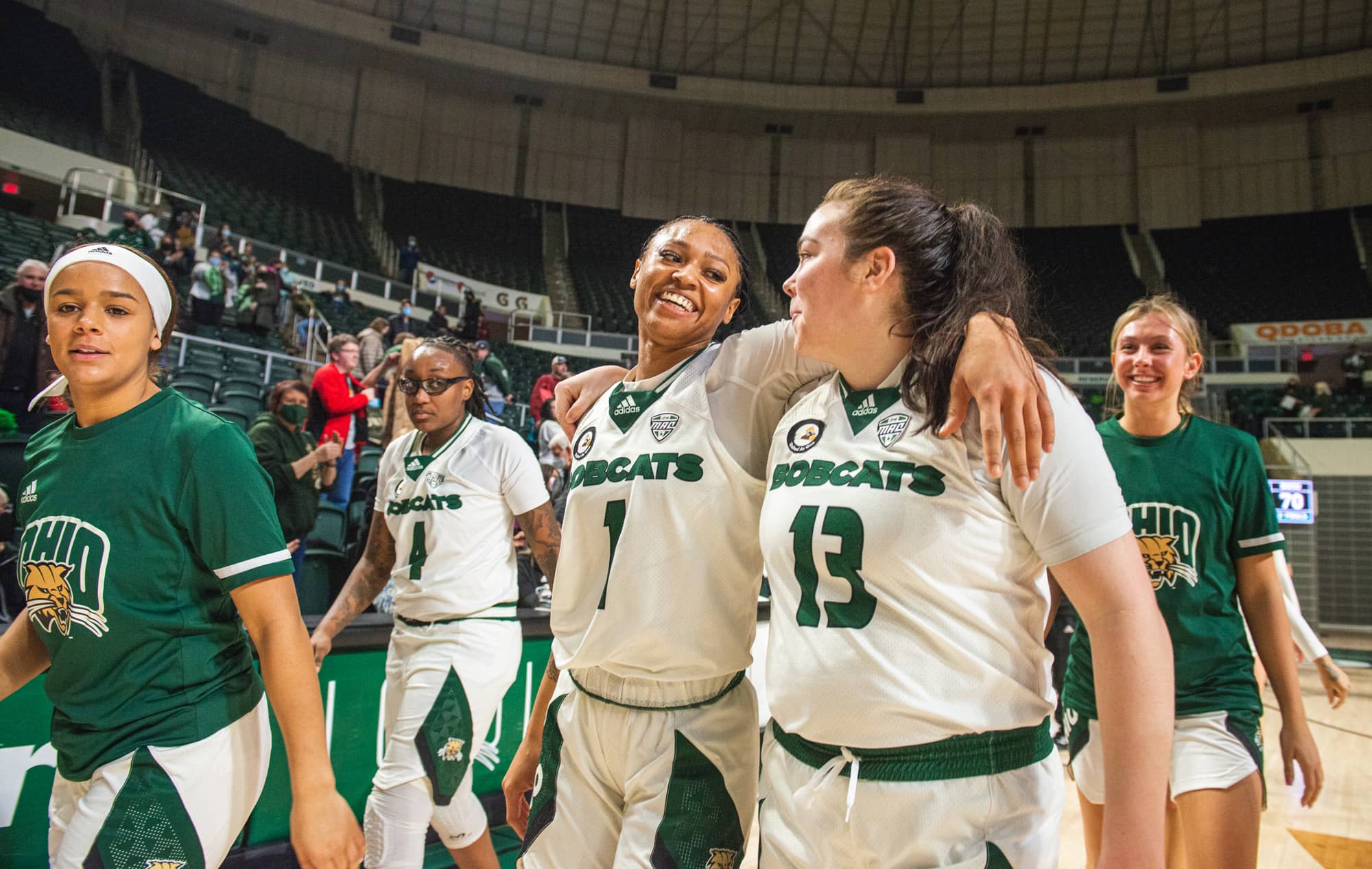 If you ask Cece Hooks' teammates and coaches what they think of her, they will comment on how she's always happy, humble, and has a determination to win.
Oddly enough, Hooks, a fifth-year senior on the OHIO women's team, was not always a fan of basketball. She started playing the game at 9 years old after she followed around her older brother on the court but quit the first team she was placed on because it was an all-boys team.
Yet, her name will go down in history as one of the best players to ever play basketball for Ohio University. Simply put, Cece Hooks breaks records.
Hooks has scored more points than any other men's or women's basketball player in the history of OHIO and the Mid-American Conference (MAC).
The senior point guard broke the OHIO basketball scoring record on Jan. 15 when she led the team with 30 points to defeat MAC opponent Central Michigan in Mount Pleasant, Mich.
Shortly after breaking OHIO's record, Hooks set the all-time scoring record for the MAC two games later on Jan. 22 in another winning effort against Bowling Green, this time in front of a home crowd in the Convocation Center.
Hooks, who grew up in Dayton, Ohio, chose to play for the Bobcats because some of her AAU teammates growing up were coming to play in Athens. She also didn't want to be too far from her mom, brother and sister.
Although Hooks has plenty of triumphs to talk about, the senior point guard is very humble. She's more focused on winning the game than her individual score line.
"How many kids that when they become the school's all-time leading scorer wouldn't take a victory lap around the school so everybody could applaud them? She could care less about that, she really could," OHIO women's basketball head coach Bob Boldon said. "I will never coach someone like her again."
While she'd rather not be in the spotlight, Hooks' happiness is contagious throughout the team.
"She has a joy about life. She loves playing basketball, she's very good at basketball," Boldon said. "But she does want to win, and she wants to have a good relationship with her teammates … That's as important as anything else to her, is her relationship with her teammates."
Fellow senior and teammate Gabby Burris has bonded with Hooks over the years playing together at OHIO.
"It's incredible to play with her and experience her accomplishments with her. It's once in a lifetime and I'll forever remember this time we have together," Burris said.
While breaking the all-time scoring record for OHIO and the MAC is a magnificent feat, Hooks has earned multiple other impressive accolades as well.
She has earned MAC Defensive Player of the Year three times, as well as MAC Player of the Year for the 2020-21 season. She was also named to All-MAC First Team and MAC All-Defensive Team last season. In the 2019-20 season, Hooks had 106 steals, the second-most in OHIO history.
"She's been the school's steals leader for two years. Every game she plays she sets a new steals record," Boldon said.
Hooks was honored as MAC Female Scholar Athlete of the Week on Jan. 26. She is working towards her master's in coaching education, and graduated in spring 2021 from OHIO with her bachelor's degree in integrated healthcare studies.
She's also been recognized as MAC Player of the Week three times so far this season.
Even with all her career accomplishments to date, she's not finished yet.
Initially declaring for the WNBA Draft after last season, Hooks decided to instead play another year with her team. She has one last goal to accomplish: win the MAC Championship.
"Coach Bob played a big part in my decision on coming back. There were things that I felt like I could get better in that he also thought that I could get better in," Hooks said. "And just being here for four years and not being able to win a MAC Championship, I think was a big accomplishment that we wanted to accomplish together."
Regardless of how the season ends, Cece Hooks is a name that has been etched into Ohio University and MAC basketball record books and history – forever.
Click on the photos below to view the captions.
"It's not the stereotype we think of with athletes: 'It's all about me, and how great I am, and everybody come applaud me.' She's the exact opposite of that." Hooks prefers not to have the spotlight on her, but her tremendous play on the court shines bright.
"She wants to like her teammates, and she wants her teammates to like her…" Hooks values her relationship with teammates, as seen here with fellow seniors Gabby Burris and Hunter Rogan smiling and laughing alongside her in Jan. 2021.
"She's happy. She has a joy about life. She loves playing basketball." Hooks has had a lot to smile about the last few weeks, setting multiple records for field goals made and points scored, both for OHIO and the MAC.
"Coach Bob played a big part in my decision on coming back." Ohio Women's Basketball head coach Bob Boldon (pictured left) played a crucial role in Hooks' decision to stay and play a fifth year in Athens.
"I will never coach someone like her again." Hooks has left a legacy of high-quality character and competition in Athens.
"It's kind of weird because I don't really celebrate a lot of stuff that I accomplish on the court. I guess I should just start celebrating that a little more, but I just want to win." Hooks broke the all-time MAC scoring record during a game vs. Bowling Green at the Convocation Center on Jan. 22, 2022.
"Her ability to score is just astonishing." Hooks set the all-time scoring record for Ohio Basketball on Jan. 15, surpassing Caroline Mast (pictured right) and her previous mark of 2,449.
"Everybody looks up to her as a leader." Hooks is surrounded by teammates after a win vs. Bowling Green on Jan. 22, 2022.