Authors and influencers: Scripps professors 'wrote the book' (literally)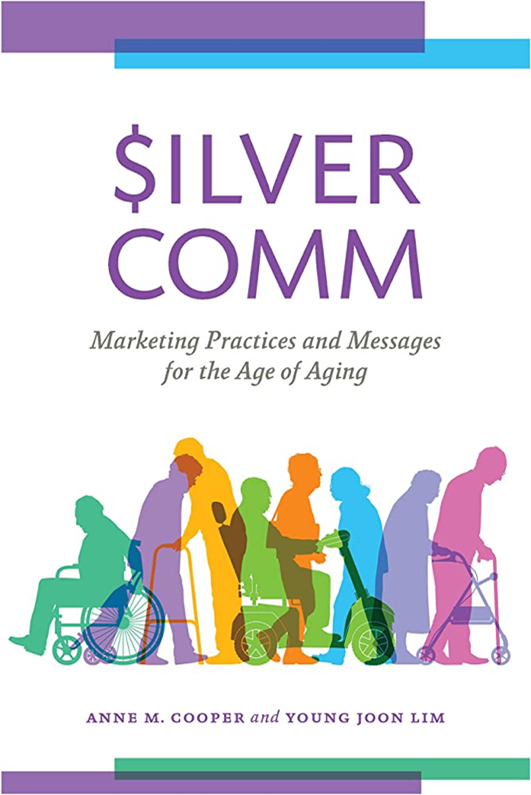 At dinner with a friend in Athens, Professor Emerita Anne M. Cooper was stumped by a question: "How are we going to deal with an aging population?"
Soon after, Cooper wrote a book about that important subject. Older Americans, wrote Cooper, control 70 percent of disposable income. Young people should consider communication jobs in the senior sector, and communicators should figure out how to advertise/reach Boomers who don't consider themselves as "old."
The Scripps College of Communication faculty is made up of a deep bench of authors and experts who share their knowledge beyond the classroom. Cooper's book, published in 2023 with co-author Young Joon Lim (Scripps Ph.D., 2013) of University of Texas Rio Grande Valley, is an auxiliary textbook for undergraduate and graduate marketing classes ("$ilverComm: Marketing Practices and Messages for the Age of Aging"). In addition, AdWeek360 published book highlights on April 21.
 
National recognition
On April 15, the Broadcast Education Association (BEA) presented its annual textbook award to Scripps Associate Professor Roger Cooper for his book "The 12 Attributes of Extraordinary Media Professionals." 
Cooper (School of Media Arts and Studies) is director of the OHIO-in-LA program that combines internships, networking and instruction. His book, says publisher Rowman & Littlefield, fills a void by explaining that attributes like adaptability, integrity, and confidence are just as important as practical or theoretical knowledge.
 
First Amendment
Dominion Voting Systems' high-stakes lawsuit against Fox News focused on a landmark 1964 Supreme Court decision fundamental to modern libel law: New York Times v. Sullivan. Journalism Professor Aimee Edmondson wrote a book on the Sullivan case ("In Sullivan's Shadow: The Use and Abuse of Libel Law During the Long Civil Rights Struggle").
When Fox settled the Dominion lawsuit on April 16, Edmondson's commentary was published two days later by The Columbus Dispatch. Previously, Dr. Edmondson was published on "Sullivan" in National Law Review, USA Today, the advertising trade press and newspapers nationwide.
 
Legal pioneer
Professor Emerita Marilyn Greenwald and alumna Yun Li of CNBC wrote a biography of an African-American woman attorney on Thomas Dewey's team that prosecuted mobster Charles "Lucky" Luciano ("Eunice Hunton Carter: A Lifelong Fight for Social Justice").
When BBC Radio needed an expert on the importance of role models, it turned to Greenwald. When Justice Ketanji Brown Jackson joined the U.S. Supreme Court, Greenwald was published in the Cleveland Plain Dealer on the historical context of the lack of women and minorities on the bench.
Up next: Associate Professor Eve Ng (Media Arts & Studies) has written a book on the transition of LGBTQ content to mainstream channels ("Mainstreaming Gays"). The target release date is September 15, 2023.
Learn more about Ohio University authors
Issues/culture
Scripps faculty members are quoted and published on a broad variety of timely topics and trends. Here is a recent sampling:
Esports
Congressional Quarterly ("CQ") prepares in-depth research reports on current issues, including esports and gaming. Dr. Jeff Kuhn, who leads Ohio University's growing esports program, is a go-to resource quoted for articles published by CQ Researcher. Plus, Kuhn has been interviewed by medical, architectural and local media.
Elon Musk/Tesla/Twitter
Automotive News published Dr. Laeeq Khan's analysis of Twitter chatter about Elon Musk and Tesla, and shared Khan's commentary with its half-million-plus followers on Linkedin. Khan is director of the Social Media Analytics Research Team (SMART) Lab at the School of Media Arts and Studies.
History textbooks
Asian American news site AsAmNews published research from Scripps graduate student James P. Kelly and Professor Roger C. Aden (School of Communication Studies) on gaps and glossing over in high school history books.
Music
"Your Morning Coffee" is a top music industry podcast hosted by music business veterans Jay Gilbert and Mike Etchart. The podcast spotlighted Ohio University's Music Industry Summit programming and networking opportunities and — notably — that it's available at no cost.
Their enthusiastic pitch for OHIO's Music Industry Summit on April 5-6 started with these words: "Shoutout to Josh Antonuccio." Antonuccio, director of the School of Media Arts and Studies, organizes the annual spring event which is rated among the top music industry gatherings in the country.