OHIO's Moving and Surplus provides outstanding service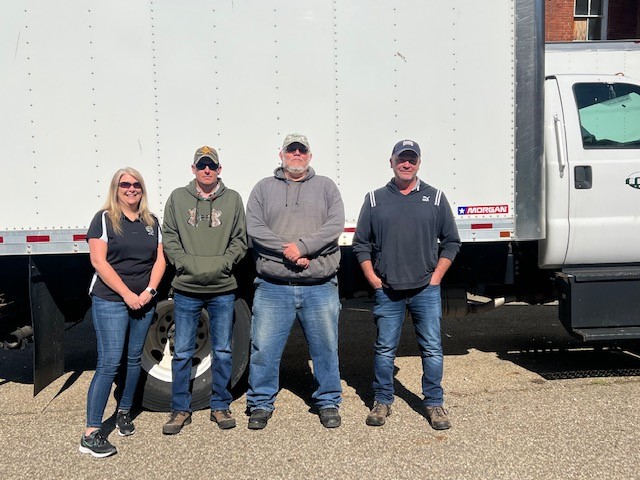 As the month of May concludes, Ohio University's Moving and Surplus department remains busy providing the same excellent service it does throughout the year.
At Ohio University, three full-time moving professionals and a general manager support the moving and surplus needs for the Athens and regional campuses. In fiscal year 2022, Moving and Surplus supported more than 600 move requests.
"For 24 years I've managed countless projects using services from Moving and Surplus.  The success of those projects is from teamwork," said Stephanie Ruth, senior project manager for Architecture, Design and Construction. "They're hardworking, fun, and reliable."
Moving and Surplus is responsible for assisting with departmental moves, room conversions, freight delivery support, forklift operations, table, chair, and stage rentals, sale and the disposal of University surplus.
OHIO's surplus store, which is open to the University community and public Tuesdays through Thursdays from 10 a.m. – 2 p.m., includes a wide variety of furniture items, equipment, electronics, décor, and miscellaneous items. Located at 120 Ridges Circle, Building 9, at The Ridges, the store also utilizes Gov Deal live auctions for a variety of items including equipment and vehicles 
"Housing and Residence Life schedules several projects with Moving and Surplus every year. We have very positive experiences working with them," said Duane Perpich, interior services manager for Interior Services at OHIO. "I have witnessed many times their professional interaction with our students and staff.  Staci White, the general manager schedules our projects quickly and responds immediately to any question or concern we might have.  I would recommend their services to anyone."
Helpful moving tips for the OHIO community
Preparing furniture and equipment
Provide type of equipment/furniture, dimensions, and estimated weights when submitting service requests
Empty all furniture in advance of a move
Disconnect and prepare all office equipment (wrap cords/wires, box up)
Packing boxes
Obtain packing boxes and tape from Moving and Surplus if needed. Be sure to use the right sizes boxes to support your move
Use packing materials when appropriate to protect fragile items
Put heavier items on the bottom of boxes and lighter items on top
Fill empty spaces in boxes but do not overpack — individual boxes should not exceed 50 pounds
Tagging boxes and furniture
Clearly mark boxes with a dark colored marker or affix labels to each box/item on both the top and side with name, department and location in which the items should be moved (building and room number)
How to contact Moving and Surplus