Amy Dean named interim Director of OHIO Athletics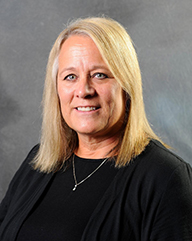 Amy Dean has been named interim Director of OHIO Athletics effective July 1. This news follows Jim Schaus' announced plans to step down from his role as Ohio University's Director of Athletics effective June 30.
Schaus, who was named Director of OHIO Athletics on April 7, 2008, under President emeritus Roderick J. McDavis, helped lead Bobcat athletes to unprecedented levels of championship success, academic excellence and national prominence.
"I am grateful to Jim for his years of service and dedication to Ohio University," said Ohio University President M. Duane Nellis. "With news of his new role as Commissioner of the Southern Conference, we celebrate Jim's many successes, including the Bobcat men's basketball team's appearance in the 2012 NCAA Sweet 16, the football team traveling to six bowl games in the past seven years, and successful fundraising efforts to build Walter Fieldhouse and the Perry and Sandy Sook Academic Center. I wish Jim all the best as he embarks upon the next phase in his career."
As he prepares for his next venture, Schaus reflected on his accomplishments at OHIO with fondness and gratitude.
"It has been an amazing 11 years as athletic director at OHIO. We have accomplished much and had a lot of fun doing it thanks to a great team of people on and off our campus who are committed to Ohio University," Schaus said. "True success is always about people, and I have worked with and served the very best. However, it is time to begin a new and exciting chapter in my career as the commissioner for the Southern Conference. I want to express my heartfelt thanks to all of those who have supported OHIO Athletics and Priscilla and I over the years. I am very thankful to President emeritus McDavis and President Nellis as two outstanding presidents that I have served during my time in Athens. Ohio University and Athens will always have a special place in our hearts. And, as you know, it's always a great day to be a Bobcat!"
Dean, who was named Deputy Athletic Director in 2016, began working at Ohio University in 1999.

"Amy has provided strong leadership to OHIO Athletics throughout her tenure with University," said Nellis. "She has played a pivotal role related to developing policy and recruiting staff, and I greatly appreciate her partnership and guidance through this transition." 
The University will begin a national search for its next athletic director in the coming weeks.