OHIO Distinguished Professor Dr. Steven Evans named 2019 Fall Commencement Speaker
Published: October 21, 2019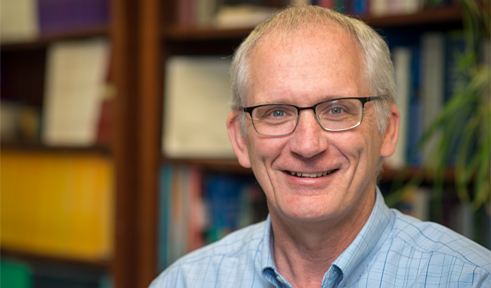 Ohio University announced today that Distinguished Professor and Co-Director of the Center for Intervention Research in Schools in the College of Arts and Sciences, Dr. Steven Evans, will serve as the University's 2019 Fall Commencement speaker.  

"Dr. Evans' work and research have had a national impact in the field of childhood mental health and treatment for adolescents with Attention-Deficit/Hyperactivity Disorder," said President M. Duane Nellis. "His experience and knowledge are sure to serve as inspiration to our new graduates as they embark upon their future."
Dr. Evans is a professor of psychology at OHIO and serves as co-director of the Center for Intervention Research in Schools, a center dedicated to improving the lives of children and adolescents with emotional and behavioral problems through school-based interventions and supports. Through his work, Dr. Evans has made a commitment to providing high-quality training experiences that prepare undergraduate and graduate students to conduct interdisciplinary treatment outcome research and become effective practitioners. He is also the editor of the journal School Mental Health.
"Dr. Evans is a groundbreaking researcher and an exceptional professor. He is making a difference every day in schools with his research and will serve as inspiration for our newest class of graduates," said Executive Vice President and Provost Dr. Chaden Djalali. "I look forward to hearing his advice for our graduates at OHIO's Fall Commencement." 
Ceremony Details 
OHIO's 2019 Fall Commencement ceremony will take place at 2 p.m. on Saturday, Dec. 14, in the Convocation Center on Ohio University's Athens Campus. Students who have met graduation requirements during the 2019 summer or 2019 fall semesters may participate in the ceremony. This includes students earning doctoral, professional doctoral, masters, or undergraduate degrees through any of OHIO's degree programs on all campuses or through eLearning programs.  
The addition of a commencement ceremony at the conclusion of fall semester seeks to better accommodate students' individuals needs and respective graduation timelines. This ceremony is in addition to Ohio University's traditional spring ceremony. For more information, visit www.ohio.edu/commencement.