Bobcat Esports club places OHIO as leader in global gaming industry
Published: November 26, 2019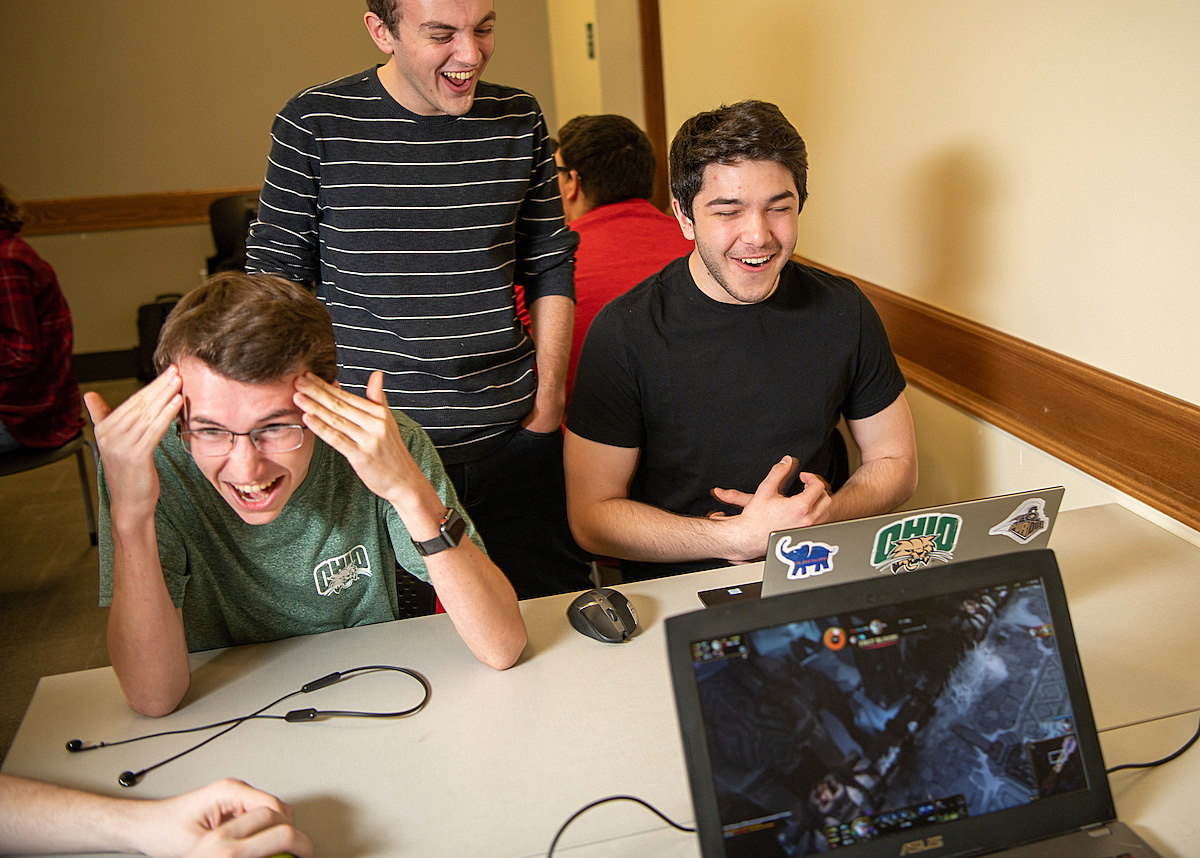 Ben Siegel
In 2017, Ohio University student Kristofer Meyeres set out with a mission: To unite the gaming community at the University through the creation of an esports club. With the help of fellow student Ivy O'Shaughnessy —  not only was that club created — it snowballed into a presentation to OHIO's Board of Trustees and laid the foundation for development of an official esports program at the University.
"Bobcat Esports and its affiliated clubs offer a unique community space for students who are passionate about esports and video games," said Meyeres, founder and president of Bobcat Esports. "Bobcat Esports offers leadership opportunities and a place to challenge students' current potential. Many students who have come together through our clubs have found friendships and a sense of camaraderie centered around their favorite passion."
Now the largest university esports club in the state with more than 220 members, Bobcat Esports includes a nationally ranked Hearthstone team, a highly competitive Overwatch team and several teams competing in Rocket League. There are also teams for League of Legends, Super Smash Brothers, and Counterstrike: Global Offensive.
Additionally, Bobcat Esports is getting teams and clubs started for FIFA, Fortnite, Apex Legends and fighting games.
"We welcome every type of gamer, from the casual player, to the YouTube and Twitch creatives and even the most hardcore of esports enthusiasts," said Meyeres, an OHIO senior studying business administration.
Now in its second year, the club has engaged in a variety of activities, from casual competition, national tournaments, fundraising, speaking at the GDEX conference and presenting about the importance of esports to OHIO's Board of Trustees.
This past spring, Bobcat Esports hosted its inaugural esports invitational in partnership with the esports class in the College of Business. The tournament included Overwatch, Super Smash Brothers and Rocket League.
"Our Hearthstone team casted their championship's games during the tournament as well," Meyeres said. "This was a super thrilling moment for us as we had not only run our first-ever tournament successfully, but we did it with the help of a student class." 
The tournament saw more than 100 people on the bottom floor of Copeland Hall, with every room running some form of event. While OHIO students are welcome to use University facilities, there is currently no dedicated esports facility on campus — but that's not far off. OHIO is exploring possible ways it can support esports with a dedicated academic facility designed for multiple use—competition, play, practice, and courses.
Additionally, with the help of the Bobcat Esports Club, several faculty members are developing an official esports curriculum at the University, including Dr. Jeff Kuhn.
Kuhn, an Instructional Designer working for the Office of Instructional Innovation and in the Games Research and Immersive Design (Grid) Lab, has been working with the Bobcat Esports Club since it was established. He said the club engages students in cutting-edge experiences that position them well for the future of work — distributed, dynamic and cross-cultural.
"In esports competitions you are working in a high stakes situation with a team to solve a complex program and often that team is highly diverse," Dr. Kuhn explained. "These traits encompass many of the 21st century skills students need leaving a university. Further, esports exposes students to jobs and careers that simply didn't exist five to 10 years ago."
Esports has event organizers, esports news reporters, data analytics, esports broadcasters, game coaches, developers and many other positions. All of these are digital, media rich jobs that fit President M. Duane Nellis' call for a focus on student success and transformation to challenge and empower OHIO students to discover knowledge in a collaborative learning environment that reaches across disciplines, and into the broader community preparing them to lead in an ever more globally connected world.
O'Shaughnessy, vice president of Bobcat Esports, hopes to work within the esports industry upon graduating as a collegiate esports director for a university. Later in life, she hopes to work with professional esports teams. Coming from Ohio University, that's not a far-fetched idea.
Thanks to strong programs in the College of Business and the Scripps College of Communication, OHIO is already a leader in the esports industry, with alumni working in many of the top gaming companies in the nation.
OHIO has six alumni at Activision Blizzard, four alumni at Electronic Arts (EA), two alumni at Take Two Interactive, seven alumni at Sony, and two alumni at UbiSoft.
Alongside these alumni connections within the larger videogame industry, alumni of the Bobcats Esports Club are already making waves within the industry. Alumni connections through the student club include the vice president of league operations and production at Activision Blizzard/Major League Gaming; Overwatch League host; vice president of sales at FaZe Clan; commercial director for G2 Esports; senior events planner at The Pokémon Company International; and most recently, founder of eFuse, a news and multimedia aggregate focused on esports.
OHIO graduate Matt Benson was recently featured in Columbus Buisiness Journal for raising $1.4 million to launch eFuse, what he calls the Linkedin of the esports industry. The company is a web and mobile app geared toward connecting gamers, coaches, recruiters and business professionals in the booming esports industry, which, according to Columbus Business First, could reach an audience of 450 million this year.
Benson said OHIO played a huge part in his personal development and in the development of eFuse. From his first day on campus, he said his entrepreneurial spirit was fostered by the Center for Entrepreneurship, where he was continually exposed to new problems, people and opportunities.
The OHIO alumnus said it was that real-world experience that gave him a skillset to be able to create eFuse. He also credited the Bobcat Esports Club.
"Bobcat Esports is a growing opportunity for gamers and business professionals," Benson added. "This club has a tremendous leadership team that is focused on providing opportunities for students post-graduation."
O'Shaughnessy said OHIO has an "extremely strong community" set up for the esports scene, and is great for students who want to dip their toes into the community.
A senior studying games and animation, O'Shaughnessy said any type of gamer is welcome — from those more interested in the casual, community side of gaming, to those who wish to pursue esports more seriously and would like to pick up a leadership opportunity.
"We operate as an umbrella organization, which means that each game/team under us operates as their own club for their specific esport, simply branched out from us," she explained. "This provides many leadership opportunities for students. Each game is allowed to operate and manage their teams in the way they feel best fits them; the Bobcat Esports management merely supports them and provides assistance where they need it."
You can get in touch with Bobcat Esports through esports@ohio.edu and by joining its main discord here: https://discord.gg/WCC2A6V.
"If you want to work in esports, come to Ohio University, where esports legends are born (Adam Apicella, Chris Pucket, Shibby, and more)," Benson said. "It's a great time to be a Bobcat, especially in esports."