Students complete international physics, biology research in Germany through DAAD RISE program
Published: November 4, 2019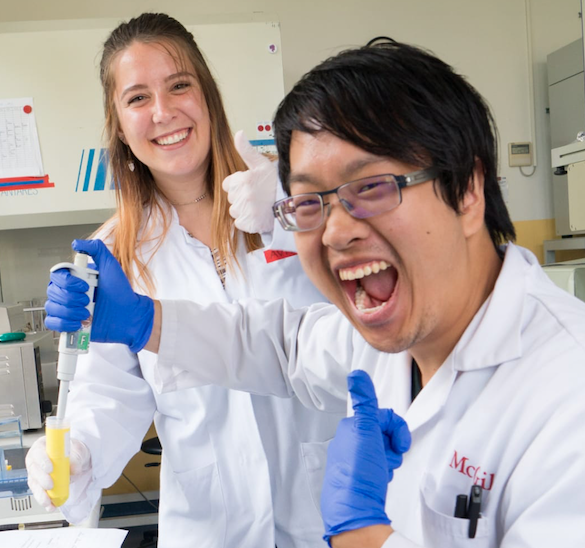 Many scholarship and award opportunities are available to Ohio University students  seeking academic experiences abroad through the Office of Nationally Competitive Awards, including the Fulbright Award, the Gilman Scholarship and the Critical Language Scholarship. The application for the DAAD RISE Germany program— which provides junior and senior STEM majors from North American, British and Irish universities with summer research internships at top Germany universities — is due Dec. 15. 
"DAAD" stands for "Deutscher Akademischer Austauschdienst" (German Academic Exchange Service) and "RISE" for "Research Internships in Science and Engineering." Through this program, students are matched with a host university or institute according to their area of interest such as biology, chemistry, physics, earth sciences, engineering or a closely related field. Notably, knowledge of German language is not required, as the working language is English. 
This past summer for three months, from mid-May through mid-August, four Ohio University students participated in the DAAD RISE Germany program, including juniors Matthew Connell and Avital Savin, who are encouraging current eligible OHIO students to apply.
Connell completed physics research in Gottingen, Germany; and Savin completed biology research in Rostock, Germany. 
"I applied for the DAAD scholarship because I wanted to do international physics research," said Connell, who is studying physics and math at OHIO. "I want to take full advantage of my time at OHIO, so I am spending all my summers doing research, and I knew I wanted to study abroad while the opportunity is open. DAAD RISE allowed me to do research abroad with a salary, doing the research I hope to have for a career someday in an amazing country, in terms of culture and physics." 
Connell studied analysis for high-energy particle physics at Georg-August Universat Gottingen in Gottingen, which felt similar to Athens for him — a small college town surrounded by hills. He said the university was diverse and interesting, with students, professors and faculty from Germany, the U.S., Canada, Nepal, Japan, India, Brazil and other countries. 
"Everyone was united by a love for physics," he added. "They also all spoke some English, the language of international physics, which was great for me, since I don't know any languages except English. Everyone was welcoming and helpful for my transition to a new country, from my student mentor to the most senior professor to my host mom. That international, supportive environment is what made the summer good, and makes me want to go back to Gottingen someday."
This experience showed Connell that he could absolutely live outside of the United States, whether for graduate school or for his career. He had always toyed with the idea, but never thought very hard about it.
The welcoming environment of the town of Gottingen and the university itself made him feel very comfortable, and he said the city felt like it could be home for him in the future. Even if he doesn't return to Gottingen, Connell said seeing more of the world and being outside of the United States for a short time opened up living abroad as an option in his life. 
By seeing "more of the world," he meant Germany — and beyond. While he did work Monday through Friday, on the weekends he would either take part in local events or take weekend trips. During the program Connell participated in HASCO, a week-long summer school for accelerator physics with 80 other students from around Europe; went to a city-wide music festival in Gottingen;spent four days in Barcelona;and took a train to Amsterdam for a weekend. 
"The most enjoyable part of the experience for me was the time I had to experience the culture of Europe," Connell explained. "My small town was interesting, with amazing theatre performances, historic churches and houses and grave sites of many famous physicists. Beyond that, I was also so close to so many other wonderful cultural landmarks. I visited the beautiful city of Barcelona with only a short plane trip, and toured the Renaissance town of Rothenburg that was only a two-hour train ride away."
The OHIO student said he absolutely recommends other OHIO students to apply, as does Savin, who studied Wilson's Disease and the characterization of a CRISPR/Cas cell line as a model for the disease in Rostock, Germany. 
"I applied for the DAAD scholarship because I wanted to know what it would be like to work in my profession in Europe," said Savin, who is studying biological sciences and chemistry at OHIO. "I have always dreamed of moving there one day once I finish my education so this internship gave me insight to my dreams."
She began the DAAD RISE program with a two-week German language course in Cologne, Germany. When she arrived in Rostock, she would work in the lab during the day and, similar to Connell, travel to different countries with her new international friends on the weekends. 
Those interested in applying for or learning more about the DAAD RISE program are encouraged to get in touch with Christopher Lewis from the Office of Nationally Competitive Awards at christopherlewis@ohio.edu.