Ohio University awarded national grant to study community-benefit investments made by for-profit healthcare organizations
Published: December 17, 2019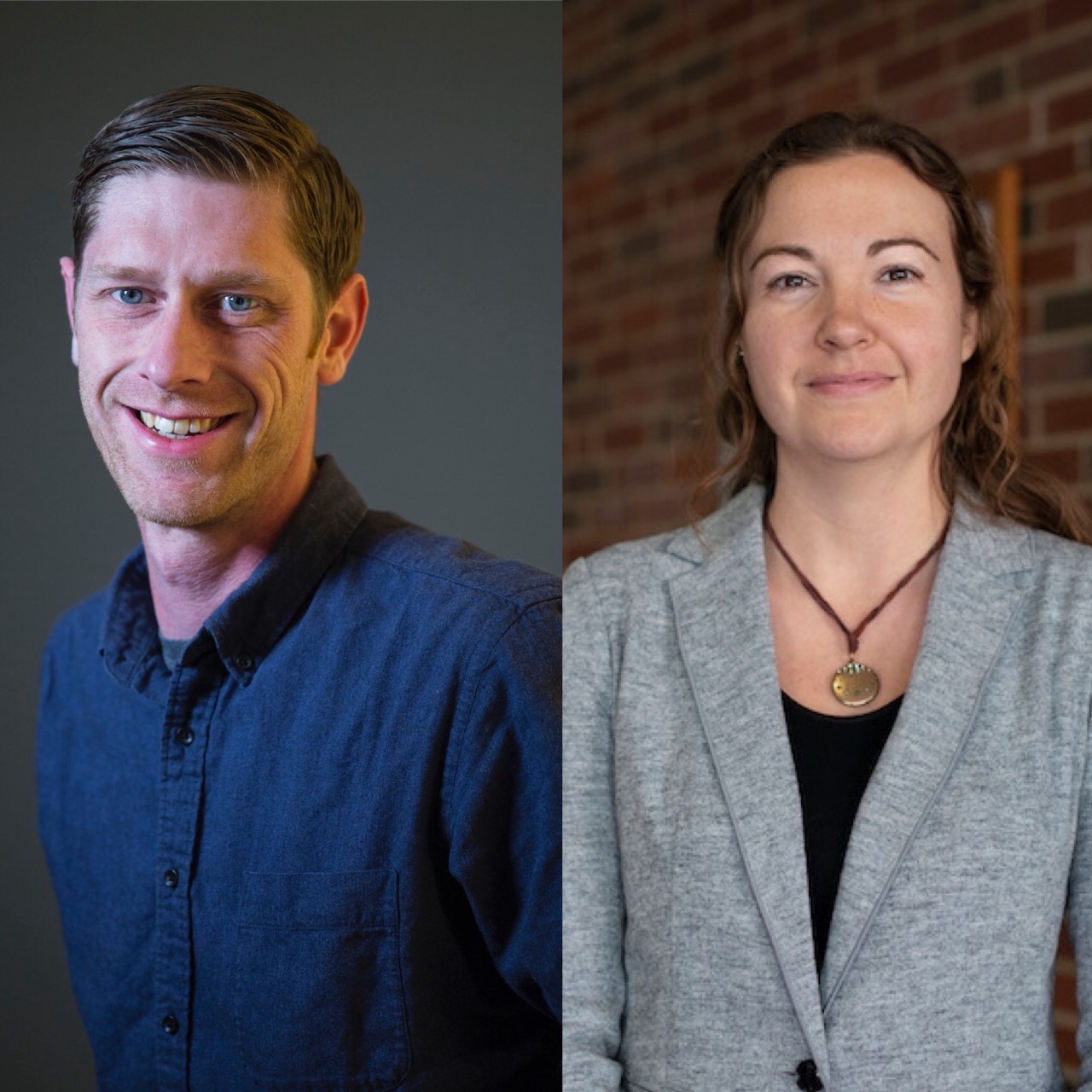 Ohio University's Cory Cronin and Berkeley Franz have been awarded a Robert Wood Johnson Foundation grant to study the community benefit efforts conducted by for-profit hospitals in the United States.
The national grant, titled "Understanding For-Profit Hospitals as Community Anchors: Does a Corporate Mission Detract from a Social Responsibility to Contribute to Community Health," was awarded in the amount of $237,966 over a period of 18 months. The Robert Wood Johnson Foundation (RWJF) is the largest foundation dedicated solely to health in the United States.
Both Cronin, an assistant professor in the College of Health Sciences and Professions, and Franz, an assistant professor in the Heritage College of Osteopathic Medicine, will serve as co-principal investigators on the project. Franz is also holder of the Heritage Career Development Faculty Endowed Fellowship in Population Health Science, Osteopathic Heritage Foundation Ralph S. Licklider, DO, Research Endowment.
Cronin explained that 2008 brought a change that allowed non-profit hospitals to report a wider range of activities and events to the IRS, including health fairs, free clinics, flu shot drives and more, as mandated community benefits. The change created an opportunity for increased exploration from the academic population into these community benefits. Congress became interested as well, and some expressed concern for non-profit health organizations earning large revenues.
Although non-profit hospitals are required to report community benefits, for-profit hospitals are not obligated to do so. This means that for-profit hospitals, along with other for-profit businesses, have been understudied in terms of whether they act as "anchors" improving the health of communities around them. This gap in knowledge prompted the Robert Wood Johnson Foundation to place a call for proposals specifically seeking information into how for-profit organizations support their communities.
"Because non-profit organizations are required to release this information to the IRS, there is publicly available information. For-profits don't have to do this so there is no comparison," said Cronin. "They would have to self-report for our project and we're hoping that they'll want to do that because we do believe they're doing community benefit and would want to report it."
One question Cronin and Franz have is whether for-profit hospital stockholders and owners would approve of using organizational resources to improve community health which, in theory, could lower dividends or the value of the organization.
Franz also noted that for-profit hospitals often contribute large tax bases to host cities and are usually a major driver of the economics of a community.
"Our project is developing a way to survey for-profit hospitals and understand what they're doing so researchers can look at this and policymakers can compare the contributions they're making," said Franz. "We're looking at their involvement in health promotion, teaching proper diet and exercise all the way up to big, social interventions like getting safe housing or improving employment opportunities and long-term investments into communities."
The first phase of the study will focus on identifying communities that exhibit specific characteristics, including those in which only for-profit hospitals are available and areas in which both for-profit and non-profit entities are competing in the same market. Cronin and Franz also noted that they will work to identify a non-profit health organization that transitioned to a for-profit health organization. Individuals within each community will be interviewed to determine their impressions of hospital outreach to improve community health in their area. 
With more than 6,000 hospitals in the country and about 20 percent of those being for-profit, Cronin and Franz ultimately hope to create more available data by talking to healthcare leaders and studying why for-profit hospitals might tend to choose certain markets. 
"We're hoping to construct a survey that would give us comparable data, get public data from a non-profit and look right next to it for a for-profit to see if it's on par or if significant differences are apparent," Cronin said.
Cronin and Franz are searching for five or six communities to build a model that may eventually be applicable on a national scale.
"I think we're going to contribute to this larger field of understanding what institutions offer to their surrounding communities. This is a big part of urban sociology, trying to understand what the benefit is of having big employers or organizations in a community," Franz added. "I think we're going to add to that by talking about for-profit hospitals, and we'll make that data available so we can understand what's happening and also encourage more hospitals to do more of this work that we know is important in terms of improving health disparities and population health."