Football wins Potato Bowl for third-straight bowl win
Published: January 6, 2020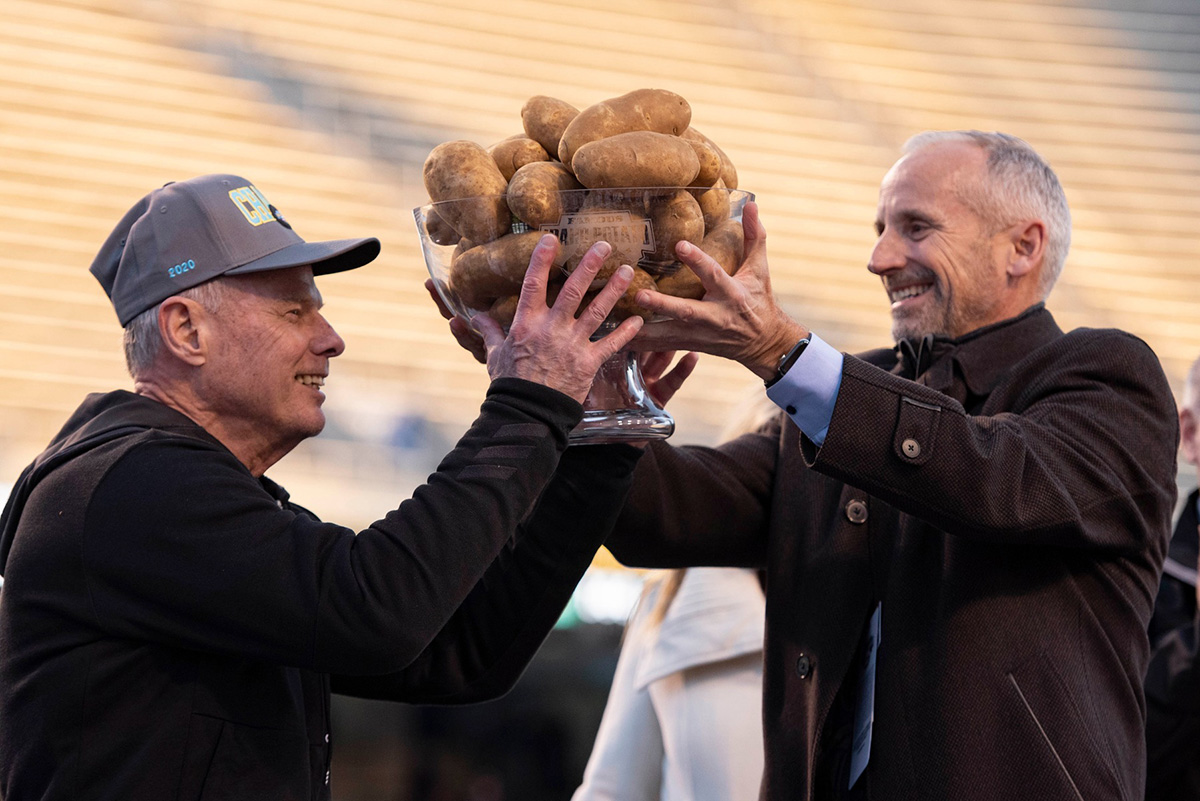 OHIO Athletics
The Ohio football team (7-6, 5-3 MAC) clinched its program-record third-straight bowl win and fifth bowl victory in program history courtesy of a 30-21 triumph over Nevada (7-6, 4-4 MW) in the 23rd Famous Idaho Potato Bowl at this afternoon Albertsons Stadium. 
"It was an exciting, exciting game I believe," said 15th-year head coach Frank Solich, who has guided Ohio to all five of its bowl wins in program history. "Obviously a lot of good plays made by guys on both sides of the ball. For them, obviously for us. We made it a little bit tougher on ourselves as we turned the ball over a couple times. Could have been in position to score, put some more points on the board, made it a little bit easier. But they've got a lot of fight. I like what they're all about, the way they came back."
Ohio won the Idaho Potato Bowl for the second time. The Bobcats beat Utah State in the 2011 edition of the game, 24-23. The Bobcats matched Toledo (1969-71) and Miami (1973-75) for the most consecutive bowl wins in Mid-American Conference history.
Senior quarterback Nathan Rourke (Oakville, Ontario, Canada) was named Most Valuable Player in his final game as a Bobcat. He completed nine of his 17 passing attempts for 144 yards and added 87 yards and a touchdown. Rourke finished his career with a 24-13 record as a starting quarterback and was under center for three-straight bowl victories.
"I hope more than anything I was a good teammate," said Rourke when asked to reflect on his collegiate career. "I love the guys in the locker room. I take a lot of pride in being a good teammate, being a good leader, being coachable by the coaches. I've been so fortunate to be able to come here and to just be one of the guys, learn from these coaches, have a lot of fun, a lot of success doing it. I couldn't ask for more from this program."
Ohio led 30-9 after three quarters of play but were forced to withstand a fourth-quarter comeback by the Wolf Pack in which Nevada scored 12 unanswered points.
The Bobcats gained 285 of their 429 total yards of offense via the rushing attack, with junior running back De'Montre Tuggle (Channelview, Texas) leading the way with a game-high 97 yards and a touchdown. Redshirt sophomore running back Julian Ross (Kansas City, Mo.) added 87 yards and a touchdown. Tuggle and Ross carried the bulk of the load after Ohio lost redshirt freshman starting running back O'Shaan Allison (Norristown, Pa.) to injury in the second quarter.
Redshirt senior placekicker Louie Zervos (Tarpon Springs, Fla.) accounted for 12 of Ohio's 30 points, converting all three of his field attempts and all three of his extra point attempts in his final collegiate game.
The Ohio defense came away with two big takeaways, with redshirt junior defensive end Austin Conrad (LaGrange, Ohio) tallying the first two forced fumbles of his career and redshirt sophomore defensive tackle Marcus Coleman (Upper Marlboro, Md.) logging the second fumble recovery of his career and redshirt freshman weakside linebacker Keye Thompson (Barberton, Ohio) recording his first. Redshirt senior free safety Javon Hagan (Jacksonville, Fla.), redshirt freshman defensive tackle Kylen McCracken (Cleveland Heights, Ohio) and redshirt freshman Jack McCrory (Springfield, Ohio) accounted for Ohio's three sacks. Redshirt junior safety Jarren Hampton (Fostoria, Ohio) led the Bobcats with nine solo tackles.
 
"I was very proud," said Hampton of the way Ohio's defense withstood Nevada's late charge. "Our defense is bend, don't break. That's the mentality we have. When they had a timeout before that, we just kept telling them, it's a two-possession game, we got to get out of here with a stop. Turnover is number one. If we have to force them to kick a field goal, that's two. Like I said, we have fighters on our team. We're not going to lay down for nobody. That's what we did. We showed that today. It got rough, but we persevered."
The Wolf Pack took the opening kickoff and proceeded to move 46 yards in six plays. Redshirt freshman quarterback Carson Strong opened the drive with an 18-yard completion to junior wide receiver Elijah Cooks, then completed a 24-yard pass to senior wide receiver Ben Putman on the next play. Nevada's drive stalled out at the Ohio 34-yard line, but freshman placekicker Brandon Talton knocked down a 51-yard field goal to set a Famous Idaho Potato Bowl record and give the Wolf Pack a 3-0 lead with just over 12 minutes to play in the first quarter. 
Ohio countered with a 10-play, 65-yard drive that saw Rourke rush for 36 yards and Allison add 29 more on the ground. The Bobcats were forced to settle for a 29-yard field goal by Zervos that tied the contest up with seven minutes to go in the opening quarter.
After forcing Nevada to punt on its second drive, Ohio marched 71 yards in 15 plays and capped off the drive with a 12-yard touchdown run on 4th-and-1 by redshirt sophomore running back Julian Ross (Kansas City, Mo.) with just over 12 minutes to go in the second quarter. Rourke completed a 12-yard pass to redshirt senior wide receiver DL Knock (Springboro, Ohio) on third down to keep the drive alive. Ross, who entered the game to spell an injured Allison, gained 23 yards on the scoring march and scored his first rushing touchdown since Sept. 8, 2017, at Purdue.
The Wolf Pack answered back with a 10-play 59-yard drive that saw Strong complete passes of 23 yards to Cooks and 18 yards to sophomore wide receiver Cole Turner. A 17-yard run by sophomore running back Toa Taua gave Nevada a fresh set of downs at the Ohio 20, but the drive stalled and the Wolf Pack were forced to settle for a 36-yard field goal by Talton that cut the Bobcats' lead to 10-6 with just over seven minutes to play in the first half. 
Ohio responded quickly, with Rourke keeping it himself and scoring on the third play of the ensuing drive on a 35-yard scamper into the end zone to increase the lead to 17-6. The touchdown was set up by Rourke completing a 38-yard pass to redshirt sophomore Isiah Cox (Jasper, Ala.), who made a great catch along the Nevada sideline by getting a foot down before going out of bounds.
Ohio and Nevada traded field goals on the final two drives of the first half, with Zervos hitting a 33-yard field goal to cap a five-play, 20-yard drive that began after a punt by the Wolf Pack. Nevada got the ball back with just over two minutes remaining before halftime and moved 67 yards in 12 plays, with Talton converting a 33-yard field goal as time expired.
The Bobcats got the ball to begin the second half, looking to add to its 20-9 halftime advantage. The drive began with Rourke completing passes of 19 yards to Cox and 14 yards to redshirt junior wide receiver Cameron Odom (Bedford, Ohio). Three plays later, Rourke completed a 16-yard pass to Cox and picked up 13 more yards when Nevada sophomore defensive back Christian Swint was ejected from the game for targeting on the hit at the end of the play. The Ohio drive stalled, however, and Zervos connected on a 26-yard field goal to make it a 23-9 lead with 11 minutes to go in the third quarter.
Ohio forced a turnover on the sixth play of Nevada's next drive, with redshirt junior right defensive end Austin Conrad (LaGrange, Ohio) forcing a fumble on run by Strong that was recovered by redshirt freshman weakside linebacker Keye Thompson (Barberton, Ohio) at the 50-yard line. The forced fumble was the first of Conrad's career and the recovery was the first of Thompson's. 
Junior running back De'Montre Tuggle (Channelview, Texas) ran 27 yards up the middle on the first play of Ohio's ensuing drive, then Rourke completed a 15-yard pass to redshirt freshman wide receiver Ty Walton (St. Louis, Mo.) that gave the Bobcats a 1st-and-goal at the Nevada seven. Tuggle got the ball on the next two plays, rushing for five yards on the first carry and then scoring from two yards out on the second to help the Bobcats up their lead to 30-9 with just over five minutes remaining in the third quarter.
Nevada did not go away quietly, however, scoring two fourth-quarter touchdowns on an eight-yard strike from Strong to Cooks with just over 10 minutes to play and on a one-yard plunge by sophomore running back Devonte Lee with just over eight minutes to go. The touchdowns snapped a streak of 12 consecutive bowl quarters in which Ohio did not allow the opposition to get into the end zone.
The Wolf Pack got the ball back on their own 20 with just over six minutes to go and moved the ball to the Ohio six. The Bobcats came up with a huge takeaway on 1st-and-goal, however, as Conrad forced a fumble on a reverse pitch to Lee. Coleman was there to recover at the Ohio 25.
Ohio went three-and-out on the next drive and was forced to give the ball back to the Wolf Pack with 2:45 to play, however. Nevada once again marched into Ohio territory and had a 1st-and-goal from the Ohio nine. The Bobcats rose up, though, and refused to let Nevada get into the end zone, forcing the Wolf Pack to turn the ball over on downs, effectively ending the game.
Strong finished the contest 31-of-49 passing for 402 yards and a score for Nevada. Cooks led all receivers with 14 catches for 197 yards and a touchdown reception. Junior defensive end Sam Hammond recovered two fumbles for the Wolf Pack.
Ohio is scheduled to open the 2020 season on Sept. 5 against North Carolina Central at Peden Stadium.