OHIO Football teams up with Nevada at Albertsons Tackle Hunger event
Published: January 2, 2020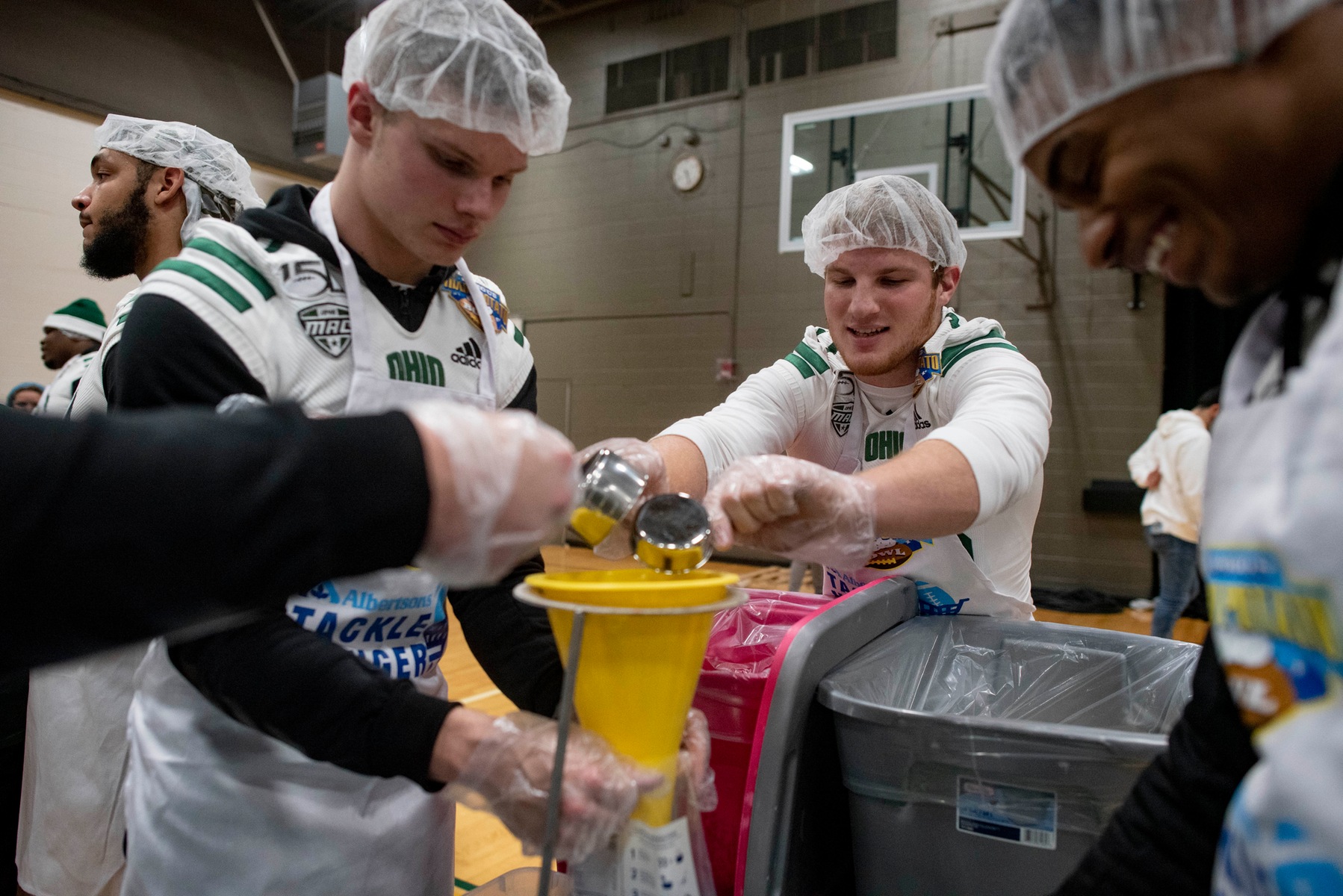 OHIO Athletics
The OHIO football team arrived in Boise on Monday, Dec. 30 ahead of the 23rd Famous Idaho Potato Bowl. The Bobcats will be battling Nevada on the gridiron on Friday, Jan. 3 in a 3:30 p.m. ET/1:30 p.m. MT matchup at Albertstons Stadium that will be nationally televised on ESPN.
However, the Bobcats and the Wolf Pack got together on Monday afternoon at Bishop Kelly High School for a little friendly competition in the name of doing good for others at the second-annual Albertsons Tackle Hunger event.
"It was really fun," said OHIO senior linebacker Eric Popp from Loveland, Ohio. "We're out here with all our teammates, which is obviously a blast. We're helping support a great cause, which is fun, and we get to do it together, which is awesome."
In conjunction with Feeding Children Everywhere volunteers, the OHIO and Nevada student-athletes and coaches formed assembly lines and worked together to package as many meals as possible in one hour. The two teams combined to package a total of 60,300 meals, with the main meal being jambalaya and rice. The goal going into the event was to package 40,000 meals. The meals the Bobcats and the Wolf Pack packaged will be distributed throughout the Treasure Valley for the next several months.
"It's great to bring the whole community together to really have fun and do good," said Teresa Whitney, Vice President of Merchandising and Marketing for Albertsons Intermountain Division. "The local area is growing tremendously, and we've got people who are in need. Importunely, hunger is a need that is constantly expanding, so these meals are going to go to the people who need it most. Not only is it just meals, it's nutritious meals."
Following the event, senior quarterback Nathan Rourke, from Oakville, Ontario, Canada, was honored as OHIO's recipient of the bowl game's Humanitarian Award.