University recognizes 50th anniversary of Earth Day with monthlong celebration
Published: April 29, 2020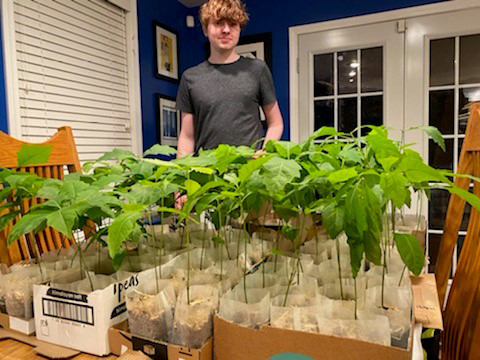 Office of Sustainability
Ohio University's Office of Sustainability and Voinovich Zero Waste Initiative hosted a special virtual recognition of the 50th anniversary of Earth Day on April 22.
In addition, the University held Earth Day recognitions throughout April, virtually showcasing numerous sustainability initiatives across OHIO's campuses and the Athens area.
The virtual celebrations primarily took place on the social media platforms @OHIOsustainable, @OHIOzerowaste and #OHIOearthday and included sustainability tips, activities, how-to videos, webinars and photos of spring in Southeast Ohio. These are Sustainability's websites and social media platforms:
Sam Crowl, associate director in the Office of Sustainability, said he believes his office set records for social media engagements on Earth Day and gives much of credit to students Allison Shryock, Office of Sustainability social media and marketing coordinator, and Emma Linn, Office of Sustainability events coordinator.
Shryock, a junior majoring in environmental studies and geography, is on the Student Senate Environmental Affairs Commission and plans to pursue a career in environmental law.
Throughout the month of April and especially on Earth Day, the students made sure that what was being posted on Sustainability's social media sites was more than just articles. Many of the informational videos on the social media platforms were made by the University's Climate and Sustainability Ambassadors.
"A lot of people engaged with our posts throughout the month, especially ones that included how-to videos or other posts that students contributed to," Shryock said.
Shryock said the students tried to include posts that would have been similar to the actual celebrations. They posted video of the 2019 Earth Day parade and how-to videos that demonstrate how people can live a sustainable life at home. The video of the 2019 Earth Day Parade included drone footage shot by students and allowed viewers to re-live last year's event.
"The engagement people had with our social media throughout Earth Month was the highest it has ever been in a month," Shryock said. "I'm proud at how the Office of Sustainability team was able to work quickly to change and adapt our Earth Day plans so that the OHIO and Athens communities could still celebrate together."
Linn is a junior majoring in Geography who will graduate in fall 2020.
"I found it truly remarkable that many Athens community members and OHIO students, staff and faculty were willing to collaborate with our office and dedicate their time and knowledge to celebrating this great place we call home - Earth," Linn said. "Adapting our Earth Day Celebrations to a totally virtual platform was a bit daunting, but when we met for the first time virtually, I knew that everything was going to be OK."
Linn said It was great to see how creative some people are.
"Content varied from DIY flower pressing to reducing VMT by riding your skateboard," Linn added. "This just proves that anyone can help make the Earth a better place, just have fun with it!"
Crowl said a couple of the highlights of Earth Day were the noon release of President Nellis' announcement of the Ohio University Sustainability Award Winners and the 3 p.m. release of the Sustainable Living Hub Virtual Seminar, led by Dr. Theresa Moran, OHIO's Sustainable Living Hub coordinator.
"The topic of the seminar was the University's tree care procedures, which included a presentation by OHIO Landscape Coordinator Susan Calhoun and her Grounds Services student workers," Crowl said.
The University also celebrated Arbor Day on April 22 and reflected on the first Earth Day held in 1970.
As part of the Arbor Day celebration, the Office of Sustainability placed boxes of free oak tree saplings at various locations on campus, throughout the City of Athens, and in Chauncey and The Plains. The boxes were available from 10 a.m. to 5 p.m. and residents picked up about 80 of the available 100 saplings. Instructions for planting and caring for the saplings were included.
Calhoun took the approximately 20 leftover saplings and potted them in large containers so that she and her staff and can care for them until they find a permanent home.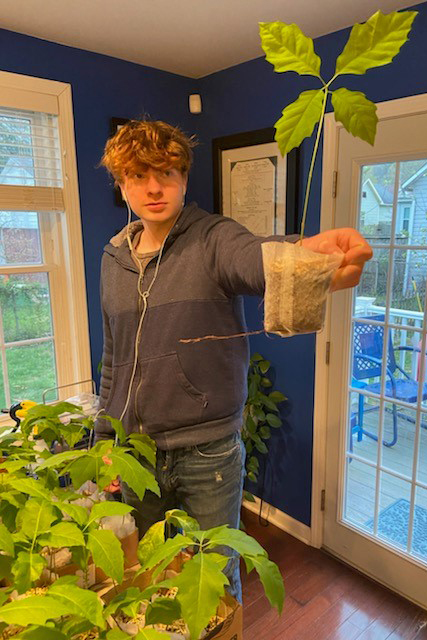 Sam Gutekanst, the Athens High School sophomore who donated the saplings, collected the acorns from OHIO's College Green and raised the saplings at his home in Athens.
In 2019, OHIO received the Tree Campus USA Designation for the fourth consecutive year. To receive the designation, OHIO has to annually meet five standards:
Maintain a tree advisory committee

Maintain a campus tree care plan

Maintain a campus tree program with dedicated annual expenditures

Host an annual Arbor Day observance

Host a service-learning project
Through social media, Sustainability encouraged Earth Day participants to watch the documentary, "The Story of Plastic," which debuted that day on the Discovery Channel. The showing was followed by a virtual panel discussion organized by the Post-Landfill Action Network (PLAN).
In addition to "The Story of Plastic," a screening of the 2019 documentary film, "Honeyland," was also held on Earth Day.
As part of the Sustainable Film Series, the Office of Sustainability collaborated with Loraine McCosker (Voinovich Environmental Studies), Lorraine Wochna (Alden Performing Arts Librarian), Alex Kamody (Athena Cinema) and Yang Miller (Athena Cinema) to show the Oscar nominated and Sundance Award winning film. A discussion panel that included Crowl, Abbey Rodjom, Jasmine Facun and Bekka Brodie was held after the screening. 
"I think close to 100 people watched the film, and dozens of local residents, OHIO faculty, staff and students engaged in the panel discussion, including the Climate and Sustainability Ambassadors," Crowl said. "The panel discussed efforts to create pollinator habitats on campus and in the community, and how to establish Ohio University and Athens as certified Bee Campus USA and Bee City USA, respectively.
Crowl added that other Earth Day events included:
Sustainable Development Solutions Network's 24-hour webinar titled, "Happiness and Sustainability Around the Earth." It consisted of two 12-hour events that explored the United Nations Sustainable Development Goals through the lens of well-being and happiness.


 

Digital Earth Day, Earth Day Network's global digital mobilization that addresses the most urgent threats to people and the planet.


 

The three-day (April 22-24) Youth Climate Digital Strike and Earth Day live-streamed event focused on climate action. It included training sessions, performances and appearances to keep people engaged, informed and inspired.


 

The Earth Optimism Summit (April 22-26) was a digital event that showcased stories for small- and large-scale actions that frame the conversation and demonstrate that success is possible. Participants were asked to share their stories at #EarthOptimism and the event featured keynote speakers, videos and discussions.
For more information about OHIO's Sustainability efforts, visit https://www.ohio.edu/sustainability/