OHIO MDIA faculty produce online virtual awards ceremony, NPR Tiny Desk Concert Host Bob Boilen presents keynote message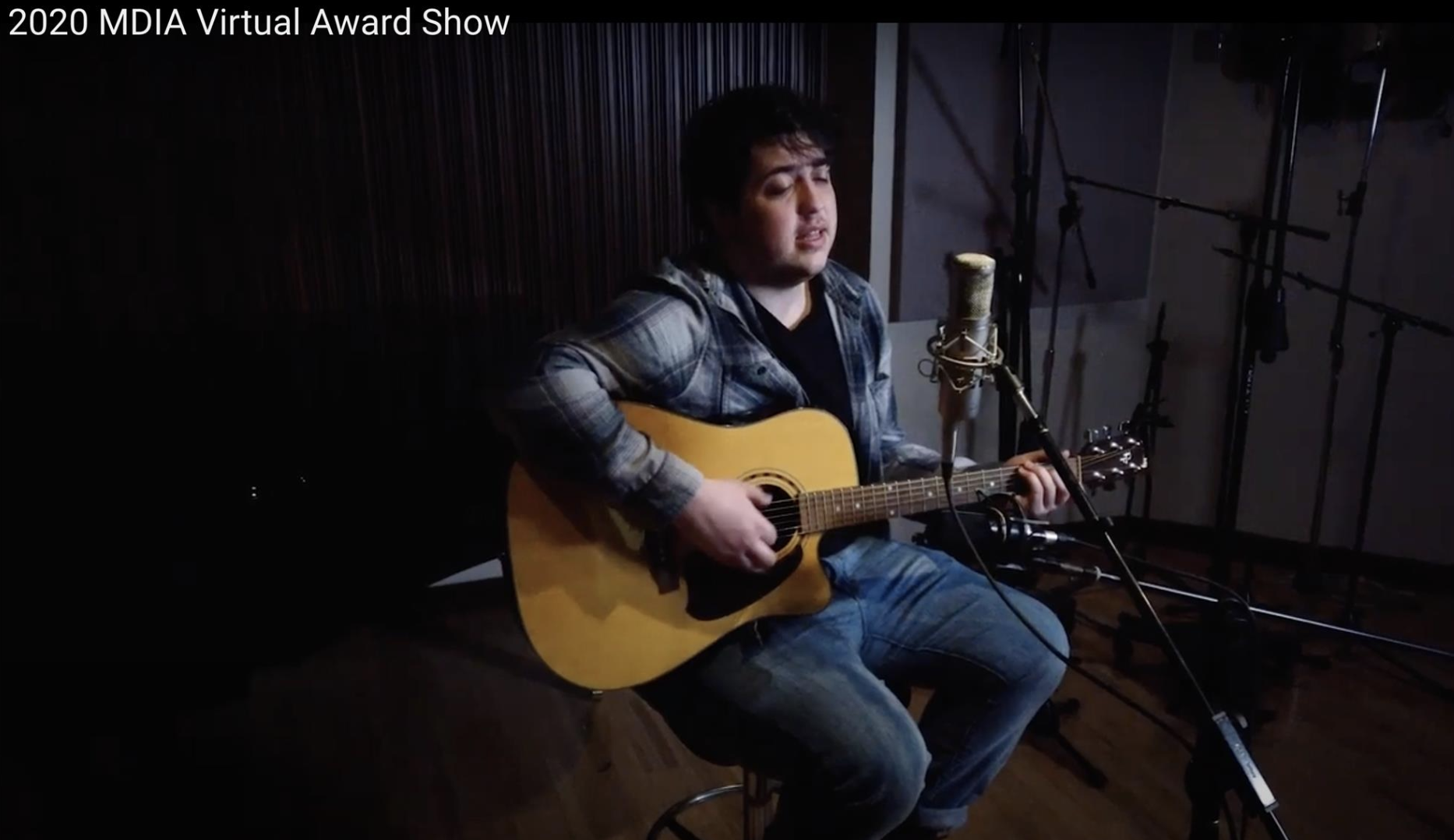 Each spring, the School of Media Arts & Studies (MDIA) hosts its student awards banquet in Baker Center Ballroom, welcoming students and their families to join together to celebrate student scholarship and recognize award winners. With the conversion to remote instruction due to COVID-19 this spring semester, MDIA faculty continued that tradition by producing a 75-minute virtual awards ceremony which aired online last week.
MDIA faculty members Josh Antonuccio and Andie Walla produced the virtual ceremony and expanded the event so that it not only announced student scholarship and award winners, but also included student performances, as well as exhibited student production work in animation, video and music.
"Without being able to get together, we lost a special meeting point for our community of students, faculty, and families each year," Antonuccio said. "Producing the online event allowed all of us to be together to celebrate and highlight the excellence of our students, even in the midst of physical separation."
In addition to producing and directing the ceremony with Walla, Antonuccio served as the host for this year's virtual ceremony. 
"MDIA faculty shot and submitted their presentation videos from their homes and the entire ceremony was edited with the feel of a live awards event through the use of virtual backgrounds and audience shots," Antonuccio added. "Not to mention, it was a lot of fun."
Walla produced and edited the video event at what Antonuccio called "a breakneck pace," given the short timeline at the end of the semester.
"In such weird times, the virtual awards show was an obvious way for us to recognize our students," Walla said. "I was honored to edit it all together. I really enjoyed the live chat during the premiere. It made it all worth it to know that they appreciated our efforts."
The event featured student work from throughout the academic year, including the OU Animation Club's short film "Ratatwoille" from the 48-hour Shootout, Brick City Records' recent video release for OHIO student RJ Martin's new single "Ashes," and a remote performance from OHIO students Bailey Panzeca and Taylor Swann of the band WMN.
The ceremony closed with a special set by DJ Cooki3 (OHIO student Caitlin Stegmaier), who played music as all names of the graduating seniors were shared on-screen. Stegmaier previously participated in the exclusive MDIA Music Industry Masterclass at Bonnaroo in 2019 and scored the opportunity to perform a DJ set at Hayley Williams' Plaza stage on the final night of the festival.
A highlight for students was the surprise keynote video message presented by Bob Boilen, the host and creator of NPR's "Tiny Desk Concert" Series. Boilen shared a message of hope and a call for graduates to remain entrepreneurial and creative in this time of uncertainty.
"We are living in a time where it feels like there are strict limitations on what you can do, and these are truths, but it doesn't mean they are roadblocks," Boilen said. "When you limit a creative person, it is a spark to different solutions."
Over $60,000 in scholarships were awarded to students, including the new Pat Cooper Award, named in memory of MDIA faculty Roger Cooper's wife, who passed away last year. The award provides funding for a student attending the MDIA OHIO-in-LA program; Meredith Wammes received the award.
"I was pleased to announce the first of an enduring scholarship to honor my late wife," Cooper said. "She was so instrumental in the creation, growth and success of our OHIO-in-LA Program."

This year two students, Elizabeth Coleman and Michaela Chilenski, were given the Outstanding Senior award and 14 students received Director's awards. These awards of recognition are chosen by MDIA faculty to highlight student excellence and achievement and are curated by the school's director. Three graduate students were awarded Outstanding Grad Paper Awards.
The full 2020 MDIA Virtual Awards Ceremony is available to watch here.
This year's awards, in the order they were presented:
Scripps College of Communication Scholarship Fund: Megan Woolf and Matthew Porter

Scripps College of Communication General Scholarship Endowment: Shane Casserly and Kayleigh Shaw

Anonymous Scholarship for Communication: Lauren Steinkuhl

Scripps Multicultural Enhancement Award: Devens Fajardo

Weiss-Mulgrew Family Scholarship: Alexis Murry

Christine T. Twardzik Memorial Scholarship: Maria Breckenridge and Savannah Copeland

Philip E. Schmidt Broadcasting Scholarship Fund: Katie Brown, Elijah Jimenez, and Catherine Sommer

Lyon Family Scholarship for Media Arts and Studies: Macy Wright

Jeffery Chaddock Endowed Scholarship Fund: Austin Alford

The David C. Mitchell Scholarship in Communication: Mikey Pierce

Archie Greer Scholarship: Kiah Easton

Douglas Hill Memorial Scholarship: Devyn Latture

Larry & Joann Katz Family Scholarship: Nate Hervey

Tyler Weymouth Memorial Scholarship: William Jackson

Ellen Woodward Memorial Scholarship: Miranda Ewell

Nationwide Foundation Scholarship: Catie Bugos, Kristin Veroski, Maria Breckenridge, Savannah Copeland, Jenna Prosser

Long Family Communication Scholarship: Gray Longfellow

Thomas H. Streich Memorial Scholarship: Nate Sahr and Michael Boston

Leonard F. Auerbach/Regional Reps Corp Scholarship: Catie Bugos

Robert L. Coe Memorial Scholarship: Gillian Faut

Mickey Franko Memorial Scholarship: Vicky Swift

Pat Cooper Scholarship: Meredith Wammes
Outstanding Graduate Paper Awards:
Aggrey Otieno

Deniza Mulaj

Samih Badir
Outstanding Seniors:
Michaela Chilenski

Elizabeth Coleman
MDIA Director's Awards:
Kay Jurma and Maddy Kelly – Nominated by Eva Ng

Reilly Zink and Alyssa Stahl – Nominated by Beth Novak

Iris Edmonson and Sean Collins – Nominated by Kate Rainey

Gray Longfellow – Nominated by Drew McDaniel

Michaela Chilenski – Nominated by Jeff Redefer

Nick Ruhenkamp – Nominated by Roger Cooper

Lindsey Cira – Nominated by Andie Walla

Juwaun Tye – Nominated by Brian Plow

Reese Clutter – Nominated by Eddie Ashworth

Maya Nauriyal and Matt Dugan – Nominated by Josh Antonuccio