OHIO alumna working as a medical scribe on frontlines of COVID-19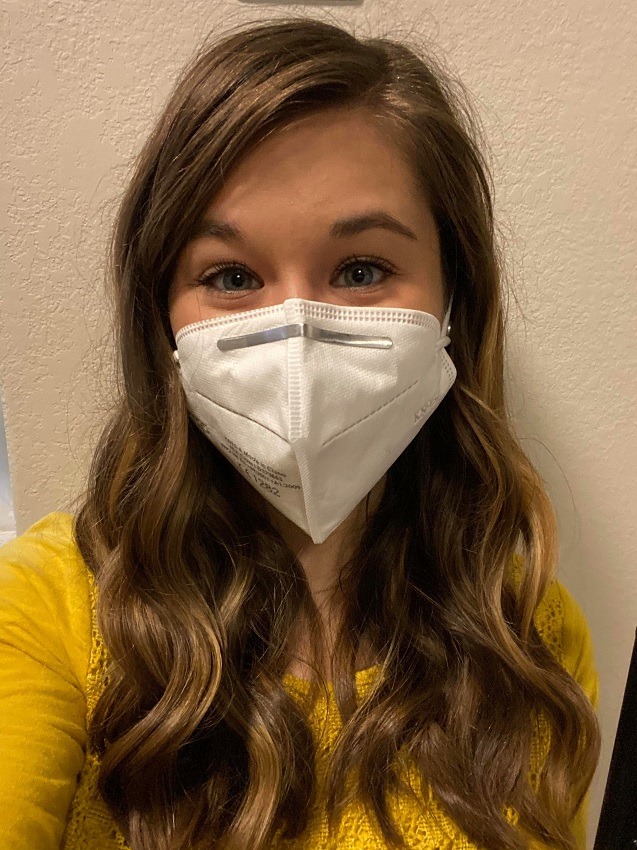 There's no question that the training and education Madison Shoff received at Ohio University prepared her to work as a medical scribe, and eventually, a physician assistant. However, she's not sure if any amount of training could have prepared her for a global pandemic.
Shoff, who graduated from Ohio University last year with a bachelor of science degree in pre-professional biological sciences, has been working as a medical scribe in Lafayette, Indiana, during the coronavirus pandemic.
The OHIO alumna has been working as a medical scribe since she graduated, but the primary care office she worked for closed temporarily in the middle of March due to COVID-19. In April, she was transferred to her current post in Lafayette due to the high demand for healthcare workers.

"I have always loved the science behind medicine," she explained. "Working on the front lines has allowed me the opportunity to continue to grow more knowledgeable on COVID-19 and the various ways it presents itself and can affect patients differently. Being a student at Ohio University allowed me to test my limits, learn to thrive under pressure, and grow more knowledgeable every day. A lot of the skills I obtained in and out of the classroom I have been able to apply as a medical scribe."

As a medical scribe, Shoff accompanies a provider into the examination room and works on all of their charting. It's her job to document anything that is said by the physician and the patient during the entirety of the appointment. Medical scribes also order and interpret patient labs and radiological imaging.

"I have always had a passion for helping others. Working in healthcare during a global pandemic has helped solidify the fact that I want to devote my life to improving the lives of others," Shoff noted. "Often times when individuals come to the hospital, they are at their most vulnerable. I want nothing more than to support and comfort patients in every way I am able during their greatest time of need."
Shoff has been interested in healthcare for as long as she can remember, but her interest ignited her freshman year of high school when her little sister was diagnosed with brain cancer. Throughout her little sister's treatment and recovery, Shoff was exposed directly to the dedication providers have to their work to improve the lives of their patients.
When she was old enough, Shoff began volunteering at Akron Children's Hospital because she wanted to give back to the hospital that saved her little sister's life. Through this, she uncovered a passion for helping others and advocating for those who cannot always advocate for themselves.

Fast forward to her college career at OHIO, Shoff's first experience with medically underserved populations came when she studied global health in Costa Rica, as a part of the 2018-19 Costa Rica Introduction to Global Health Program.
Dr. Gillian Ice, professor of social medicine and director of OHIO's Global Health Initiative said the Costa Rica Introduction to Global Health study abroad program introduces students to general principles of global health, including the connection between local and international health. Dr. Ice noted students explore how culture and environment shape health behavior and healthcare systems.
"Study abroad programs, like Costa Rica Introduction to Global Health, position students well to provide care in medically underserved areas," said Dr. Ice. "The Costa Rica program provides an excellent opportunity for students to better understand the impact of social determinants of health ​in low resource settings.  Students learn about a primary care​-focused health system and are able to observe how effective interprofessional teams function to deliver strong primary care, even in resource limited settings."
According to Debra McBride, assistant director of Global Health Initiative, Shoff was a highly engaged participant in the Global Health Program, coming to the program with clear aspirations for a career in healthcare — and she viewed every day as an opportunity to learn about how care is accessed and provided in Costa Rica.
"During the program we have the opportunity to see access to care in multiple settings: in a rural area, where populations may be cut off from easy access to care during the rainy season, a regional hospital that serves both tourists and the local population, and a health clinic in a low income area of the capital of San Jose," McBride added. "Maddy demonstrated a specific interest in the Community Team model used by the San Jose clinic.  In this model, a team made up of a nurse, doctor and clerical staff person visit every household in the community at least once a year to check health status, provide vaccinations, and make referrals to care as needed.  I'm confident that Madison uses what she learned about this team model and other elements of the Costa Rican system to inform her current role and her interactions with patients and other staff."
Shoff said the program was instrumental in helping her recognize the importance of exploring ways to better serve medically underserved populations.
"Everything I learned about the social determinants of health and medically underserved populations has come full circle since I have moved to Lafayette, Indiana. Indiana is a very rural state with a high rate of poverty, and I work at one of the best hospitals in the state. Many families have to drive hours in order to ensure their loved ones have adequate medical resources. I continue to witness how detrimental it can be to one's health to live in a medically underserved area."
While there is still so much that the medical community doesn't know about COVID-19, Shoff said new information and research is being released daily. She believes it's important that the public tries their best to educate themselves on how to protect themselves, their families, and those they don't even know.
"The Centers for Disease Control and Prevention are recommending everyone wear some form of face covering. The way I see it, worst case scenario we all wear masks for no reason. Best case scenario, by wearing a mask we could be saving lives," she said. "I would challenge everyone to take time to think about that."