MBA capstone adapted quickly to COVID-19 challenges
Published: August 10, 2020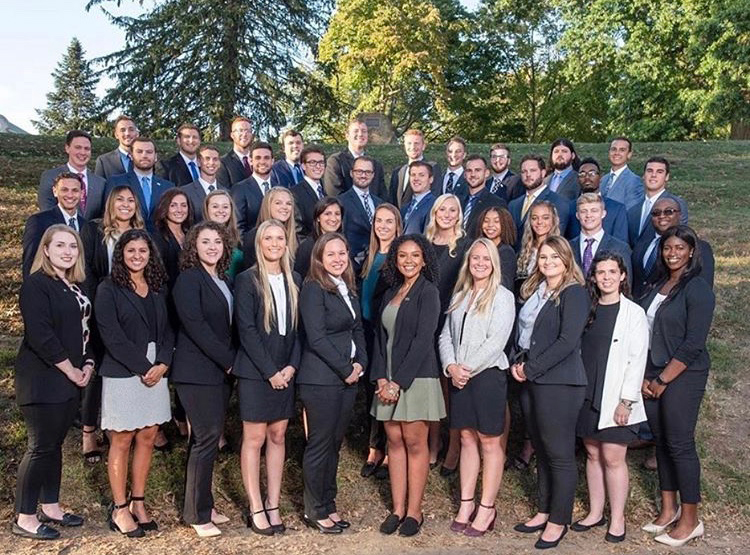 Courtesy of College of Business
While Ohio University's MBA program always includes a four-week-long capstone project at the program's conclusion, this year's version looked a little different due to the COVID-19 pandemic.
The first two weeks of the capstone were consistent with past years, with students participating in case role plays during the first week and live client projects during the second week, both in Athens. This year, students worked with Passion Works Studio for their live client project thanks to Dr. Ike Uzuegbunam, the One-Year MBA program director, who was able to facilitate the project because of his past close working relationship with the organization.  
Passion Works Studio is a community arts center in Athens that encourages purpose and belonging for individual artists, as well as the community as a whole. Throughout the students' time with Passion Works, they explored various strategies and tactics to help the organization grow its sales. One team focused on how to sell Turn It Gold flowers, which are affiliated with a foundation that fights pediatric cancer. Another team looked at the placement of passion flowers in hospitals and made recommendations for how to use them to make patient rooms and hospital hallways more colorful and friendly. Another team focused on selling green and white passion flowers as graduation gifts for Ohio University students so they can leave campus with something unique to Athens, while also supporting a good cause.
"To have 40 fresh perspectives focused on helping tell and understand our story was a huge gift. At Passion Works, we are often caught up in the details and lose perspective of the big picture of opportunity out in the world," said Patty Mitchell, founder and executive director of Passion Works Studio. "Talking with people with different experiences, connections, and ideas has opened portals of opportunity for us."
While the first two weeks were on track with the usual capstone schedule, the major adjustment this year took place during the third and fourth week. Usually students participate in a two-week-long international consulting project to conclude their capstone, but because of COVID-19, they were unable to do so.
This year's MBA students were supposed to visit Italy and Hungary, where they would have one client in each country and would be able to take advantage of other cultural immersion opportunities. However, faculty adapted quickly to the challenges relating to COVID-19 and pivoted the plan to ensure that the students would still get the most out of their education and capstone experience. Faculty reached out to members of the Management Department Advisory Board in the College of Business and asked about any potential international companies that the students could support.
Fortunately, advisory board member and CEO of Charlie Bravo Aviation, René Banglesdorf, is also on the board of Wingform, a company in Sweden. Wingform's software makes the buying and selling process of private jets better, faster, and cheaper. The MBA students analyzed the attractiveness of various other industries and proposed market entry strategies for Wingform.
"OHIO's MBA program participants lost an opportunity to do a consulting project in Europe this summer, but hopefully gained life skills that will shape their business future," said Banglesdorf. "Faced with a virtual capstone project, all 40 students did a marvelous job pivoting in a dynamic and stressful environment—and provided an international board with in-depth perspectives that shifted the future of its Swedish software offering in a positive direction."
During those last two weeks, students also were able to interact with Kelly Weber and Greg Robinson, who are Management Department Advisory Board members, OHIO alumni, and professional consultants. They held mentorship sessions, where students had the chance to ask questions and learn more about careers in consulting. While students were unable to experience the international consulting trip this year, they had the unique opportunity to network with alumni instead, which has never been a part of the project in the past.
"As a proud Bobcat alum and board member, it was an honor to partner with OHIO and the MBA students to introduce leadership concepts ranging from leading from one's strengths, branding from a place of service, and building a career equity board of advisors—all while navigating the unique and unforeseen challenges of a global pandemic," said Kelly Weber, executive coach and leadership development strategist for The Wander Project. "It was most rewarding to watch the students champion each other's strengths, learn from one another's collective experiences, and integrate their learnings live during the group sessions."
Despite this year's changes in the capstone structure, students were still able to utilize and apply their various skills that they developed throughout the MBA program. They had to think creatively and innovatively throughout their capstone projects and came out of the program prepared for the real world of business, having developed and improved their skills even further.
"Our capstone was entirely teamwork-based, which posed a new challenge as a student when working remotely and digitally. I think that COVID-19 pushed me and my peers in new ways and has made us more adaptable as future leaders," said Erin Duncan, a 2020 MBA graduate. "Moving forward, we have experience with unforeseen circumstances and can reflect on our time working through adversity. These challenges brought me closer to my classmates and has given me a shared bond with the MBA 2020 graduates that I could have never replicated otherwise."