Professor Robert Ingram's new book "Freedom of speech, 1500-1850" draws historical context for freedom of speech debate
Published: August 11, 2020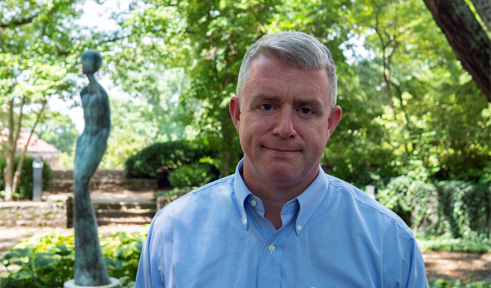 A new book co-authored by Ohio University Professor Robert Ingram probes the historical context for freedom of speech, its entanglement with religion, and the implications of this centuries-old context on today's conversations. 
Ingram, professor of history and director of the George Washington Forum, recently co-authored Freedom of speech, 1500–1850, which looks into the modern debate over freedom of speech. The book particularly looks at the question of whether limitations might be necessary given religious pluralism and concerns about hate speech. 
"There is no single argument for free speech," Ingram said. "Free speech reveals the beating heart of a society. This book examines the history and origins of free speech and looks at how fundamentally different it is compared to today. In particular, it highlights the degree to which modern claims for free speech originated in early modern claims for religious free speech. Along the way, it shows that almost every single person or group who claimed a right to express themselves freely at the very same time drew limits on what others could say."
Published by Manchester Press, the book integrates religion into the history of free speech and rethinks what is sometimes regarded as a coherent tradition of absolutist justifications for free expression. The contributors, made up of historians, political theorists and literary scholars, examine the aims and effectiveness of government policies, the sometimes contingent ways in which freedom of speech became a reality and a wide range of canonical and non-canonical texts in which contemporaries outlined their ideas and ideals, all while providing historical perspectives. It argues that while the period from 1500 to 1850 witnessed considerable change in terms of both ideas and practices, these were distinct from those that characterize modern debates. But it also points to continuities in early modern and modern debates over free speech.
"People make claims saying that someone's speech is harming them are not claiming that some ideas or words are actually physically harmful," Ingram explains. "Instead, they are making claims that some ideas or ideas are somehow existentially harmful. Looking back at history, we see that early arguments about freedom of speech centered on salvation. Would being exposed to heretical ideas hurt someone's chances at eternal salvation? Or not? The people who wanted to put limits on speech thought that exposure to heresy might lead to eternal damnation. Freedom of speech, 1500–1850 encourages us to ask ourselves whether those who now want to curtail speech today are also making almost theological justifications for limiting speech."
The book emerged from a conference held at OHIO in the March 2017 by the George Washington Forum, a scholarly and civic education form that teaches America's foundational principles in their Western intellectual, political, and institutional contexts.
The volume brings together scholars from Europe and North America and includes chapters by faculty at Oxford, Princeton, Stanford, Vanderbilt, Michigan, University College London, Sussex, Durham, Liverpool, Miami (FL), the European University Institute, American University at Cairo and Ohio University.
The book was co- edited by Ingram, Jason Peacey and Alex W. Barber.