Ohio University's Master of Sports Administration program has once again been named the world's best postgraduate sports management degree for 2020 by SportBusiness
Published: September 3, 2020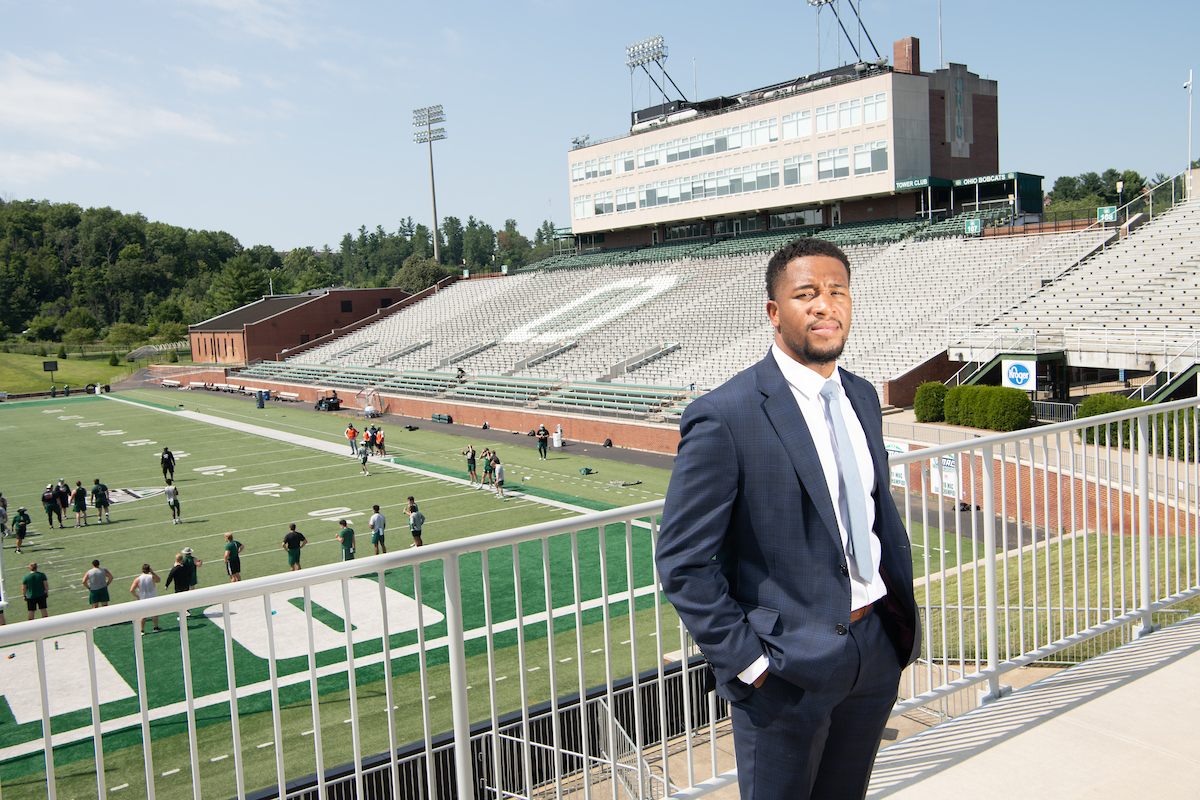 Ohio University's Master of Sports Administration program has reclaimed the top spot as the world's best postgraduate sports management degree for 2020 by SportBusiness. The acclaimed program has garnered the top spot on SportBusiness' annual Postgraduate Course Rankings for the seventh time in nine years.
"It is a great honor for Ohio University's MSA program to once again be named the best in the world, proving that the curriculum our accomplished faculty teaches continues to be at the forefront of sport business education," Ohio University President M. Duane Nellis said. "We are constantly aiming to provide our students with professional experiences necessary for success and are grateful for this international recognition."
As the oldest sports management degree in the world, founded in 1966, OHIO's MSA degree is combined with an MBA program to prepare students for cross-functional roles within the sports industry. Students complete the full-time, two-year program that is uniquely housed in the University's nationally-ranked College of Business (COB).
The College of Business also offers students opportunities to grow their knowledge and experience in sports administration through the Bachelors of Sports Management (BSM) program, an online Master of Athletic Administration (MAA), as well as the AECOM Center for Sports Administration education which offers the first-ever sports gambling education professional certification. The COB's Department of Sports Administration also offers the Professional MSA (PMSA) online to experienced professionals around the country who are currently working in sport business. Last year the program was ranked first in the world by SportBusiness (that ranking was not released this year).
"This ranking would not be possible without an amazing and committed faculty, an accomplished and invested alumni base, and driven and ambitious students," Matt Cacciato, executive director, AECOM Center for Sports Administration and director of the Masters of Sports Administration Program, said. "There is a reason our Twitter Hashtag is #OHIOFamily and 54 years of history and tradition fuel our success."
The SportBusiness rankings are based on surveys completed by course leaders and alumni of the programs; in this case, students who were part of the graduating classes of 2017. The three-year period is intended to allow graduates time to start a career in the sport industry and give them the distance to reflect on the impact of their studies on their current roles.
"The common denominator at OHIO is high performing and driven people — that makes the difference," Jim Strode, associate professor and chair of the Department of Sports Administration, said. "Our students are top notch and continually make us proud, going on to work in top sports organizations where they exhibit the utmost excellence. Sport organizations recognize the impact that a Bobcat can have in their office."
To date, more than 1,400 OHIO MSA graduates hold positions within intercollegiate athletics, professional sports, media, facilities management, and sponsorship. There are more collegiate Football Bowl Subdivision athletic directors that have graduated with an MSA degree from OHIO than any other graduate-level sports management program.
Given the events of 2020 so far, this year's Postgraduate Rankings report also focuses on the intersection of academia and the wider industry, with features on how universities are attempting to navigate the complex issues of race, gender and the COVID-19 pandemic.
The full Postgraduate Rankings 2020 report will be available later this week, launching alongside a new portal which will host all of SportBusiness' university-focused content, featuring the complete table of the top 40 courses in the world, the top 15 for Europe and North America and breakdowns of all the data alongside a wider range of articles and features than ever before.
"SportBusiness does a wonderful job with this annual survey and we are truly humbled to be recognized as a world leader in sport management education," Cacciato added. "To be recognized alongside such strong academic institutions is an honor."
For more information about the 2020 SportBusiness Postgraduate Course Ranking, visit https://www.sportbusiness.com/news/ohio-university-reclaims-top-spot-in-sportbusiness-2020-postgraduate-rankings/.