OHIO journalism students join live virtual newsroom with Manchester Metropolitan University peers on Election Night
Published: November 4, 2020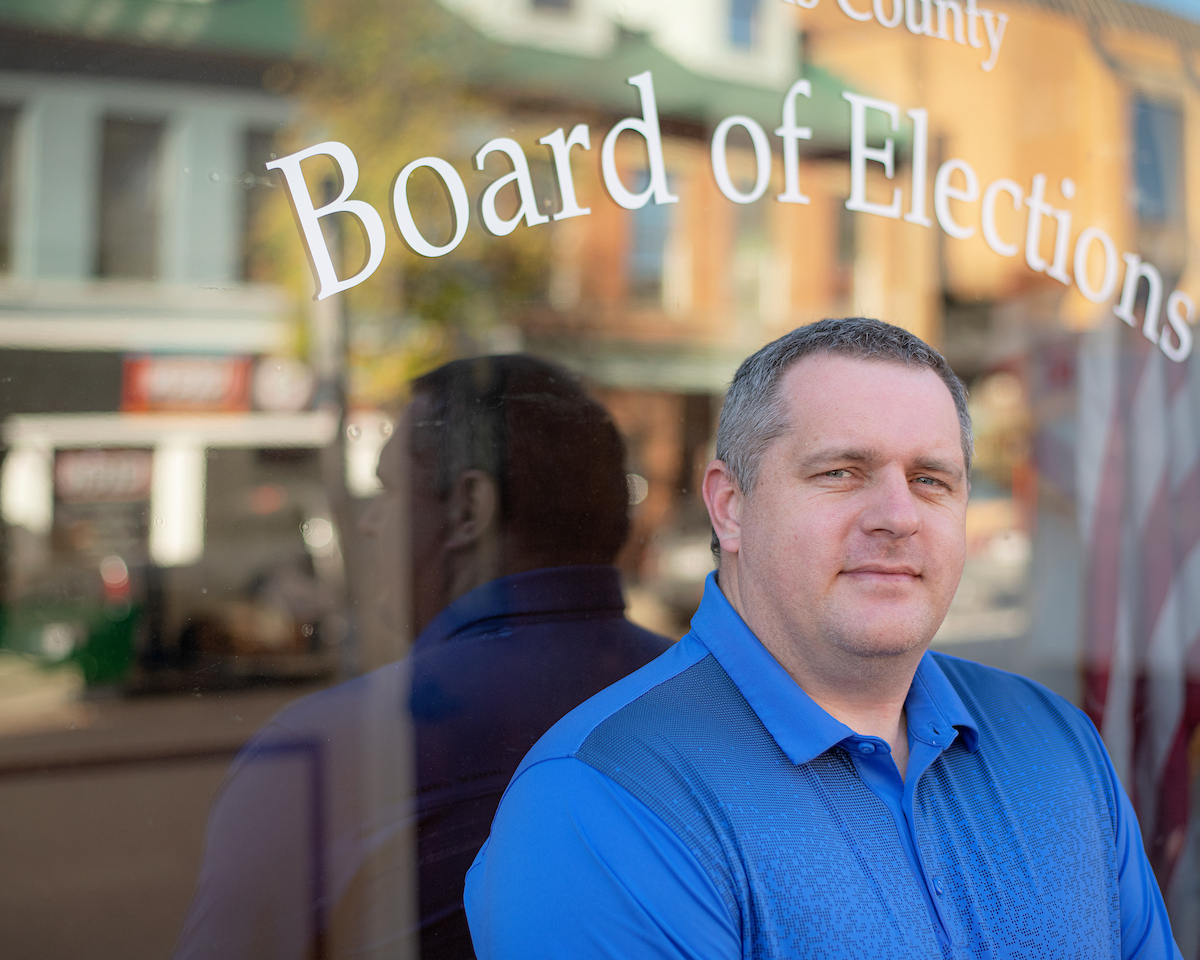 While much of America spent Election Night tracking results of the presidential election, a group of journalism students and professors from Ohio University and Manchester Metropolitan University in Manchester, England, came together for a virtual newsroom that closely followed the live election results. 
This virtual newsroom gave students from both Athens and Manchester the opportunity to share perspectives, discuss hard-hitting political issues, and learn from each other. The collaboration was organized by Dr. Carmel Thomason, senior lecturer in Manchester Metropolitan University's multimedia journalism program; Dr. Victoria LaPoe, associate professor of journalism at Ohio University; and her husband, Dr. Ben LaPoe, political communication certificate director in the Scripps College of Communication.
The collaboration came together quickly; Thomason first contacted Victoria LaPoe the Friday before Election Day. The LaPoes, Honors Tutorial College Dean Donal Skinner, journalism Assistant Professor Thomas Suddes, coordinator of the E.W. Scripps School of Journalism's statehouse news bureau fellowships, and other professors pulled together a team of students the same day.
"I reached out to work with Ohio University for a couple of reasons," Thomason said. "I was looking to connect with an institution in a swing state, if possible, because that would give the election coverage an added interest. When I came across Ohio University, your journalism course sounded like a strong practice-based multiplatform course similar to the one we have at Manchester Metropolitan University and I was hoping students at Ohio University could give our students a unique insight into the election from a United States student's perspective."
Since students in both the United States and the United Kingdom are primarily learning remotely due to COVID-19, Thomason and LaPoe saw this collaboration as an opportunity for students to feel less isolated during these unprecedented times. With this virtual newsroom, students with varying political beliefs had a platform to express their hopes for the outcome of the 2020 presidential election in an environment that fostered learning and mutual respect.
"I hope our students will gain a better and unique insight into the 2020 presidential election to motivate them in their work," Carmel added. "But more than that, I hope the election coverage will be an opportunity for them to make personal connections to broaden their outlook and their understanding of what it means to be a global citizen."
Topics discussed between students from both institutions included coronavirus, the Electoral College, social issues such as the Black Lives Matter movement, and dialogues about what this election implies for the future of the United States. Both students from OHIO and Manchester agreed that this election is one like the world has never seen before.
"It's massive, both in the United States and the wider world. You can see this with the voter turnout being much larger than previous years. This election will have a big effect globally," Callum Scott, a first-year student at MMU studying Multimedia Journalism, said.
Students from MMU worked tirelessly throughout the night creating original content such as articles and interviews, some powered by Ohio University students' perspectives.
"Working with the students at MMU help expand my global perspective. Being in the United States, I have only thought about how the results of this election affect the direction of this country, said Rebeka Green, a sophomore studying strategic communication at OHIO, said. "It is going to have a much bigger impact, in terms of the global economy. It was such an incredible opportunity to connect with these students, as well. I talked to a couple of them throughout the day for several hours. I feel like I was able to craft the start of a meaningful relationship by talking to them. It went beyond politics and the outcome of this election, which was a super-special opportunity."
Student Joe Higgins, who was at the Board of Elections to report results to the Associated Press and WSEO and a former Athens Messenger editor, welcomed the opportunity to work with the students from Manchester.
"Ohio University's knowledge and expertise know no boundaries. We are happy to collaborate with students in the United Kingdom at Manchester Metropolitan University," Higgins said. "As OHIO students, staff and alumni, we have the responsibility and honor to share our experiences with others."
Students also had the chance to openly talk about concerns regarding the election and issues important to them with their MMU peers.
"Hopefully Biden will begin to heal the wounds of racial division within the United States. If Trump wins, race relations could reach a new low," Kennedy Raspberry, an Ohio University senior studying journalism, said.
This virtual newsroom pushed students into a position where they were actively reporting and following the election, which allowed them to be both politically involved and gain experience for their upcoming careers in journalism.
"The communication with OHIO students has been an eye opener," Rachel Cowsill, a student from MMU studying journalism, said. "To be hands on with an event that's happening now is quite rewarding."
MMU students published their coverage on the college's news website, Northern Quota.
"While COVID has most of us living a little differently, technology is bringing us together to share experiences and understand our world community a little better," LaPoe said.