Patton College teacher candidates impact P-12 learning during the pandemic
Published: November 19, 2020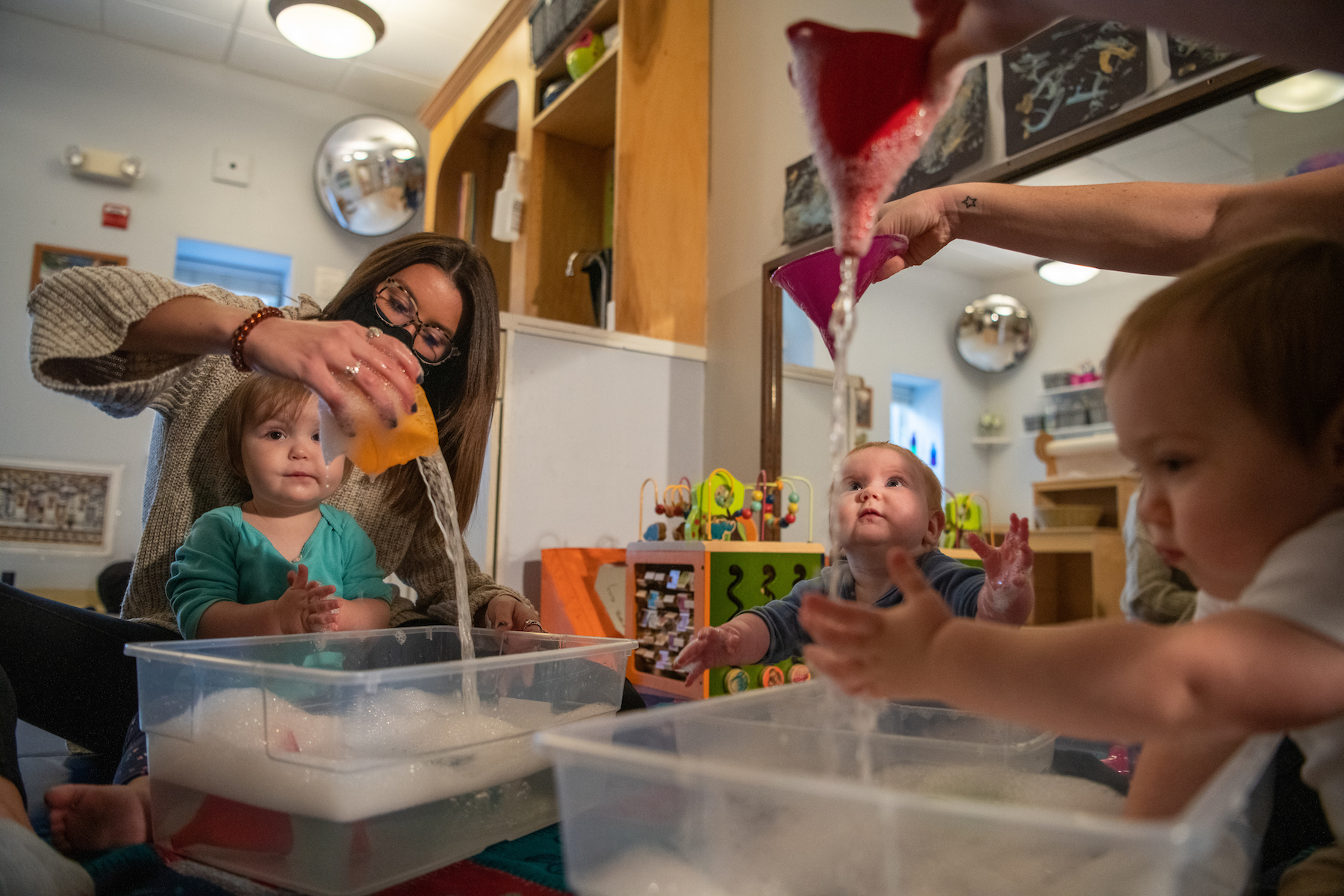 Ben Siegel
Ohio University students pursuing a degree—and career—in teacher education have always made commitments and sacrifices greater than many of their peers. But due to the pandemic, these students have been asked to commit to even greater responsibility, as well as adapt everything they learned about teaching to a completely new normal. 
"The Patton College's teacher education majors have impressed me with a firmness of character and an indomitable spirit as they dedicate themselves to not only educating their students by any means necessary, but to keeping them safe and healthy as well," said Renée A. Middleton, dean of The Patton College of Education.
Patton College education students have always held themselves to a higher standard out of a responsibility to teaching. For instance, they agree to a strict social media policy as part of acceptance into the program. Now, they have completed COVID training and committed to additional personal responsibilities and safety protocols to protect the health of the children they teach. And they have embraced change in order to fulfill their mission to educate.

"Teaching during a pandemic is far from easy," said Mike Tsironis, a senior middle childhood education major. "But it has been a huge growing experience for me thus far. I have learned that one of the greatest skills a teacher can have is the ability to respond and react to anything." 
Tsironis is a professional intern at Nelsonville-York Middle School, and Tom Haskell (a.k.a. "Big Tom") serves as his mentor teacher. At Nelsonville-York, approximately two-thirds of the students are taking classes in person, and the rest are virtual learners. Tsironis assists the virtual students using Google Meet and said a highlight of his experience was teaching a synchronous lesson about the scientific method using a hybrid of in-person and virtual teaching skills. 
Kaila Dilullo, a senior middle childhood education major, is interning at East-West Elementary with mentor teacher Trisken Emmert. Their homeroom class consists of fifth-grade students who opted to complete the school year completely online.
Prior to the start of the school year, Dilullo participated in the school district's two weeks of professional development for teachers to learn Canvas, an online learning platform. 
"It has been a difficult transition to teach completely virtually, but it has been rewarding to interact with students," said Dilullo. "I feel the skills I am learning through this process about technology and teaching online have been extremely valuable. I will be able to take these skills into my future classroom experiences."
 
Emmert, Dilullo's mentor teacher, said that the pandemic has helped her and Dilullo learn how to be better organized and prepared. With 31 students in their virtual homeroom, Dilullo assists Emmert by visiting breakout rooms and teaching small groups, uploading and grading assignments, conducting read-alouds, and recording lesson videos.
"My fifth graders adore her," said Emmert. "She is still able to build rapport with students via online. And the high usage of technology will also greatly assist her in the future. What we are doing for our virtual students can also be implemented during a typical school year."
Alli Ciancibello, prior to the pandemic, completed her professional internship at the Child Development Center (CDC). This year, returning to the CDC as a master's student and teaching fellow, she has had to adapt to a hybrid of in-person and virtual teaching.
"I was so excited to return to the classroom as a fellow this year," said Ciancibello. "As a result of the pandemic, many unexpected challenges have arisen. It was clearly evident that this school year would be much different than what I remembered from last year."
Ciancibello co-teaches with Master Teacher Lisa Kinnard in the CDC's infant room where some families chose to bring their children in person for fall semester, while others opted to hold off until spring semester. This resulted in the need to develop virtual experiences for the infants at home and adapt in-person activities for the safety of infants in the classroom.
"I wasn't sure what to expect at first, as I didn't think infants would gain much from an activity via a computer screen," said Ciancibello. "After a few virtual experiences, I was surprised to see how engaged the children were during our activities. With assistance from their parents, the children participated in teacher-led activities via Teams meetings. I was excited to see that the children were happy to see us and how much they enjoyed the activities even though they couldn't be with us in person."
Planning activities for the infants in the classroom also proved challenging. For instance, it was no longer safe to use a sensory table that promoted social development through group exploration. Instead, each child now has an individual sensory bin. In order to foster the collaborative experience, the teachers strategically placed the individual bins where safe/distant interaction occurred. Children are able to observe the other children, make eye contact, and communicate while they are interacting in their individual bins.
"This experience has given the additional insight that it is always worth it to try something new as it might just amaze you and lead to something really great," said Kinnard. "Alli is the fourth graduate fellow I have had in my classroom. During the beginning of the pandemic, I had a different graduate fellow (Meghan). Both have impressed me with their positivity in navigating the challenges to teaching during the pandemic—an increase in classroom routines that ensure sanitary interactions/environment, navigating teaching virtually, and a commitment to making safe choices outside of school.'
Ciancibello felt, as did Tsironis and Dilullo, that this experience as a teaching fellow has prepared her for her career in a very positive way.
"With all of the changes that have occurred due to the pandemic, we have created a strong support system for one another," said Ciancibello. "I think I am much more confident in remote teaching now that I see it is possible with infants."
As Ohio University prepares to bring students back for spring semester, Patton College education majors will continue to hold themselves to high standards while modeling the tenacity it takes to adapt to change. 
"Through all of this, I have been absolutely proud and inspired by our OHIO students—graduate fellows and professional interns," said Kinnard. "They have shown professionalism, dedication, positivity, determination, and most of all, their commitment to the teaching profession."