2020 ECO Challenge winning team hopes to reduce spread of COVID-19 on campus
Published: February 8, 2021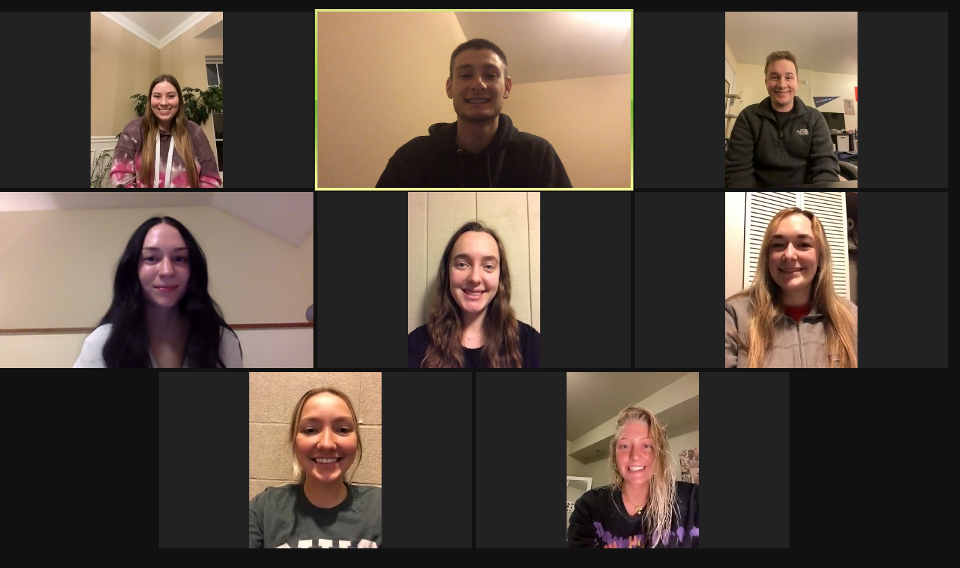 The 5th Annual ECO Challenge brought together students of different disciplines to work as a team to identify and solve sustainability issues, preparing them for the challenges they will face in their careers after they leave OHIO. The final five teams presented to a panel of experts on Nov. 19, 2020, over Microsoft Teams.
The team with the most outstanding proposal according to the judges' criteria included Bailey Cain, Kelsey Cruttenden, Mikey Loehr, and Megan Veneman from the College of Business; Ashlee Phares and Jenna Miller from the Scripps College of Communication; and Haley Myers and Christian Sheline from the Russ College of Engineering and Technology. Their proposal focused on the installation of the StepNPull, a foot-operated door opener, in restrooms across campus in order to reduce the spread of COVID-19.
Mike Sewell, inventor and president of StepNPull, was so interested in the team's idea that he reached out to the winning team to inquire if the company could use their findings for marketing purposes, which while exciting, is quite common for ECO Challenge winners. In four out of five years, the winning proposal has either been implemented or a commitment for implementation has been made, giving students the opportunity to make a real difference.
"The ECO Challenge was such a positive and impactful experience for me," said Veneman, a senior studying marketing and management and strategic leadership in the College of Business. "Because of the ECO Challenge, I was able to work on an interdisciplinary team and create a viable solution for the University that can help reduce the spread of COVID-19 and other illnesses, as well as potentially reduce carbon emissions. I can truly say that this experience has been incredibly unique, rewarding, and beneficial for all involved."
The ECO Challenge is a semester-long, cross-disciplinary, applied leadership project in which students work together in teams of six to eight participants, consisting of different majors, ages, and skill levels. Throughout the project, students identify sustainability issues that are prevalent on or near the Athens campus, determine which issue to focus on as a team, envision a solution to the problem, engage stakeholders to clarify the vision, and present a business pitch for their solution.
The ECO Challenge has become a publicly attended event, with thought leaders and topical stakeholders participating each year. In order to choose a winner, the judging panel assessed many criteria, including validity and relevance of claimed benefits, implementation of practicality and risk, rigor and believability of the ROI analysis, clarity and completeness, response to potential concerns of all stakeholders affected, and professionalism.
"After completing the ECO Challenge, students often tell me that it was one of the most positively impactful and memorable experiences that they have had while at Ohio University," said Andrew Pueschel, co-director of the ECO Challenge.
Pueschel's co-director, David Bayless, recently retired from the University. Bayless was graduate chair of mechanical engineering, Gerard Loehr Professor of Mechanical Engineering, and director of the Robe Leadership Institute in the Russ College of Engineering and Technology.
"I want to specifically show my appreciation to Dr. David Bayless for his partnership in co-directing the ECO Challenge with me over the past years. We look forward to having him back to Ohio University to serve as a judge and/or stakeholder mentor in future ECO Challenges," Pueschel said.
Presentation topics from the other four final teams included replacing the current fleet of Ohio University lawn mowers with electronic versions; introducing washable and reusable cups in the dining halls that students can own; replacing the current version of micro-fridge units in the residence halls with higher efficiency models; and increasing naturalized land surrounding campus.
"The ECO Challenge gave me the unique opportunity to help impact Ohio University in a positive way both in the short and long term," said Sheline, a senior studying mechanical engineering. "I am very proud of my group and what we were able to accomplish in such a short period of time, as well as being selected out of numerous great presentations as this year's winner of Ohio University's 2020 ECO Challenge. "
Those interested in participating in the ECO Challenge can register for Dr. Pueschel's MGT 3435 Leadership in Practice course, which is offered in the fall each year and also serves as the capstone for the Strategic Leadership Certificate. For more information on the certificate program, please go to https://business.ohio.edu/academics/certificates/strategic-leadership/.