Alumni invited to share their OHIO experiences with admitted first-year students
Published: February 18, 2021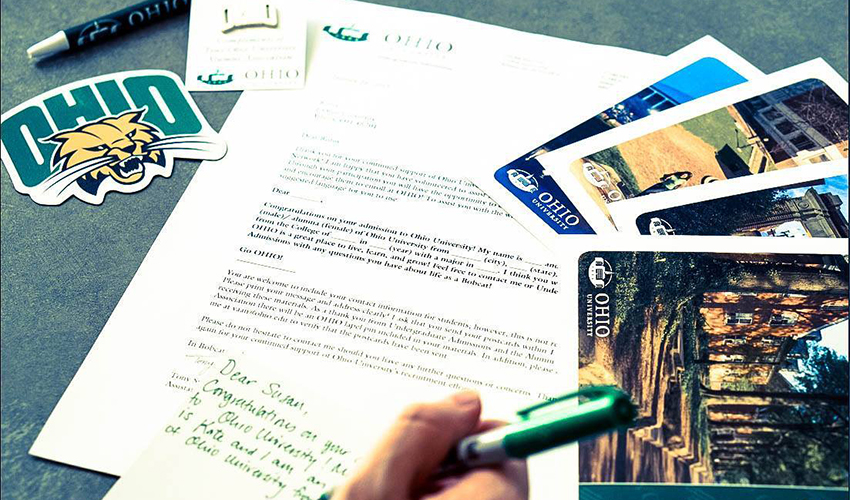 Among the many challenges facing high school seniors right now is deciding where to attend college—at a time when visits to and interactions on campuses are socially distanced and far from typical.
Ohio University graduates now have two opportunities to bring the OHIO experience to and connect with admitted first-year Bobcats—both those who have confirmed their intention to enroll at the University and those still weighing their options.
Undergraduate Admissions, in partnership with the Ohio University Alumni Association, is recruiting OHIO alumni to participate in the well-established Postcard Project and a new Phone Call Project.
Through the Postcard Project, alumni will be provided postcards with pre-paid postage and contact information for five to 10 first-year students and be asked to write them a note congratulating them on their OHIO admission, welcoming them to the Bobcat community and sharing with them a little bit about their college experience. Through the Phone Call Project, alumni will be provided names and phone numbers of first-year students and asked to call those students to congratulate them on their admission to OHIO, discuss the college decision process (with responses to frequently asked questions provided) and share a story that highlights why they chose Ohio University.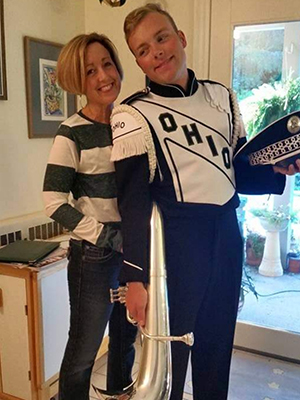 "Alumni voices are one of the top five most influential factors in a student's decision on where they go to college," said Tyler White, BSS '15, MED '20, assistant director of outreach and alumni engagement at the Ohio University Alumni Association. "Something unique across all OHIO alumni is that we have these fantastic stories to share. Those stories are really some of the most important aspects of what it means to be a Bobcat. In a year where traditional interaction just hasn't been the norm, it's even more important for alumni to share those authentic experiences with future Bobcats."
Sallie Ellis Stephens, BSJ '84, MSPE '90, remembers the postcard her son, Wyatt Stephens, received from an OHIO alumnus after he was admitted to the University. Four years ago, a Facebook post by a fellow Bobcat and friend who participated in the Postcard Project inspired her to join the effort as well.
"I enjoy being an encourager, and I know that it can mean a lot to hear from someone who has traveled the same journey," said Stephens, who works for the National Multiple Sclerosis Society as the manager of healthcare provider engagement for the states of Ohio, Michigan and Indiana.
"I have a deep love for Ohio University, and I think it's important to let incoming first-year students know that the University experience can extend beyond the years they spend on campus," Stephens added. "I like sharing that I still love OHIO even after all these years and that they, too, can find a 'home away from home' in Athens and at OU. ... The Postcard Project is a great way to give back to the University, to feel a part of the Bobcat community and to share the OU love."