OHIO professors examine physician bias and stigma toward individuals who misuse opioids
Published: February 26, 2021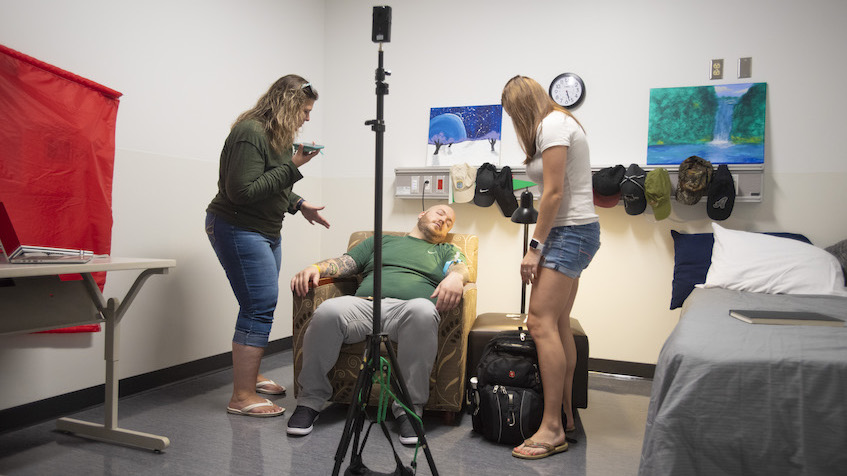 Ohio University professors Berkeley Franz, Ph.D., and Lindsay Dhanani, Ph.D., have continued their research examining how psychology and public health intersect, this time analyzing the effects of physician bias and stigma toward people who misuse opioids.    
"One of the biggest barriers to enacting effective services for opioid abuse in our region is bias among some health care professionals and the negative connotations that surround opioid misuse," said Franz, assistant professor of community-based health at the Heritage College of Osteopathic Medicine and Osteopathic Heritage Foundation Ralph S. Licklider, D.O., Endowed Faculty Fellow in Population Health Science.
From their research, Franz and Dhanani found that physician bias is more acute in Ohio's rural counties than in urban counties. That means that areas hardest hit by the opioid crisis, which sometimes have fewer medical resources, have the added barrier of increased bias among health care providers. They also found that rural areas had fewer harm reduction services, such as syringe exchanges and buprenorphine prescribers, suggesting that rural patients with opioid use disorder face increased challenges to finding effective treatment.
"Our findings highlight the need for interventions to identify and address the unique sociocultural factors that may contribute to the comparatively high levels of bias among rural health care providers," Dhanani, assistant professor of psychology in OHIO's College of Arts and Sciences, said. "Doing so can be beneficial for patients with opioid use disorder and the health care providers who serve them, as well as for combating the broader opioid crisis."
 
The study, titled "Rural/Urban Differences in Physician Bias toward Patients with Opioid Use Disorder," was published in Psychiatric Services and comes out of a broader project to better understand how health care facilities address opioid abuse. As part of their ongoing research in this area, Franz and Dhanani are also exploring how physicians perceive the presence of bias toward patients who misuse opioids and their willingness to undertake additional training related to stigma.

"The opioid epidemic has had far-reaching consequences on our health care system and has required increased contact among health care providers and patients with opioid use disorder," Dhanani explained. "However, there are substantial barriers to that much-needed access to health care, in part because some health care providers hold negative attitudes toward and do not want to work with patients with opioid use disorder."
For this study, Franz and Dhanani developed a survey to measure bias related to opioid misuse, specifically looking at how common it is and if it was higher in rural or urban areas.
"What we know about rural opioid abuse is that if physicians rarely work with this patient population, the more bias is held. Physicians in urban settings, by contrast, seem to have more experience with both providing services for opioid misuse and working with that population, which may explain the lower bias that we found among this physician population," Franz explained.
Franz and Dhanani include in the discussion of their findings that opioid misuse stigma is found in many other professions, such as law enforcement. According to Franz, news reports in Ohio have shed light on stigmatized approaches to handling opioid overdoses; some Ohio counties have suggested limiting the number of times individuals can be revived with Naloxone, telling paramedics they don't have to revive someone from an opioid overdose.
"Ultimately physicians are human too and hold the same biases that many Americans do regarding substance misuse and mental illness," Franz said. "These beliefs were even more common in rural counties, which suggests that social settings may shape views toward stigmatized patient populations. The fact that bias is more common in areas where services are less available raises the question of whether stigma shapes the prioritizing of resources necessary to combat the opioid epidemic."
Franz and Dhanani plan to develop an online intervention on addiction to determine if educating health care professionals can help create more awareness of biases and more accessible services. They are also planning a follow-up study that would give physicians that were provided training on opioid use disorder the original survey to see if there are any changes in their answers and bias.
"Our goal is for more training and education to be made available for medical professionals and for health professions students on opioid addiction," Franz said. "Health care professionals are highly motivated to care for vulnerable patients, and we believe that the more we educate health care professionals on addiction, the better positioned they will be to support patients misusing opioids."