OHIO to host virtual pep rally for March Madness
Published: March 20, 2021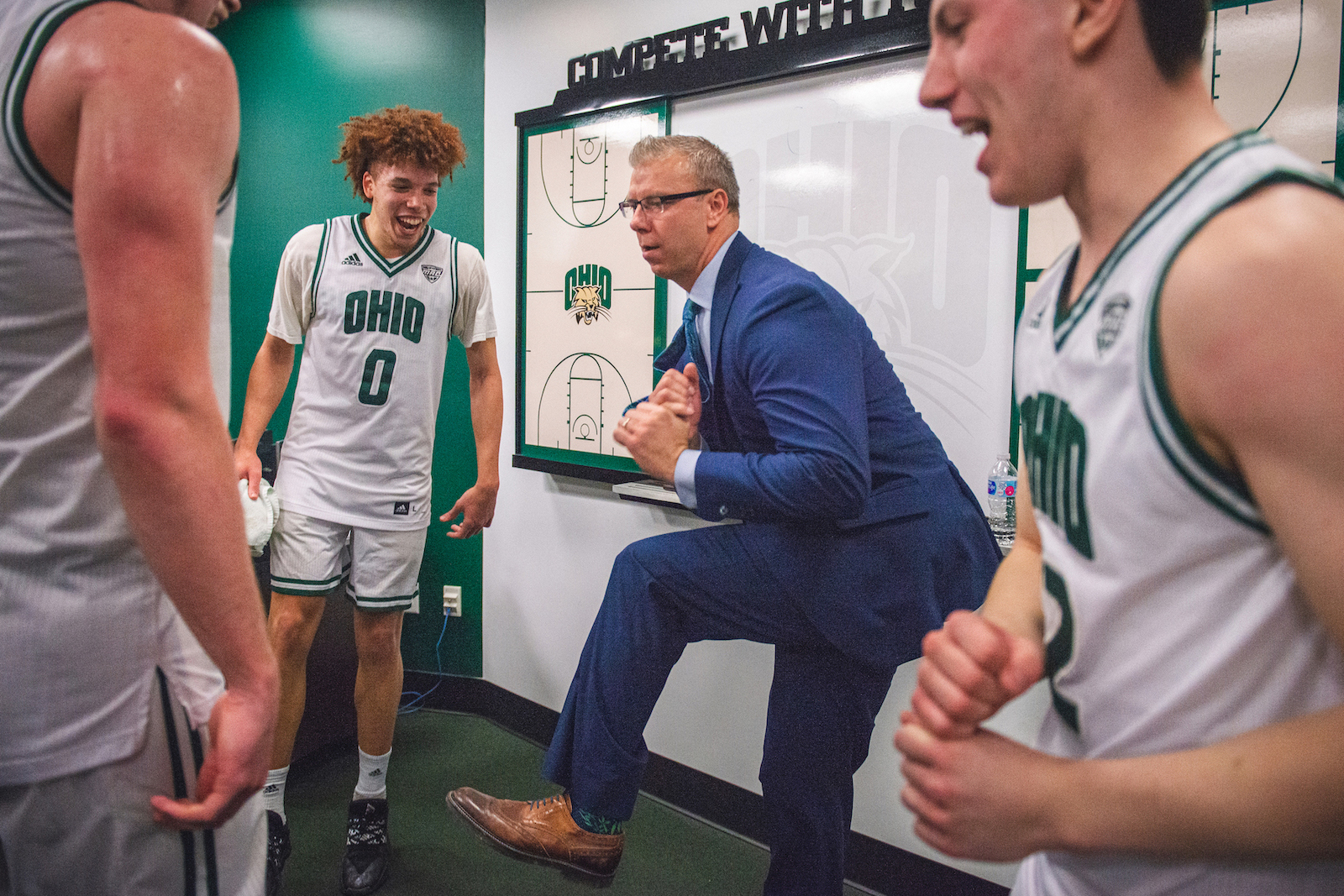 Eli Burris/Ohio University
In a Saturday night thriller, the 13-seed OHIO Bobcats knocked off defending NCAA champs, 4-seed University of Virginia, 62-58. The Bobcats now face Creighton, seeded 5th, on Monday, March 22 at 6:10 p.m.
When the OHIO Men's Basketball team takes on Creighton, fans everywhere can bring the energy of the Convo to their living rooms through a University-hosted virtual pep rally from noon to 1:30 p.m. EDT on Monday, March 22.
The Ohio University Alumni Association and Ohio Bobcat Club are sponsoring the event, which will include special video messages from OHIO President M. Duane Nellis, men's basketball coach Jeff Boals, the OHIO Marching 110, and the University Dance Team. More speakers will be added as details are finalized. Join us before the game for footage from inside the bubble.
All fans are invited to participate – students, faculty, staff, alumni and fans from all over. Register for the pep rally at https://calendar.ohio.edu/event/ncaa_mens_basketball_big_dance_party_-_round_two. To get ready, check out this video story on star guard Jason "Jay" Preston.
The Ohio University Alumni Association also hosted similar events for the Women's Basketball team, prior to its first-round NIT game against Clemson and for the Men's Basketball team prior to its matchup against 4-seed Virginia in its first-round game in the NCAA Men's Basketball Tournament. 
"We're excited about these opportunities to bring alumni and friends together to support our Bobcat Basketball teams and to build some March Madness energy and fun virtually," said Erin Essak Kopp, assistant vice president for Alumni Relations and executive director of the Ohio University Alumni Association. "This will be a great way for the OHIO Family around the world to celebrate not only the success of our student athletes, but also everything that the University means to them. I'm looking forward to seeing everyone online!"
Go Bobcats!