Relaunch of electric scooter use set for March 15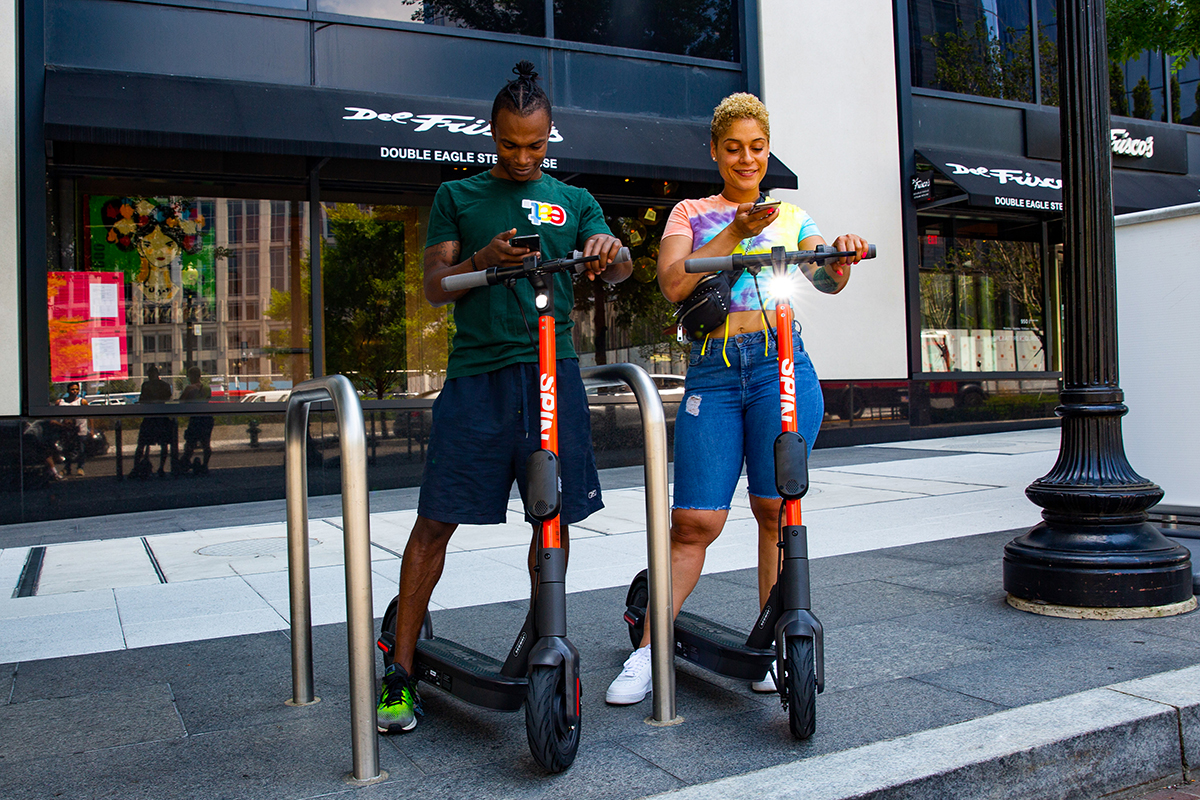 Spin
Electric scooters by Spin, a company owned by Ford Motor Co., will soon be available again in the city of Athens and the Ohio University campus, relaunching on Monday, March 15. Operation hours will be 6 a.m. to 9 p.m. daily, weather permitting. 
E-scooter users are reminded to ride responsibly, obey the rules of the roadway, adhere to traffic signs and signals and yield to pedestrians. Helmet use is strongly encouraged. Riders are also reminded that scooters should be operated for single occupancy use only. 
E-scooters are available through a phone application (Spin-Electric Scooters) and can be rented at a rate of $1 per ride and $.35 per minute. If a rider scores a 100% on a safety quiz on Spin's website, they can earn a $5 credit and a chance to win a free helmet. 
College Green is a designated campus "no ride" zone, and the city has also implemented a "no ride zone" on Court Street (from the Union Street intersection to Carpenter Street). Cross-streets to Court Street will have access. Any temporary "no ride" or "slow ride" zones will be designated accordingly within the Spin-Electric Scooters app.
Operators of the e-scooters are required to park in a designated parking zone at the end of the trip. The device will not allow a user to end their trip until they are in a parking area. Authorized and designated campus parking locations will be marked with e-scooter parking emblems and will be shown in the Spin app. A full list of designated areas can be found on OHIO's Transportation and Parking Services website. 
Spin Access offers access to e-scooters for individuals without smartphones or credit cards – additional information on this service is available at www.spin.app/spin-access. Riders must be 18 years old or older to rent an e-scooter.
Spin provides a 24-hour Customer Service Line 888-262-5189 and email support at support@spin.pm. Customer Care phone numbers are also listed on each e-scooter for easy reference. Individuals are encouraged to reach out to Spin directly to report improper e-scooter parking, scooter damage or maintenance needs, or for service/account questions and concerns.
To promote the health and safety of riders, Spin enacted several protocols. When each scooter is brought back to the warehouse, it is thoroughly disinfected and the employees who handle the scooters wear gloves, masks, safety glasses, complete daily health checks and maintain social distancing. Spin also encourages all riders to wear a mask and wash their hands before and after each trip. 
Spin has provided a safety website to encourage rider safety. Ohio University Transportation and Parking Services offers e-scooter operating best practices online at www.ohio.edu/transportation-parking/shared-active-transportation-programs.