OHIO's GRID Lab collaborates to offer relaxing VR experience to healthcare workers amid pandemic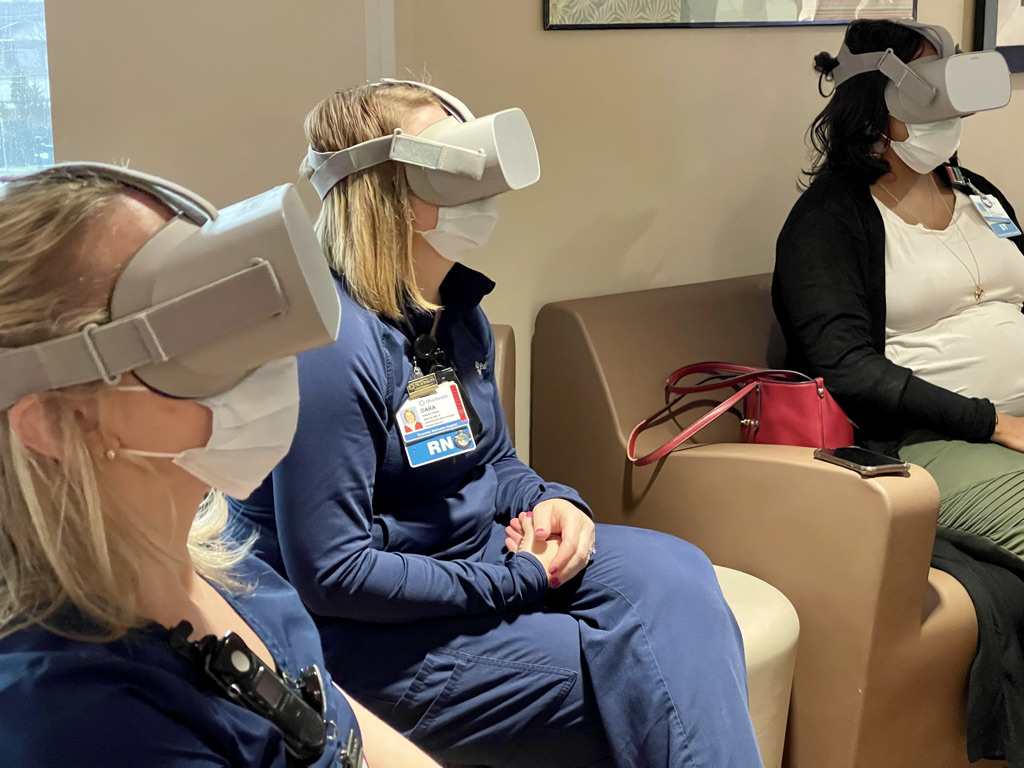 Ohio University's Game Research and Immersive Design (GRID) Lab is collaborating with OhioHealth on a new project to help relieve the stress of COVID on healthcare workers through a Tranquil VR experience.
Matt Love, virtual reality production coordinator for the GRID Lab, and Elizabeth Beverly, Osteopathic Heritage Foundation Ralph S. Licklider, D.O., Endowed Faculty Fellow in Behavioral Diabetes, as well as associate professor of primary care at the Heritage College of Osteopathic Medicine, teamed up to find a way to lessen the stress of healthcare workers during COVID through creating a VR experience set in nature.
The GRID Lab often works with external partners, including collaborating on multiple projects with OhioHealth. When COVID began and the GRID Lab had to halt some of its projects, Love and Beverly had the idea to leverage VR as a way to mitigate the stress frontline workers were being subjected to as a result of the pandemic.
"The idea came from a conference we were speaking at on VR where another speaker spoke on using VR to mitigate pain for burn victims while changing bandages and how allowing for some type of escape helped the pain," Love said. "We thought, if this helped those victims, can VR also help with those working the frontlines of COVID? On a whim we pitched the idea to OhioHealth and they loved it, allowing us to develop this experience for their employees."
"These have been unprecedented times for health systems around the country, including ours," Kristi McClure, MSN, RN, and co-chair of the OhioHealth Well-Being Collaborative, said. "Early on in the COVID-19 pandemic, OhioHealth started looking for and developing ways to give our teams, especially those working with patients on the front lines, a brief respite during their day to help overall well-being and resilience. This partnership with Ohio University on a virtual reality resilience pilot was a labor of love, and we are really looking forward to seeing how it impacted those who have participated. We will do everything we can as a health system to take care of those who are caring for families each and every day through our well-being efforts. We are hopeful that this virtual reality option is another tool we can have for our physicians and associates. We are proud of the research the OhioHealth Research Institute (OHRI) will do with the surveys from the pilot, and honored to have worked close with great partners like Ohio University."
To date, Beverly and Love have had 89 medical professionals participate in the study. Anecdotally, they have heard that the medical professionals have enjoyed the VR experience and found it very beneficial, with many providers asking to keep the VR at their sites for a longer period of time.

Prior to this project, Beverly has worked with Love for the past three years on the Medicaid Equity Simulation Project.
"I love working with Matt and the GRID Lab, so I jump at any chance to collaborate with them on another project," Beverly said. "Late last summer, Matt, Carrie Love (his wife), and I had a conversation about how amazing it would be if we put in scenes from nature in a 360-degree VR headset to help us cope with the pandemic. That conversation led us to this project."

To capture the experience in the VR, Love worked with Nancy Stevens, professor of functional morphology and vertebrate paleontology in the Heritage College and director of the OHIO Museum Complex, to capture footage of a nature preserve in southeastern Ohio. The two were already collaborating on documenting the beauty of the preserve through all four seasons when the idea for the VR was created, so they decided to use the preserve as the escape to bring to people.
To supply healthcare workers with the VR equipment, OhioHealth identified three hot spots of priority for them in Columbus – Riverside Methodist Hospital, Grant Medical Center and Marion General Hospital. Each facility was delivered several headsets and a cleaning box, a small unit that has medical grade UVC light that sanitizes the headsets before use. The headsets are open to any staff member at the hospitals.
The entire experience lasts up to five minutes, however, people can choose how long they want to undergo the experience.
"Thousands of healthcare providers have been working on the front lines of the COVID-19 response for more than a year now," Beverly said. "Our five-minute VR experience was designed to provide medical professionals with a brief respite during their long workday. The lush, nature-themed scene was filmed to promote relaxation, tranquility, and rejuvenation. We will take any opportunity to help medical professionals cope with the stresses of the COVID-19 pandemic."
Beverly is helping conduct the research to evaluate the impact of the tranquil VR simulations on perceived stress among healthcare professionals.
"The application for Tranquil VR reaches beyond the scope of the medical profession," Beverly added. "We believe K-12 educators, professors, parents of young children, older adults, etc. would benefit greatly from these brief, nature-themed VR experiences. The opportunity to recharge with a five-minute scene from nature may help many people who are struggling with work-life balance during the pandemic."
According to Beverly, new research from the Healthcare Worker Exposure Response & Outcomes Registry collected between April 2020 and July 2020 shows that 41% of healthcare providers are experiencing burnout. Specifically, these providers report feeling tired a lot of the day (53%), stressed (51%), trouble sleeping (41%), worry (38%), and feeling sad (21%). She explains that burnout can have a negative effect on a provider's physical and mental health as well as the quality of care that they provide.  
"We really wanted the experience to be as pure and sincere as possible, with the experience to really just make these healthcare workers who have risked themselves, undergone long and tiring days and have seen the tragedy this pandemic has caused first-hand, to feel like they can be transported to a beautiful and relaxing place. It's an outlet that allows them to soak up nature and escape everything they're going through," Love added.
Ideally, Love would like to continue this type of experience offering, expanding it by creating different scenes that people can choose from depending on how they're feeling that day and so it's not the same experience each time.
"I could not do this without the support that John Bowditch in the GRID Lab provides," Love said. "He's phenomenal at creating an environment where ideas can come to life and grow. He's really focused on finding ways to move the needle forward and do positive work that builds up the community and if it weren't for that, we would never have been able to accomplish this."