Engineering students receive prestigious awards for corrosion research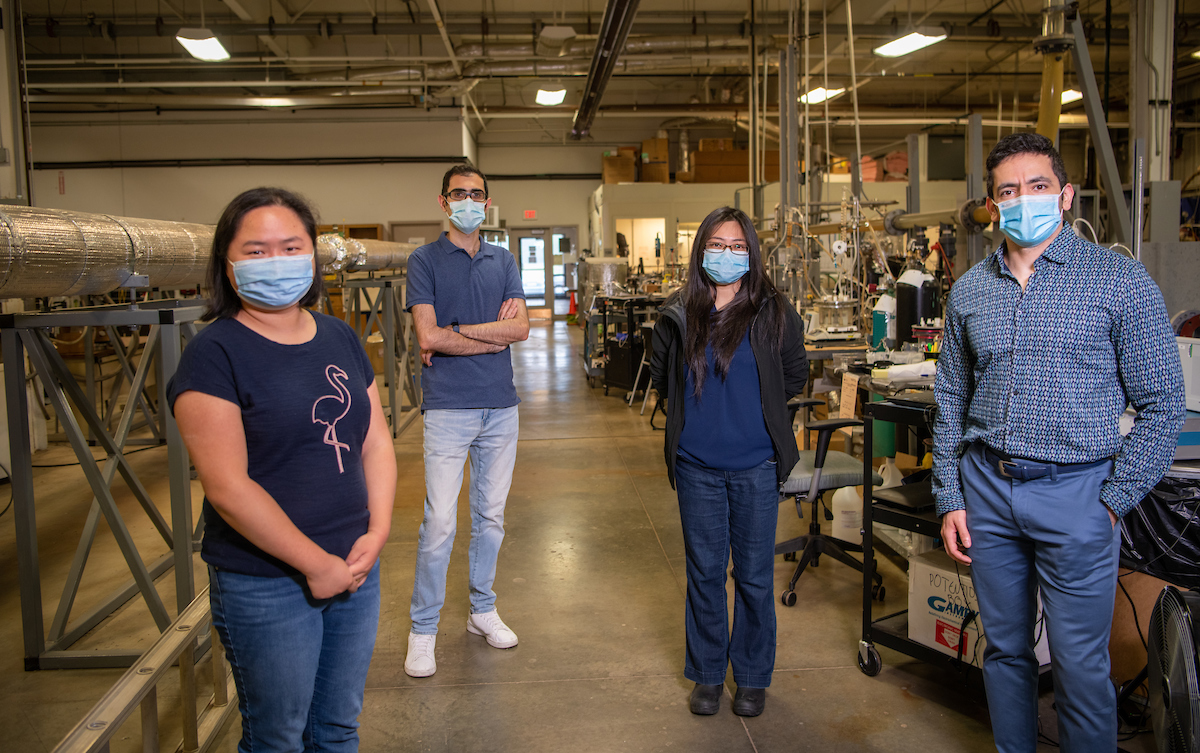 Ben Siegel/Ohio University
Five Ph.D. students from the Russ College of Engineering and Technology received prestigious awards at the 2021 Association for Materials Protection and Performance (AMPP) Conference for their research on corrosion.
Huiru Wang won the Best Poster Award in the Mars Fontana Category for corrosion engineering, and Payman Sharifi Abdar won the second-place award. Zheng Ma won the third place Poster Award in the Marcel Pourbaix Category for corrosion science. Fazlollah Madani Sani received the NACE Foundation's Graduate Student Book Award, and Zhong Li won the East Asia and Pacific Area Young Scholar Award. All are advised by faculty in the Department of Chemical & Biomolecular Engineering, Distinguished Professor Srdjan Nesic, Associate Professor Marc Singer and Professor Tingyue Gu; each are internationally recognized for their contributions to corrosion science.
According to the National Association of Corrosion Engineers (NACE), AMPP has more than 40,000 members in 130 countries. The 2021 AMPP Conference was virtual because of COVID-19. 
"In AMPP Corrosion 2021, Ohio University has the largest number of students who won the student poster awards, which is a very good advertisement and praise for our Ohio University," Wang said.
Wang's research and posters were about corrosion inhibition by organic surfactant-type inhibitors on metal surfaces. Sharifi's research modeled mild steel corrosion in hydrogen sulfide environments while Ma's was about calculating surface speciation on mild steel under applied polarization.
Wang said there were 60 student posters that came from numerous international universities. There were peer judges who evaluated the posters by clarity, the innovation of the research, its impact on the corrosion community, and the story's logic. There were also individual interviews with several judges for students to present their work and answer the judges' questions. The best student posters were selected after the evaluation process.
"My research work involved in this poster achieved a molecular-level understanding of carbon steel corrosion inhibition mechanism by an innovative in situ electromechanical AFM study," Wang said.
Wang said the award helped increase her confidence with her current corrosion inhibitor research and encourages her to keep going forward in the corrosion engineering field.
Sharifi said he tried to make a clear poster about his research and tried to present it in a clear and concise way to the judges.
"Winning the award would help me by drawing attention to my research during and after the conference as many industries and researchers in the field of corrosion are participating in this conference," Sharifi said. "It would help my research lab and university to be more highlighted in the conference, and could encourage industries to invest more funds in our research and the university itself."
Ma's poster was about constructing a corrosion model that could predict corrosion behavior, and the model's prediction is based on surface speciation calculation. She said her award is a sign that her work has value in both academics and industry. 
"More people get to know me and Ohio University through this award," Ma said.
Madani Sani said the NACE Foundation gives the Graduate Student Book Award in the amount of $1,500 to help students develop their corrosion libraries. He joined Ohio University's Institute for Corrosion and Multiphase Technology (ICMT) in 2017 and started his PhD project on the effect of salt concentration on carbon dioxide/hydrogen sulfide carbon steel corrosion. He became an AMPP student member in 2015 and has written and reviewed multiple papers and presentations. He became the chair of the AMPP Ohio University Student Section in 2019.
As chair, Madani Sani invited guest speakers, organized student Q&A sessions with guest speakers, organized student seminars and set up a virtual career workshop for students.
"As a senior Ph.D. student at ICMT, I contributed directly to the research of one undergraduate and two Ph.D. students," he said.
Madani Sani said his award will help him develop his corrosion library. He said could not have gotten his award without support from ICMT members.
"This award helped ICMT and in a larger picture Ohio University to be recognized for the extraordinary efforts and achievements of its members who have done so much to make an impact in the world of corrosion science," he said.
The East Asia and Pacific Area Young Scholar Award earned by Li is a new $1,500 scholarship awarded by the NACE Foundation on behalf of the Chinese Society for Corrosion and Protection. 
"I've been keeping up with my studies," Li said. "That's why I think I won."
Li believes that winning the award will make more students pay attention to it.
"An award can encourage Asia students' improvement," Li said. 
Research Professor David Young said the awards are important for the students in terms of personal recognition of their research and excellence.
"That reflects on the reputation of the Corrosion Institute at Ohio University," Young said.
Young, who also serves as assistant director for academic affairs within the ICMT, said that all graduate students affiliated with the ICMT perform research that seeks to understand the phenomena involved with corrosion. Corrosion refers to metal breaking down because of a chemical reaction with the environment.
"Corrosion is the 800-pound gorilla in the room for industry, and society, that is too frequently ignored, despite costing our economy $1 trillion annually," Young said.
Young said the students' awards reflect their strengths relating to corrosion, materials characterization, modeling and mitigation.
"Their awards are an exceptional haul for a single university."
Nesic, an Ohio University distinguished professor who serves as ICMT director, said students know getting good grades and awards are important for everybody.  
"It is a mechanism where someone finds out that what they do is important and valuable for other people," Nesic said. "This is particularly significant when you go to a big conference like this one, which is the largest international conference in our field."
The AMPP also awarded the ICMT the NACE International 2021 Distinguished Organization Award for its outstanding contributions to corrosion science or engineering over a sustained period of time. The ICMT operates within the Russ College of Engineering and Technology.