Ohio University to host COVID-19 vaccines town hall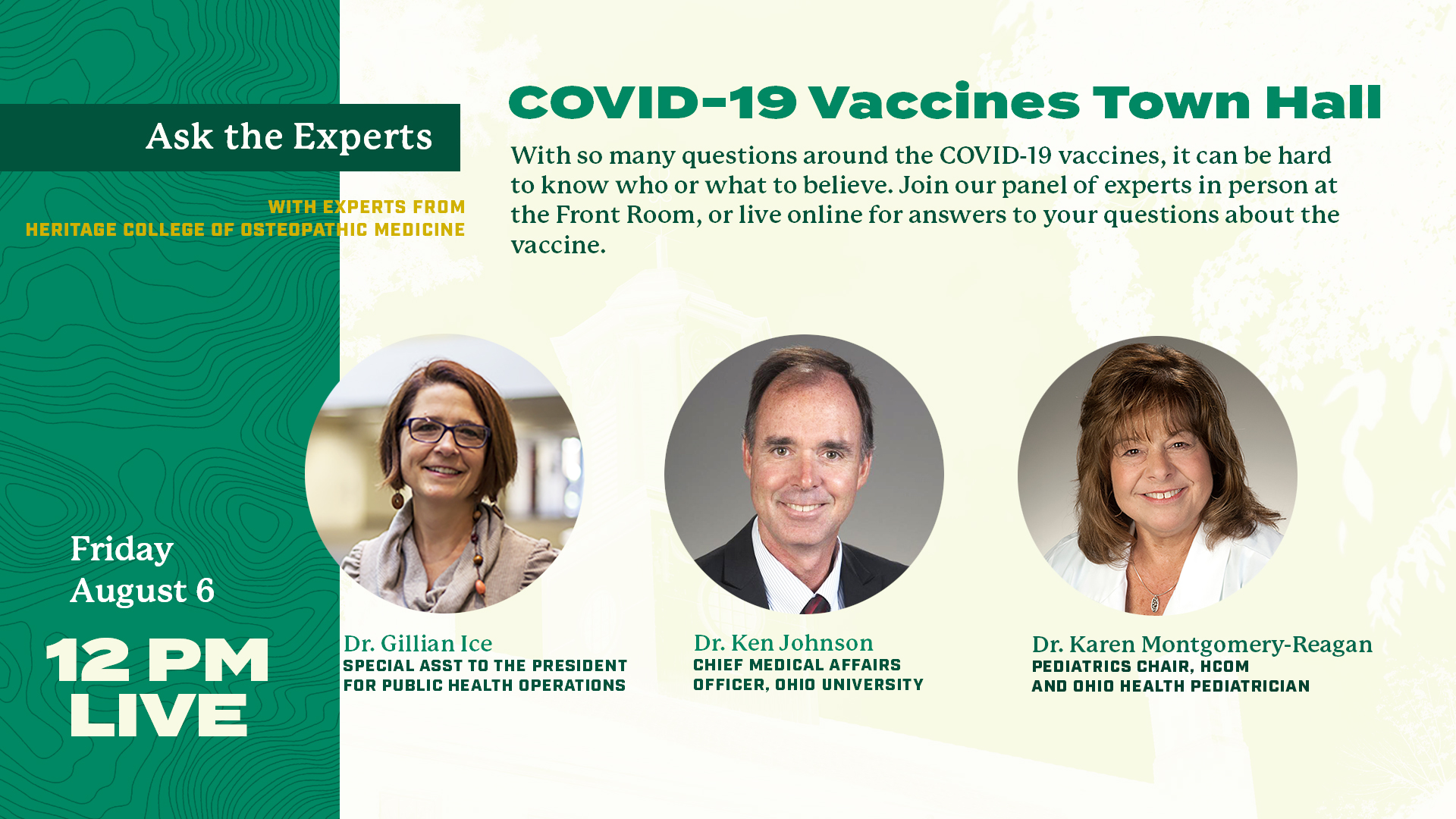 So many questions surround the COVID-19 vaccines, it can be hard to know who or what to believe. Many individuals are "vaccine curious" – tempted to gain this important protection against the virus, but also concerned enough about it to remain unsure. Even those who already are vaccinated have questions about what it means for their health and their daily interactions.  
Anyone with questions or concerns about the COVID-19 vaccines is invited to a town hall featuring Dr. Gillian Ice, special assistant to the president of public health operations; Dr. Ken Johnson, chief medical affairs officer for Ohio University; and Dr. Karen Montgomery-Reagan, chair and associate professor in the Heritage College of Osteopathic Medicine. The panelists will answer questions on the different vaccines available, side effects, benefits, and implications for both individual health and community health. They welcome your questions and look forward to this important conversation. 
The COVID-19 Vaccines Town Hall will take place on Friday, Aug. 6, at noon, with both in-person and virtual options for attending.  
Participants are welcome to attend in person at the Baker University Center 240/242, where there will be ample space for social distancing and masks are welcome regardless of vaccination status. Attendees will have the opportunity to ask the panelists questions or anonymously submit questions to the moderator. 
Those interested in attending but unable to or uncomfortable doing so in person can watch virtually through a livestream on Ohio University's Facebook and YouTube channels. Livestream viewers can ask questions through commenting on the livestream feed or by direct messaging the Ohio University social media channels with their questions. These questions also will be asked in real time during the discussion.
To view the livestream, click here.