New broadcast meteorology major pairs science courses with studio forecasting experience, journalism courses
Published: September 15, 2021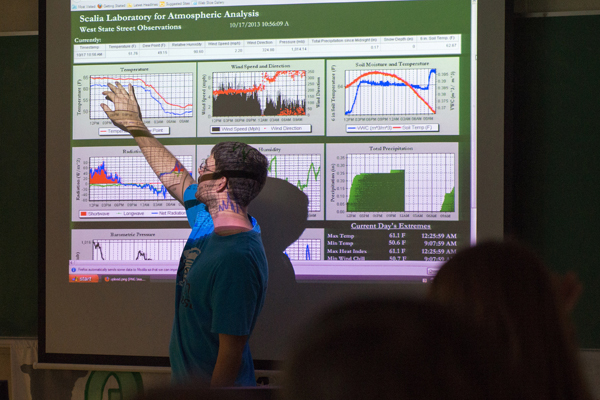 The new Bachelor of Science in Broadcast Meteorology major at Ohio University pairs the coursework and training of a traditional meteorology degree with the most robust and broad journalism curriculum in the nation for students looking to become on-camera meteorologists and science journalists.
Students will take all of the physical science and mathematics courses required for the American Meteorological Society-approved Certified Broadcast Meteorology Program, while also completing an extensive series of journalism, broadcast, and communications courses.
"Hands-on experience is central to this new major," said Dr. Jana Houser, associate professor of geography in the College of Arts and Sciences at OHIO.
Students will hone their forecasting skills in the Scalia Laboratory for Atmospheric Analysis, a student-run weather service that provides several forecasts per day tailored to Southeastern Ohio. They will also gain broadcast experience through daily productions with the award winning WOUB-TV in the Scripps College of Communication.
"OHIO already has a track record of placing students in internships at news stations, and there is a strong history of graduates entering broadcast meteorologist positions immediately after graduation," Houser said. "You'll also find OHIO graduates working with the National Weather Service, agriculture and energy industries, insurance agencies, and many other and federal and non-federal agencies. Currently, there is a national need for broadcast meteorologists and for science reporters, who are often also trained as meteorologists."
Students in the program will take courses in radar meteorology, large-scale and small-scale weather systems, climatology, atmospheric dynamics, radio and television producing, multimedia editing, and much more. They will also get a foundation in geography courses, and the program is offered in the Geography Department in the College of Arts and Sciences at Ohio University.
"The new major is yet another example of successful collaboration among the colleges at Ohio University," said Dr. Florenz Plassmann, dean of the College of Arts and Sciences. "Combining a sound foundation in the sciences with strong communication skills is a great preparation for field work in front of as well as behind a camera."