Psychologist and Diversity and Inclusion clinician Dr. Kristyn Neckles receives 2021 Transforming Care Award
Published: October 20, 2021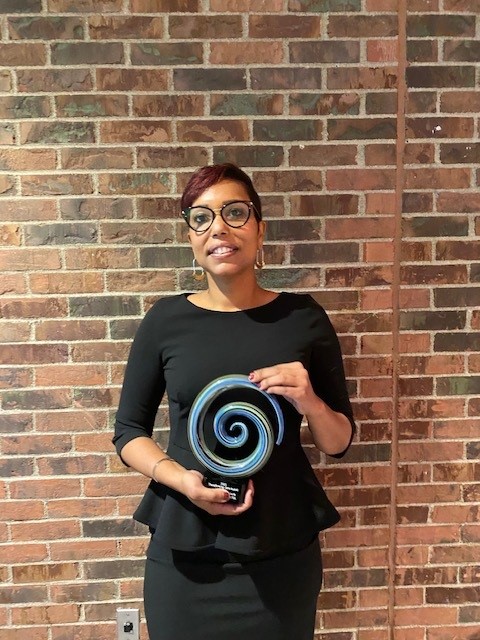 Ohio University psychologist in Counseling and Psychological Services (CPS) Dr. Kristyn Neckles received the 2021 Transforming Care Award from the Equitas Health Institute in the Social Service Provider category.
Neckles, who is an embedded clinician for the Division of Diversity and Inclusion, was recognized for her astounding work as a mental health provider who has helped community members overcome racial, economic, ability, and language barriers, and provided inclusive LGBTQ+ healthcare.
"It is upon each and every one of us to do what we can to support our community," Neckles said in her acceptance speech. "I want to recognize the importance of the Ohio University Counseling and Psychological Services relationship with the Division of Diversity and Inclusion in dedicating my role to support our students within the Division. Additionally, I am grateful for CPS' continued commitment to having diversity committees, ongoing training to address barriers, and the support that CPS has provided in showing up to events in a sign of support and to build connection with the communities we work with."
Neckles accepted the award during a special ceremony on Friday, Oct. 15, at The Equitas Health Institute's Annual Transforming Care Conference that focused on LGBTQ+ and HIV health equity. The award honors the people and organizations who have made exceptional contributions to the health and wellness of the LGBTQ+ and/or HIV communities in the Midwest.
"Dr. Neckles fills a unique need at our counseling center and at OHIO," Paul Castelino, director of CPS, said. "As a Black psychologist, she plays a vital role in creating an inclusive counseling center and providing much needed mental health services especially to students of color. She leads the 'True-Selves' support group where students of color can come together and feel safe to express their voices. We are very fortunate to have Dr. Neckles on our staff."
Neckles' work focuses on understanding the role of culture and issues of privilege and power in the context of mental well-being. She strives to help facilitate the provision of effective counseling and psychotherapy.
Her clinical interests include diversity/multicultural issues, trauma, identity and woman issues, learning disorders, and ADHD.
"I was raised and am still much rooted in the conviction that a truly successful person is one who can offer a public service, who is dedicated and is able to empathize and consider the perspective of others," Neckles said. "This being said, as a Black woman it has been impactful to work with others that look and identify like me as they are seeking affirmation from someone that can understand their lived experiences as what is understood often does not need to be explained."
The Transforming Care Conference is known for the unique opportunity it has provided for professionals and community members to come together to learn not only from research and best practices but from each others' life and health care experiences.