Russ College professors awarded $1.9 million grant from the Department of Energy
Published: November 22, 2021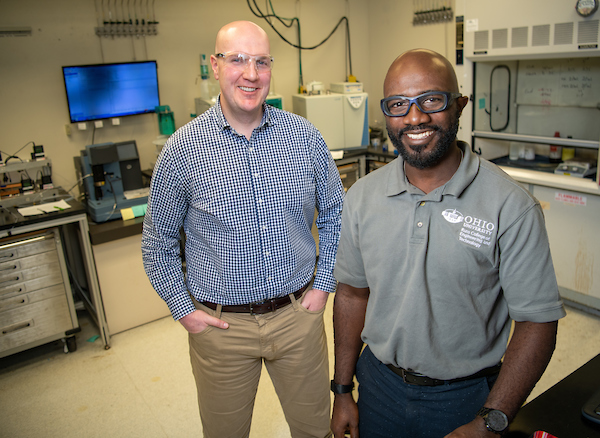 Two Russ College of Engineering and Technology researchers have been awarded a $1.9 million grant from the U.S. Department of Energy to integrate nitrogen (N) and phosphorus (P) recovery via electrochemical technology into municipal wastewater treatment facilities.
Damilola Daramola, assistant professor and assistant director for research at the Institute for Sustainable Energy and the Environment (ISEE), and Jason Trembly, Russ professor of mechanical engineering and director of the ISEE, lead the team, which also includes Jared DeForest, professor of environmental and plant biology in the College of Arts and Sciences, Faraday Technology Inc., Athens Wastewater Treatment Plant, and Columbus Wastewater Treatment Plant-Southerly Facility.
The grant allows the team to explore the recovery of nutrients as a fertilizer product from municipal wastewater treatment plants in Athens and Columbus and use it as a reusable fertilizer material. The goal of the project is to demonstrate recovery that reduces the overall energy consumed by wastewater treatment plants and the national energy consumption due to fertilizer production, reducing cost and greenhouse gas emissions.
"Waste materials found in wastewater can be converted into other, more useful things," Daramola, in the Russ College of Engineering and Technology, said. "So what we are aiming to do is to specifically take wastewater and any embedded chemical energy found in it (nutrients) and convert it, thereby lowering the cost for treatment plants associated with energy and chemical consumption while helping reduce emissions."
In 2016, Trembly began developing an electrochemical-based methodology to recover nitrogen and phosphorus from animal waste as a reusable fertilizer material to prevent watershed pollution and increase nutrient recycling. When Daramola joined ISEE in 2019, the two began collaborating in this area of research and assessing application of the technology to other industries.
"If successful, this work can truly benefit the local community in many ways," Trembly said. "The technology would reduce wastewater treatment costs, passing savings on to the consumers, by lowering electrical power consumption and waste generation at the facility, as well as generate a fertilizer production from municipal wastewater, reducing energy and associated emission in manufacturing 'new' nitrogen- and phosphorous-containing fertilizer materials."
Daramola and Trembly will scale up the technology to handle synthetic wastewater with a similar composition to wastewater at treatment facilities and conduct analyses on the process both in terms of technical and economic performance. Then they, in collaboration with DeForest, will test the fertilizer being made in actual soil for performance analyses, e.g., how much of the captured nutrients are available for assimilation by crops and are there any toxic components that are part of the captured nutrients. In addition, the scaled-up technology will be converted to a continuous one so it can operate with minimal starting and stopping.
"We have the possibility to help reduce environmental impact and mitigate energy consumption through this technology," DeForest said. "We're running out of phosphorus, which is an important material to help us produce crops, and the best place for us to get it is through wastewater, so this could be a way to close the loop – eliminating pollution in our waterways, while recycling these nutrients into fertilizer used to sustain our crops."
DeForest will also evaluate whether the fertilizer made can be sustained as a commercial fertilizer and will look at how this material will affect plant growth and how it affects soil health in general. Once he analyzes the soil, he can help make recommendations on dosage of the materials and provide feedback on the opportunities out there for the soil.
"We can set up this technology and apply it to municipal waste and generate a product that contains both phosphorus and nitrogen and that component can then be reused in agriculture and in a way that doesn't contribute to the current problem of excess nutrients washing into streams, rivers and lakes," Daramola said.
Daramola said there are digesters used in wastewater treatment plants that are used to capture solids from wastewater and then the liquid portion of the stream is recycled back into the main treatment facility. The liquid streams have higher nutrient fractions, which increases the resources – energy and chemicals – used in the area of the treatment facility that typically consumes 60% of the energy consumed in the overall facility. Therefore, applying the technology to this recycle stream will mitigate the impact on the overall plant – lower nutrients translates to lower energy and chemical consumption. This impact on energy consumption due to water treatment is the reason why the Department of Energy is interested in this approach.
"This grant is so important because it recognizes the capabilities and contributions of Dr. Daramola," Trembly said. "I am fortunate he is a faculty member of ISEE and I love to see him achieving early success as a faculty member. In addition, this grant further expands ISEE research in the area of nutrient recycling and prevention of watershed pollution, which is an area of growing importance."
This award is the sixth nationally competitive research award ISEE faculty have received in the past four years, demonstrating the excellence of its faculty and national recognition of faculty capabilities and solutions to energy/environmental problems facing industry and society.