Class of 2021 | Madison Saylor has 'tools to problem solve, stay humble, and create a better world'
Published: December 8, 2021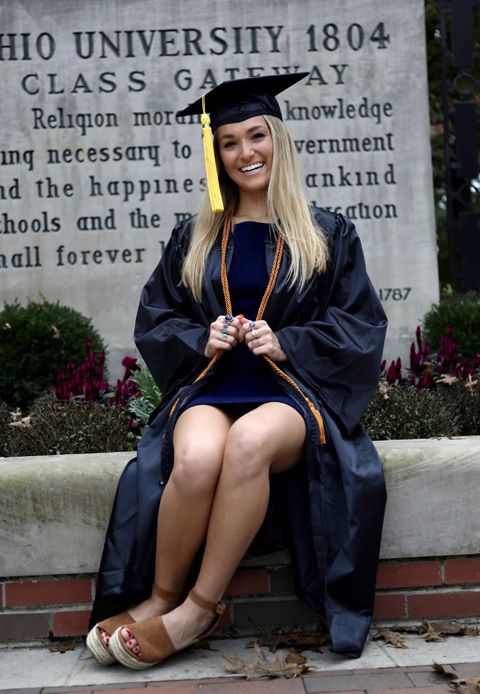 Editor's Note: The Happy Beginnings series features recent College of Arts & Sciences graduates who are getting started in careers, graduate school and service.
Madison Saylor '21 says her time at Ohio University has made her a stronger woman and "given me the tools to problem solve, stay humble, and create a better world." Her next step is law school.
"My future plans entail attending Capital University Law School, where I was just recently accepted. I am so excited about this adventure and am looking forward to the years to come," said Saylor, who will walk the stage for Fall 2021 Commencement.
At OHIO, she double majored in Sociology Pre-Law and Women's Studies along with a Minor in Political Science and a Certificate in Law, Justice & Culture.
Q&A with Madison Saylor
Q: What stands out in your mind as you think about graduating despite COVID?
A: Despite COVID, the professors, faculty, and staff stand out in my mind. Many of my professors went out of their way during this difficult time to accommodate us. Working via Zoom and Teams, many of my professors changed the way their classes were taught in order to give us the best experience possible. I am proud to say that despite the pandemic, I am graduating during this difficult time for many!
Q: Who were your favorite professors and how did they make an impact on your life? 
A: Some of my favorite professors are Kim Little, Patricia Stokes, and Risa Whitson in Women's, Gender & Sexuality Studies. All of the professors of this program have given me the tools to succeed as a young woman. I am certain that these professors have made me a stronger woman than I was coming into college.
As for my sociology professors, Holly Ningard, Charlie Morgan, and Ursula Castellano have given me so much insight into the world around me. The knowledge I learned through the Sociology & Anthropology Department has given me the tools to problem solve, stay humble, and create a better world.
Q: What was your ah-ha moment at OHIO—that point where you said to yourself, "I've got this!"?
A: My ah-ha moment at the university was after the first semester of my freshman year. Taking a diverse course load, I realized that I loved the education I was receiving through the sociology and WGSS programs. I succeeded in my studies and realized, I got this!
Q:  What was the hardest hill you had to climb (not counting Jeff Hill) at OHIO? And how did you overcome challenges or obstacles in your path?
A: The hardest obstacle I had to battle during my time at OHIO was my senior year. Taking seven classes, studying for the LSAT, and working many jobs gave me quite the challenge! I knew that my hard work would pay off eventually and this kept me moving forward.
Q: What are your favorite OHIO memories?
A: Some of my favorite memories at OHIO were created with the people I met here. Our campus has a culture that is friendly and welcoming. Most to all students and faculty that I met were caring, genuine and dedicated to the goals of this university. Living in the dorms, finally getting an apartment, the long nights working on assignments, and the late nights with friends are just the tip of the iceberg when it comes to the memories I have made at OHIO. I will cherish them forever.
Q: What's the one thing you would tell a new OHIO student not to miss? 
A: One thing I would tell a new student not to miss is the people you will meet by chance. The friends you make in your dorm, the neighbors you may fall in love with, the people who will help you succeed. Never miss out on an opportunity to make a new connection. Whether that means keeping your dorm room door open, asking questions in class, or even connecting with other students on social media, never deny a chance to grow.