University Libraries honors collaborative partners through new website
Published: December 3, 2021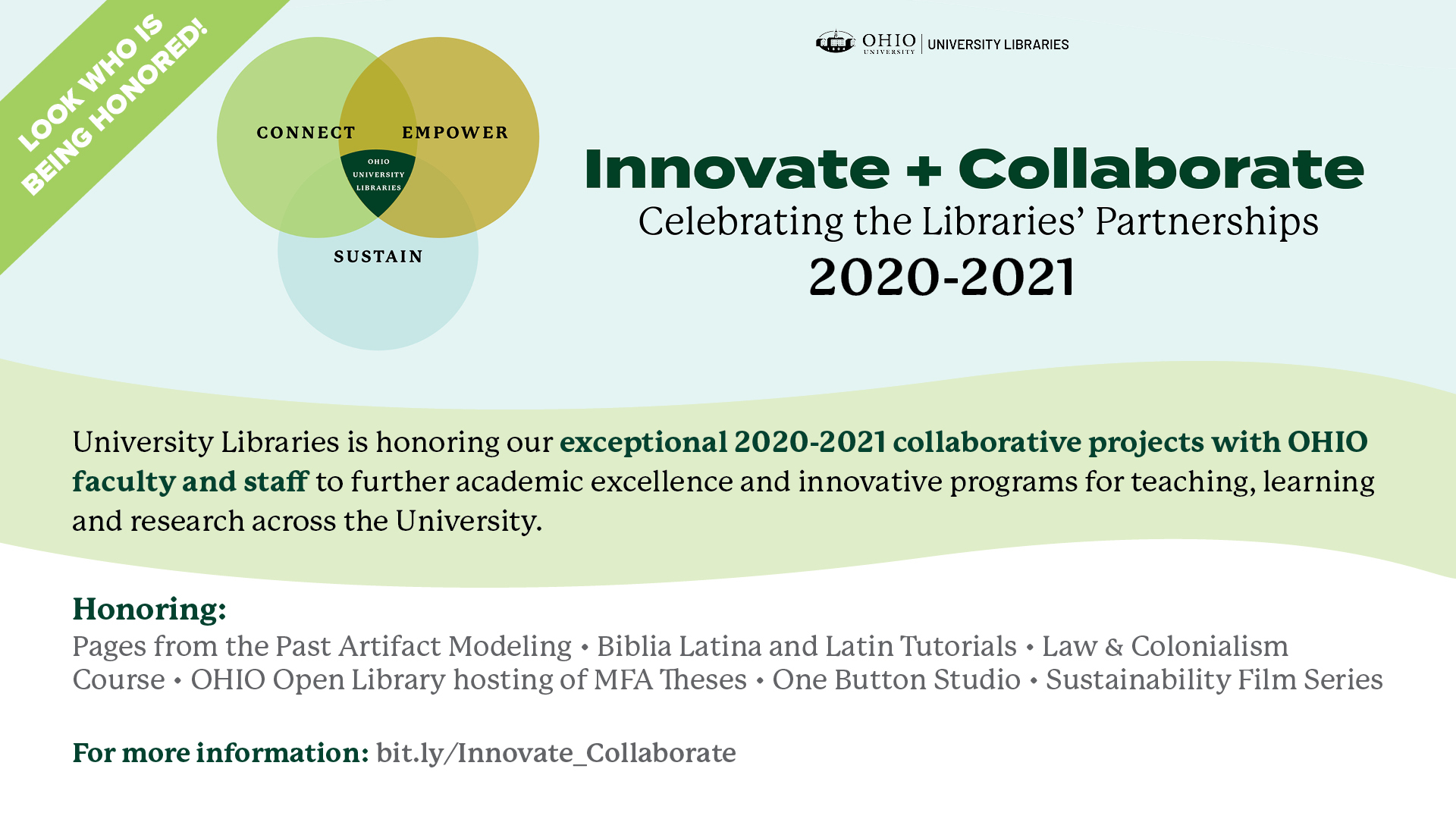 Graphic design by Brooke Stanley/Ohio University Libraries
Ohio University Libraries is excited to announce the new Innovate + Collaborate webpage that celebrates some of the most impactful partnerships from the last year.
Six collaborations are honored on the new webpage: the Sustainability Film Series, which provides free documentary screenings to the public; Pages from the Past, a 3D printing initiative that created models of three Mahn Center artifacts; the Biblia Latina and Latin Tutorials, four interactive Latin and manuscript tutorials for students; Ohio Open Library hosting of MFA Theses, which made MFA students' work more accessible; the One Button Studio in Alden Library for faculty and staff to easily create professional video and audio recordings; and the Law and Colonialism Course, where librarians and faculty created an in-depth research experience for students. 
"Almost everything we do in Libraries is done in partnership with students, faculty and staff, with a focus on enabling their success," Dr. Neil Romanosky, dean of University Libraries, said. "Through that work, we in the Libraries are also constantly learning new things about how our users teach, learn and conduct research, which in turn enables us to evolve our approaches to the collections, services and spaces we provide."
Each of these partnerships and projects further academic excellence, teaching, learning and research across the University.
For example, Dr. Jennifer Fredette worked with librarians Paul Campbell and Dr. Miriam Intrator to incorporate lessons on research and critical thinking skills, as well as primary resources, into Fredette's Law and Colonialism course. In addition to enhancing student learning, the collaboration resulted in the Libraries adding materials to the collections that help to tell the stories of both the colonizers and the colonized.
"That project is a good example of a way that a traditional instruction collaboration with a subject librarian can bloom or evolve into something that's larger and more impactful than the typical collaboration," Dr. Kelly Broughton, assistant dean for research and education services, said.
The Libraries began honoring partnerships during an event titled "First Draft." The event series, which started in 2017, didn't initially honor collaborations in the Libraries, but was meant to showcase the creative and impactful ways that librarians and faculty were working together to enhance teaching, learning, research and creative activity.
"[In fall 2019] we started formally honoring some of the faculty who had worked with the librarians, in part because we wanted to say thank you to those people for being good partners," Broughton said.
Today, honoring those partnerships has evolved into an official recognition with an initiative titled, "Innovate + Collaborate: Celebrating the Libraries." The initiative is a way of saying thank you and highlighting some of the outstanding collaborations between those at the Libraries and faculty and staff across campus.
"I am thrilled for the Libraries to honor and celebrate our collaborations with faculty and staff across the University in this very public way," Romanosky said. "Collaboration is a wonderful, symbiotic aspect of the Libraries' role at OHIO – one that I think captures the essence of our vision to be a catalyst for research, knowledge discovery, and student success and transformation." 
The 2021 selection committee included Broughton; Chad Boeninger, head of user services and business librarian; Janet Hulm, assistant dean for collections and digitization strategies; and Dr. Katy Mathuews, senior director of administration. The team looked to honor projects and partnerships that connected users to resources, empowered research and creativity, sustained the classroom experience and advanced student learning.
This year was also the first year that the Libraries looked beyond faculty collaborations and honored partnerships that connected the Libraries with other entities on campus. The One Button Studio, for example, was the result of a collaboration between University Libraries and the Office of Information Technology.
"That's another way that this has evolved," Broughton said. "This year's iteration of honoring those partnerships includes some of our best collaborative efforts with administrative staff across campus, not just faculty … We tried to broaden our perspective about what it means to collaborate and who we're collaborating with."
Collaborations are an important part of the Libraries' efforts to enhance students' learning experiences. Working with faculty and other entities on campus can help librarians and staff identify the needs of the Libraries' patrons and respond.
"Librarians engage with faculty in order to build supports that advance their teaching and research," Broughton said. "We also engage with them and others all around campus to better understand our students' struggles and needs, so that we can position ourselves to also directly support their learning and research."
Increasingly, the Libraries' work is intertwined with all areas of the University, which is important for enhancing student in-person learning on today's campuses, and online learning accessibility. Librarians hope to continue creating meaningful collaborations with more faculty and staff across the University and would like to encourage those who are interested in working with University librarians to check out the Innovate + Collaborate website.