Ohio University mourns the loss of aviation trailblazer Joan Mace
Published: January 14, 2022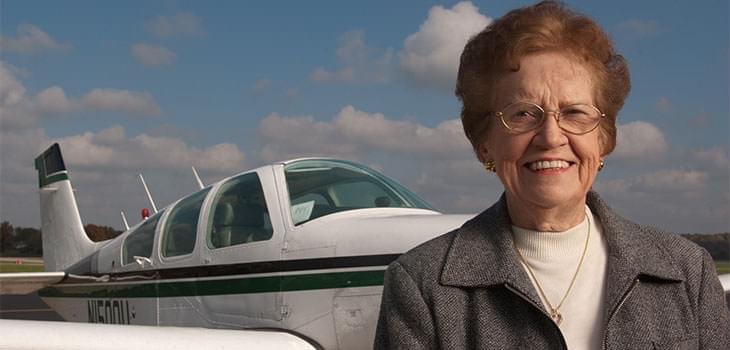 Photo provided by Mark Mace.
Joan Mace, alumna and chair of Ohio University's Department of Aviation from 1985 to 1993, passed away on Tuesday, December 28, 2021. Mace left a lasting, immeasurable impact on Ohio University. Beyond the university, she was trailblazer in aviation, marking a path and extending a hand for women to follow in her footsteps — or rather her flightpath. 
Flying aircraft was Mace's passion and she allowed that passion to shape and influence the academic journey of over 1,000 students at Ohio University. Mace's storied career in aviation earned her the role of the chair of OHIO's Aviation Department, becoming the first woman to head a university aviation department in the United States. Her vision for the future of the program was transformational, inspired by her own love of flight and her desire to share her passion with students.
"Joan was tough, but fair. She took everybody and showed them the way. She opened doors and windows for everybody," described Mace's former student and longtime friend, Connie Tobias (AAS '77, BGS '78).
When Mace passed, Tobias was greeted with countless stories from Mace's past students, many of which Tobias did not know. Everyone was eager to share their favorite story with the legendary Mrs. Mace.
From tales in the cockpit to lessons on the ground, Mace was regarded as a knowledgeable instructor and fierce leader, with a trademark sense of humor that often caught students by surprise. 
As chair, she established the Aviation Advisory Board, brought to campus the national honorary aviation fraternity, developed a new flight and ground school curriculum, established an internship program with United Airlines, and oversaw the construction of the Francis Fuller Student Aviation Flight Training Center. Most notably, she led the creation of a four-year degree program in airway science at what is now known as Ohio University's Russ College of Engineering and Technology.
Preparing for takeoff
Driven by her own passion to take to the skies, Mace's career in aviation began in Columbus, Ohio at the Curtiss-Wright aircraft factory where she inspected parts for dive bombers during the height of World War II. She strategically worked the night shift at the factory, so she could earn her private pilot certificate during the day. 
After earning her certificate, she applied for and was accepted to the Women Airforce Service Pilots (WASP). This highly competitive program emerged during World War II, so experienced female pilots could deliver aircraft from U.S. factories to military bases to support the war effort. Over 25,000 women applied to WASP and only 1,879 candidates were accepted, including Joan Mace. However, the program disbanded before she could start – the war was ending. 
To many Mace's dreams may have been stifled, but her response to the program disbanding was met with joy because World War II was coming to an end. She could only rejoice and begin to map out a new journey to take to the skies once again.
Mace's tenacity and love for aviation inspired her next step. In 1946, she attended flight school near Athens, Ohio to earn her commercial and flight instructor's certificates. At a time when women in aviation were not the norm, Mace began gaining respect as a competent and dedicated pilot and flight instructor. 
Her coworkers valued her contributions to the team. In fact, one morning, she walked to her plane to begin her day and discovered that her coworkers had painted a bumblebee on her plane, adorned with the words, "Queen Bee." It was a gesture rooted in respect and admiration.
Soon after becoming a flight instructor, she met and married fellow flight instructor Nolan H. Mace and they had three sons, Mark, Patrick and Michael Mace. She spent the next several years raising her family, but her desire to fly beckoned to her once again. When Ohio University acquired the flight school and launched a flight instruction program in 1963, Mace joined as a staff instructor — the first and only woman on staff at the time.
In 1968, Ohio University required that all instructors hold a degree, so Mace embraced this policy, earning her Bachelor of General Studies degree in 1978. While studying for her degrees, she continued to improve her education and experience in flight, earning ratings and certificates demonstrating her skills in the air. One of her many successes was becoming one of the first women to earn the Multiengine Airline Transport Pilot Certificate.
Twenty years after she earned her position on OHIO's staff, Mace was named department chair, becoming the first woman to head a university aviation department in the United States. Her vision for the future of the program was transformational, inspired by her own love of flight and her desire to share her passion with students.
The capstone of a storied career
Mace formally retired from Ohio University at age 70, but her Bobcat spirit never waned. She continued to mentor leaders in the department, offering innovative ideas, supportive advice and a sincere investment in student success.
"She had the department in her heart all that time and worked for the betterment of the department after she retired," said Deak Arch, the current chair of the Aviation Department. "She was a champion for our department and gave us the foundation. Without her, I don't know if there would have been a department as we know it."
Over the years, Mace's accomplishments have been marked by awards and accolades including the Top Female Pilot of the Year from the All Ohio Ninety-Nines (1980), the Ohio University's Medal of Merit Award (1992), Ohio University's Alumni of the Year Award (2004), membership to the Amelia Earhart International Forest of Friendship (2002), the Elder Statesman Award (2003), the Wright Brothers Master Pilot Award (2004), nomination for enshrinement to the National Aviation Hall of Fame (2008), induction into the National Association of Flight Instructors Hall of Fame (2008), and an Award of Achievement from the All Ohio Ninety-Nines (2014).
Her greatest point of pride, however, was having the opportunity to share her passion with students — students who would go on to become airline captains, Blue Angels, Thunderbirds, air traffic controllers, NetJets and corporate pilots, NASA employees, the Coors Silver Bullet pilot and the pilot featured in the film "Battle Hymn."
With a chuckle, Tobias remembered Mace rummaging through the phone book to find Dean Hess. Hess was the subject of the 1957 film "Battle Hymn" — he was also a former student of Mace's and she was eager to reconnect. As she rifled through the phone book, she joked that she didn't like that Hess was played by the movie star, Rock Hudson. She had someone else in mind to portray her former student. It was this sense of humor that made Joan Mace who she was. She was strait-laced but knew when to have a laugh and she never forgot her students along the way. 
Throughout her career, Joan Mace exemplified the Bobcat spirit. She was a respected aviator, trusted instructor, loving mother and wife, inspiring mentor and dedicated friend; she was the Queen Bee. She shared a love of flying with her students and imparted her own wisdom with every student she had — not just wisdom about the cockpit, but invaluable life lessons that have stuck with her students for decades. 
Few people have the words to capture Joan Mace's legacy, but Connie Tobias said it best, "She's an American treasure, and quite frankly, a legend."