Ukrainian Ohio University students return home to provide support as their country faces invasion
Published: March 22, 2022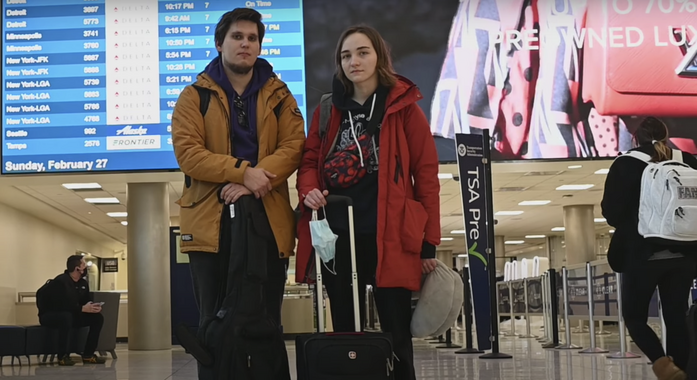 Video still courtesy of Akash Pamarthy
Oleksandr Yakymchuk remembers his home city of Kyiv, Ukraine, as it was when he left in August. In some respects, it was like any other European city in the summer – the streets were crowded as people sought a brief reprieve from the grueling summer heat in cafés and restaurants. It was an eclectic city that pulsed with art and music and a vague sense of optimism.
Today, those streets are empty and quiet, unless you count the air-raid sirens.
"Fortunately, it is quiet now, but there can be siren at any time," Yakymchuk said during a video interview from a darkened apartment in Kyiv. At 8 p.m., lights across the city simultaneously go out, as mandated by martial law, to make homes less visible targets for Russian planes.
Seven months after leaving Kyiv in August, the streets are empty, apart from armed soldiers on patrol. The densely populated city of three million people has been vacated by people fleeing the Russian invasion, with the city's mayor stating two million people have fled the city.  Every two hours or so, sirens echo through the empty streets warning of a looming air raid or missile attack.
Despite being safely situated on the other side of the world, three Ukrainian Ohio University students have returned home to support their families and provide aid to their home country. Yakymchuk and his partner Olena Zenchenko returned home on Feb. 27, just three days after Russia invaded Ukraine, to provide aid. On March 9, Anastasiia Kulikalova flew to Warsaw, Poland, to run supplies to the Ukrainian border and aid her suddenly displaced family on their journey to Munich, Germany.
"You could hear it their voices, you could it see in their faces. They had to return home," said Diane Cahill, director of International Services and Operations at Ohio University. "They really felt they could do more than what they could do here."
Yakymchuk and Zenchenko have been collecting supplies and delivering them to soldiers in Kyiv, and other military zones across Ukraine. For the most part, they are running medical supplies like first aid and tourniquets.
"I want them to be as comfortable and safe as possible," Yakymchuk said. "That is what I am doing, that is what I can do."
At the onset of the war Yakymchuk and Zenchenko set up a table in front of Baker Center to inform and raise support among Ohio University students, but it didn't feel like enough.
"I wasn't helpful and I couldn't stand not being engaged," Zenchenko said. "I was terrified that I could lose my home."
After the invasion, Kulikalova struggled to sleep. She paced anxiously around her house until midnight every night, which is when the sun rose in Ukraine, and only upon knowing her family survived another night of bombings, could she go to sleep.
She felt helpless as she watched live coverage of Russian troops lined up just nine kilometers from her childhood home. Her fears weren't unfounded. Her parents lived by the airport, which made her worried they could easily get caught in the crossfire.
"Their house is a target. It is a big red cross that says, 'shoot here," she said.
It wasn't long until the bombs started falling on the neighborhood. Fortunately, her parents' home was safe, but a missile hit the next-door neighbors' home.
"I see that house and I know this house. This is the house I would go and drink coffee," Kulikalova said.
Both Yakymchuk and Zenchenko quickly tired of what they saw as self-gratifying symbolism. Shortly after the invasion, they went to Cleveland where they witnessed demonstrations of support filled with what they described as largely empty gestures.
"I was really disappointed to see those people," Zenchenko said. "I'm not okay with just standing by a flag or sending money."
They felt that same frustration from the international response, which they thought of as largely theatre. "[Countries] can light their own parliaments in the color of their flag, yeah, thank you guys, but people are dying here," Yakymchuk said.
It became abundantly clear that Ukrainians had to stand up and protect their country. They decided they could not sit idly by as their country was being invaded.
"I can't go to classes while my city is bombed," Zenchenko said.
"[We] understood we are not helpful in Athens because we are very far away from home," Yakymchuk added.
Fortunately, they were well positioned in the United States to stock up on tactical medicine and supplies, which Zenchenko describes as the best in the world. Furthermore, the soldiers needed supplies immediately, but getting international aid to the front lines is logistically difficult, according to Yakymchuk. However, if they were to stock up on supplies and return home, they could deliver the supplies directly to the soldiers.
Meanwhile Kulikalova's family suddenly found themselves as war refugees en route to Munich. Her extended family is tightknit and travelled to Munich together. It wasn't an easy decision because Kulikalova's grandparents are aging and were hesitant to leave Ukraine. Kulikalova knew she needed to return home to help her family during this crisis.
Before returning home, she decided to raise funds and supplies to fly to Warsaw and deliver on Ukraine's western border. Her plea garnered significant attention online, and before she knew it, she was collecting donations from strangers across the country.
"I'm not a huge celebrity or an Instagram person with a bunch of followers. People who knew people where sharing it and this was incredible," she said. In just a week she raised $6,000 and enough food and medical supplies to fill 10 suitcases.
Yakymchuk and Zenchenko have been stationed in Kyiv and continue to collect donations, which they then deliver to military personnel in conflict zones across the country. Currently, they say they feel safe but remain uncertain as to how the war will unfold.
"It is really hard to believe we have a war in the 21st century in the middle of Europe," Yakymchuk said. "Nobody would have believed this a possibility just a year ago."
"I wasn't prepared for tanks looking at you. It is just a feeling that you can't be prepared for this stuff," Zenchenko said.
Still the students, along with the people of Ukraine, continue to defy Russia's aggression. Yakymchuk notes that Russian President Vladimir Putin originally stated Russia was take Ukraine in just two days, but now nearly a month later Ukraine continues to put up a heavy resistance.
"You can't scare people standing on their own lands," Yakymchuk said. "We are going to die, or we are going to stand here."
Zenchenko said that Ukraine remains defiant because of Ukraine's long history of Russian and Soviet rule. She said Ukrainians were already well aware of what a Russian-controlled Ukraine would look like and are refusing to allow it to happen again.
"Every one of us will fight until we're gone," she said. "I don't want this [for] myself, [for] my family, [for] no one. I know what Russia can do to people."
However, they all expressed fear that the war would continue to slog on, and eventually the international media would lose interest in Ukraine and support would gradually wane. "We don't know how to keep people being supportive," Kulikalova said.
They pleaded that people keep Ukraine in their minds and continue to provide support with whatever means they can. "Everybody can help, and nobody is helpless," Kulikalova said. "There is always a way to help."
Kulikalova is set to return to Athens at the end of the month, while Yakymchuk and Zenchenko are prepared to stay in Ukraine indefinitely.
"We believe in our victory," Yakymchuk said. "There are no options for us."