WOUB is now accepting applications for the 2022 WOUB Summer Internship Program
Published: March 21, 2022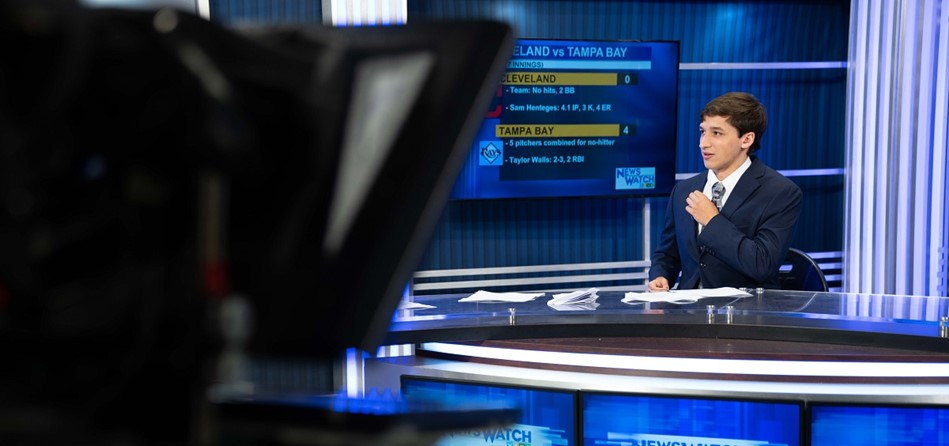 Applications are now open for the WOUB News Summer Internship. The program pays interns to work at WOUB Public Media and provides them with an immersive practical experience while producing daily content in a professional multimedia organization.
"The WOUB News Summer Internship is a wonderful opportunity for students to gain hands-on media experience every day," said WOUB Student Professional Development Director Michael Rodriguez. "The interns have the chance to work as news media professionals and improve on their skills while serving the region."
Ohio University senior Will Price of Columbus is a news and information major in the E.W. Scripps School of Journalism. He was a WOUB intern in the summer of 2021. 
"I thought I was interested in pursuing a career in sports media, but after doing news last summer, my outlook changed," said Price. "I have to say I ended up really developing a passion for news stories. Being able to dive in such an immersive manner and being involved in it over the summer because it was my full-time job was one of the best decisions I've made since I got here."
Bryan Kurp of Pittsburgh is also a senior news and information major who interned at WOUB last summer.
"The internship took my skill set to next level," said Kurp. "It was five days a week for eight or more hours a day. All my skills improved. I became a better journalist."
When Lexi Lepof of Cincinnati, a junior news and information major, applied for the WOUB Summer Internship last year, she wasn't sure if journalism was really what she wanted to do.
"I applied during COVID when there had been no on campus opportunities to get involved at WOUB. So, I just wasn't sure about things. But I'm so happy I did the internship. It confirmed that journalism is what want to do," said Lepof. "As soon as the internship starts, you are treated like a professional reporter. I got to do stories every day."
Destiniee Jaram of Cleveland graduated from Ohio University in December. She says the WOUB Summer Internship helped her be able to find a job right out of school.
"The WOUB internship allowed me to get learning experience and one-on-one training with the professional staff editors. I learned really valuable skills that I could apply directly to my reporting," said Jaram, who is now a newspaper reporter at The Times News in Burlington, North Carolina. "I felt really prepared honestly for this position. I jumped in, feet on the ground, knowing what I was doing. WOUB gave me so much great experience."
This will be the first year that the internship will be partially supported by the Charles and Lucille King Family Foundation WOUB Internship Fund in Memory of Jan and Olivia Sole. The fund was set up in November to support internships at WOUB.
"The Charles and Lucille King Family Foundation WOUB Internship Fund will allow university students to stay on campus over the summers to participate full-time in news gathering and production with their work airing on WOUB television and radio," said WOUB General Manager Mark Brewer. "This is a wonderful opportunity for students, and the greater community will benefit from increased local news and information during the summer months."
The WOUB Summer Internship runs from June 1 to August 5. Summer interns use a multiplatform approach to produce and report for WOUB TV's NewsWatch, a nightly half-hour newscast, "The Outlet," podcast, WOUB AM/FM and woub.org; are supervised by WOUB professional news and technical staff; and work 35 to 40 hours per week for course credit with a stipend of $10 an hour. The deadline to apply is March 28.  To learn more or apply – visit woub.org/internship.
To learn more about WOUB – visit woub.org.