Preorder online for hot and ready entrées, soups at Atrium Café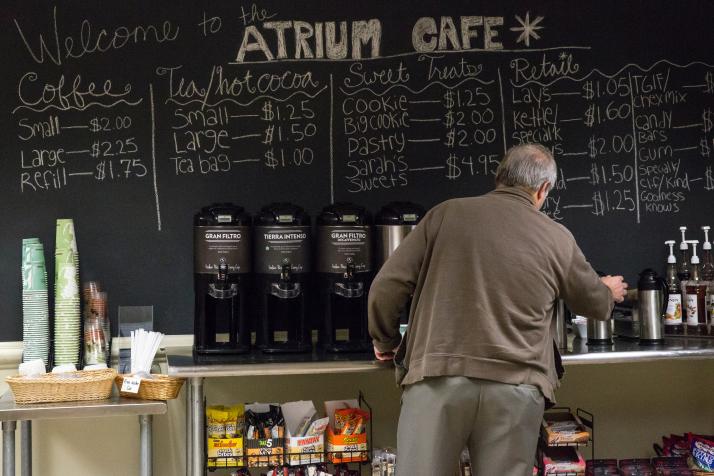 November 7, 2021
Avoid the campus lunch rush and save yourself time by preordering a hot, fresh entrée and/or soup online from the Atrium Café. This week's meal offerings include your choice of Healthy Brunch and Healthy Italian meals, Fall Harvest soup and more.
The Atrium Café is located on the first floor of Grover Center on OHIO's West Green. 
Online preordering is simple and convenient
Simply use the following online order form to pre-order for one or any days of interest. 

You can order a combo or individual items.

Pick up your lunch order at your convenience between 11 a.m. - 1 p.m. in the Atrium Café.
Any additional items (beverages, coffee, snacks) can also be purchased during your pickup. 
Due to the limited patron capacity requirements of the Atrium Café during COVID-19, there may be limited options available for walk-in customers, and the Atrium staff highly encourages utilizing their pre-ordering system for the expanded lunch menus. 
This Week's Hot Meal & Soup Offerings (Nov. 8-12)
Menu Planned By:

Rebecca Lee

Allyson Miller

 

Monday

Tuesday

Wednesday

Thursday

Friday

Hot Entrée

Hot Entrée

Hot Entrée

Hot Entrée

ATRIUM CLOSED

Paprikash (Chicken or Tofu), Pasta, Roasted Veggies, Apple Crisp

Stuffed Peppers (Beef or Vegan), Salad, Veggies, Roll

"Healthy Brunch:" Banana Oat Pancakes (T/V) w/ Berry Compote, Tofu Scramble, Hashbrowns

"Healthy Italian:" Pasta w/ Marinara (T/V) Ratatouille, Apple Cake (V)

 

N/A

Soup

Soup

Soup

Soup

ATRIUM CLOSED

Philly Cheese Steak or Mushroom and Potato (V)

Fall Harvest (Traditional or Vegan)

Split Pea (Traditional or Vegan)

Italian Wedding (Traditional or Vegan)

N/A
Plans for fall semester 
The Café staff appreciates your patience as they continue to train their team and work to ensure that they are meeting, or exceeding, all appropriate safety guidelines.
"The decision to reopen slowly this fall was based on the observation that mask compliance in Grover Center seems to be excellent and the confidence we have in our plan for social distancing measures," explained Chef Dane Salabak, who coordinates cafe activities for the division.
The Atrium Café plans to continue to slowly expand its menu of student-prepared offerings throughout the semester. Chef Salabak believes that it is important that the students have an outlet for the food that they prepare.
"It is totally different to prepare food for sale," he said. "The students have some skin-in-the-game, so to speak. We are hoping that the Grover community comes together to support our student-led efforts."