OHIO honors two distinguished alumni at State Government Alumni Luncheon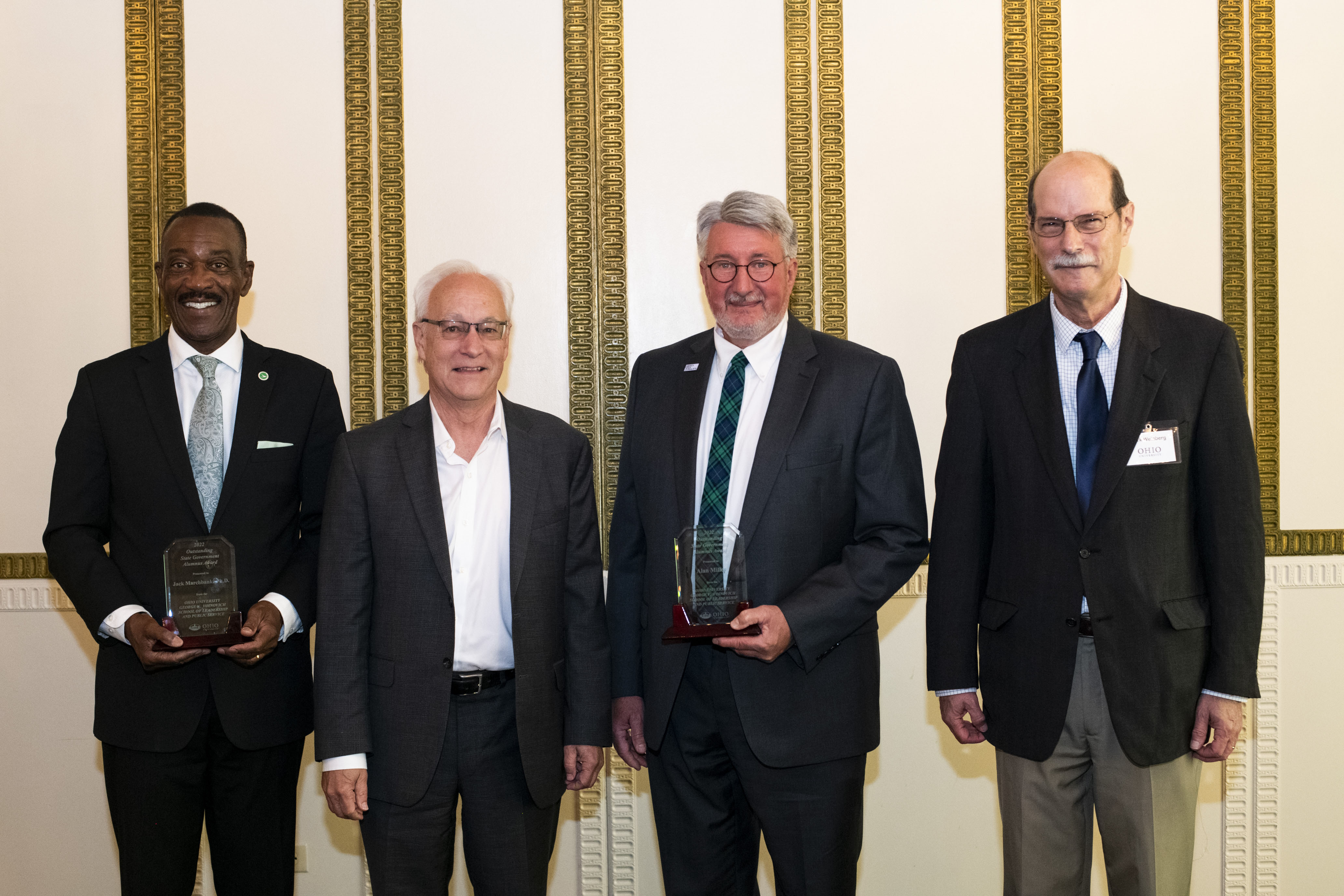 Ty Wright/Ohio University
Ohio University and the Voinovich School of Leadership and Public Service honored two Ohio University alumni for outstanding service to the state during the annual State Government Alumni Luncheon.
The luncheon was held at the Athletic Club of Columbus and returned after a two-year hiatus due to the pandemic. More than 100 Ohio University alumni, legislators, state officials and supporters turned out to honor retired Columbus Dispatch executive editor Alan Miller and Ohio Department of Transportation Director Jack Marchbanks. Both were presented with State Government Alumni Awards, presented since 1985 to those with significant achievement in their professions, outstanding public service to the state, and service contributions to the public affairs programs at Ohio University.
Ohio University President Hugh Sherman hosted the event, crediting the Voinovich School for its work in bettering the communities around OHIO.
"They work with anywhere from 110 to 130 partners in the communities. That is their strength," Sherman said. "That is really the secret of their success, not trying to replace them, but to help build their capacity."
He also highlighted positive changes at the University in recent years.
"The University has gone through a real transformation these last five years. Today, a third of our students are involved in health care," Sherman said. "This is addressing a critical issue for our state, our region and our country."
President Sherman and Voinovich School Dean Mark Weinberg then presented the two awards. Miller and Marchbanks were originally chosen for the awards in 2020.
Alan Miller
Miller retired earlier this year after working at the Columbus Dispatch, where he served as executive editor since 2015 and as regional editor for the USA Today network of 21 newsrooms across the state. He started at the paper in 1984 covering regional news, urban affairs, Columbus City Hall and higher education. He also served as assistant city editor, state editor and assistant managing editor during his tenure. He also has taught journalism at Denison University for the past 22 years. He earned a bachelor's from OHIO in 1982 and a master's in journalism in 2002 from the E.W. Scripps School of Journalism.
"How blessed I am to be part of this great fellowship of Ohio University alumni. I've missed you all," Miller said. "This group can be a powerful force for good in the post-COVID era. Be empathetic, compassionate leaders that show by example that listening to one another and demonstrating kindness and civility are the paths to a stronger community."
He urged people to support local journalism, as well.
"We need good government, and we need good news organizations – trustworthy, reliable sources of information. It's more important now than ever," Miller said.
Jack Marchbanks
Marchbanks served as assistant director for business and human resources for the Ohio Department of Transportation (ODOT) before being appointed director in January 2019, one year after earning his Ph.D. in history from OHIO. Marchbanks led ODOT's District 6 for two stints, overseeing the investment of more than $1.7 billion in surface transportation infrastructure.
Marchbanks said he first visited OHIO in 2004, when he brought ODOT employees for leadership training at the Voinovich School and was hooked. He reflected on the challenges of the past two years.
"We have gone through something that we really haven't fully comprehended yet. They say that when you're in the middle of trauma, you can't process it," Marchbanks said. "I'm proud to say the 5,000 women and men of ODOT have worked for the last 2.5 years to put almost $6 billion into the Ohio economy."
He urged attendees to always keep learning and to be great leaders.
"Remain hopeful, because we are a great country; we have great citizens. They just have to recognize it," Marchbanks said.
Weinberg referenced the speeches of both in his closing remarks.
"One of the words that Alan used to describe the OU alumni is the idea of a fellowship. That's really, really important," he said. "Leadership is compassion, dealing with an incredible historic time. It's been a long two years, so within that context, I think that three things make sense – the work that the University does, the work that the Voinovich School does, and the work that all of you do with your government, businesses, non-profits and health sector in the room. It's never been more important."