25 Arts and Sciences faculty promoted, 15 granted tenure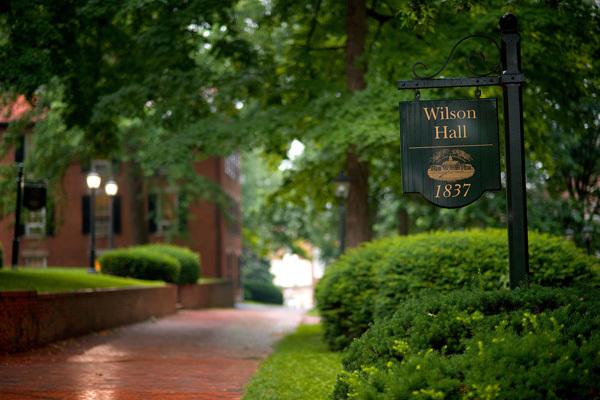 The Ohio University Board of Trustees voted in June to award promotion to 25 College of Arts and Sciences faculty members, with seven named full professor, 15 promoted to associate professor with tenure, and three named associate professor of instruction.
"Tenure-track assistant professors generally apply for promotion to associate professor and for the award of tenure after five years of services with Ohio University, although the College of Arts and Sciences considers applications for tenure and promotion one year early in exceptional cases," said Florenz Plassmann, dean of the College of Arts and Sciences. 
"Promotion to professor does not follow a mandated timeline, and faculty apply when they have fulfilled their department's requirement for promotion to professor. Instructional faculty are expected to spend at least five years at their current rank before applying for promotion," Plassmann added. "To be considered for promotion, faculty need to demonstrate achievement in the areas of teaching and service, and tenure-track faculty also need to show achievement in scholarship and creative activity."
"The College of Arts and Sciences always has the largest number of promotions of any college at Ohio University. We had 31 faculty promotions in 2020, 27 faculty promotions in 2021, and 25 faculty promotions in 2022," said Plassmann. "I am very proud of the many achievements of our College's faculty that have been the foundation for these promotions--they are a great testament to the important position that our college holds in the areas of teaching, scholarship, and service."
The following faculty received promotions:
Jonathan Agensky, Associate Professor with Tenure, Political Science
Nicholas Allan, Associate Professor with Tenure, Psychology
Sabrina Curran, Associate Professor with Tenure, Sociology and Anthropology
Yaqin Feng, Associate Professor with Tenure, Mathematics
Adam Fuller, Associate Professor with Tenure, Mathematics
Heather Hopgood, Associate Professor of Instruction, Chemistry and Biochemistry
Jill Ingram, Professor, English
Joseph Johnson, Associate Professor with Tenure, Biological Sciences
Ian Klein, Associate Professor of Instruction, Biological Sciences
Daniel Kline, Associate Professor of Instruction, English
Victoria Lee, Associate Professor with Tenure, History
Amy Lynch, Associate Professor with Tenure, Geography
Jaclyn Maxwell, Professor, History
Daniel Moak, Associate Professor with Tenure, African American Studies
Gabriela Popa, Professor, Physics and Astronomy
Kimberly Rios, Professor, Psychology
Cortney Rodet, Associate Professor with Tenure, Economics
Andrew Ross, Professor, Political Science
Myrna Sheldon, Associate Professor with Tenure, Classics and Religious Studies
Rebecca Snell, Associate Professor with Tenure, Environmental and Plant Biology
Eric Stinaff, Professor, Physics and Astronomy
Kirstine Taylor, Associate Professor with Tenure, Political Science
Anna Terman, Associate Professor with Tenure, Sociology and Anthropology
Christopher Thompson, Professor, Linguistics
Nathan Weyand, Associate Professor with Tenure, Biological Sciences