Former OHIO coach Frank Solich on 2023 College Football Hall of Fame Ballot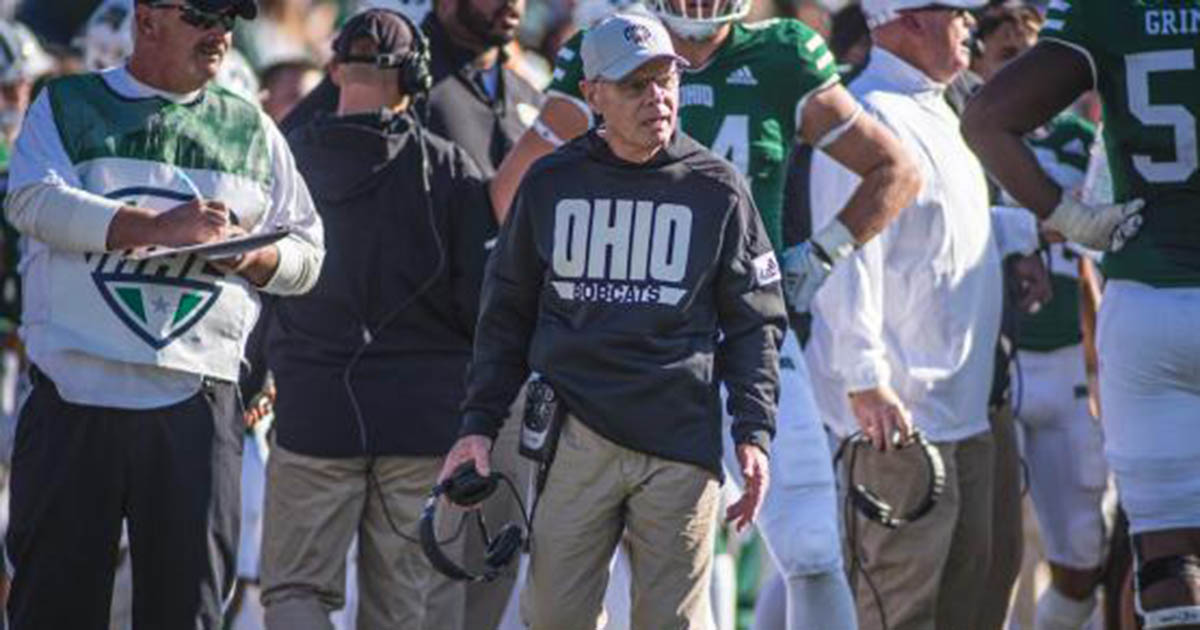 Former Ohio University head football coach Frank Solich has been listed by the National Football Foundation (NFF) and College Hall of Fame for the 2023 ballot for induction into the College Football Hall of Fame.
This year's ballot includes 80 players and nine coaches from the Football Bowl Subdivision and 96 players and 33 coaches from the divisional ranks. Solich is on the ballot representing his careers at Ohio University and the University of Nebraska.
"Coach Solich dedicated almost 50 years to the game of college football both as a player and a coach. Through all his accomplishments, he is a man of utmost integrity who has always done things the right way," said Tim Albin, OHIO's current head football coach. "He has impacted countless individuals — players, peers and fans alike — and is a staple to the game and to Athens. We are proud to see his name on the ballot and there is no better person to be elected in the next class of the College Football Hall of Fame."
While coaching at the University of Nebraska, Solich guided the Huskers to an 11-2 record and an appearance in the BCS championship game at the Rose Bowl in the 2001 season. He was a two-time Big 12 Coach of the Year who led Nebraska to three North Division titles and the 1999 Big 12 Championship.
At OHIO, Solich recorded 115 wins — the most wins for any coach in MAC history — and boasts 12-straight non-losing seasons with 11 bowl game appearances and four MAC East crowns.
"It's an enormous honor to just be on the College Football Hall of Fame ballot considering more than 5.54 million people have played college football and only 1,056 players have been inducted," said Steve Hatchell, NFF president and CEO. "The hall's requirement of being a First-Team All-American creates a much smaller pool of about 1,500 individuals who are even eligible. Being in today's elite group means an individual is truly among the greatest to have ever played the game, and we look forward to announcing the 2023 College Football Hall of Fame Class early next year."
The ballot was emailed to the more than 12,000 NFF members and current Hall of Famers whose votes will be tabulated and submitted to the NFF's Honors Court, which will deliberate and select the class. The Honors Court, chaired by NFF Board Member and College Football Hall of Famer Archie Griffin from Ohio State University, includes an elite and geographically diverse pool of athletic administrators, Hall of Famers and members of the media.
The announcement of the 2023 College Football Hall of Fame Class will be made in early 2023, with specific details to be announced in the future. The class will be inducted during the 65th NFF Annual Awards Dinner on Dec. 5, 2023, and will be forever immortalized at the Chick-fil-A College Football Hall of Fame in Atlanta, Ga. They will also be honored at their respective schools with an NFF Hall of Fame On-Campus Salute, presented by Fidelity Investments, during the 2023 season.
Of the 5.54 million individuals who have played college football since Princeton first battled Rutgers on Nov. 6, 1869, only 1,056 players have earned induction into the College Football Hall of Fame, or less than .02% of those who have played the game during the past 152 years. From the coaching ranks, 226 individuals have achieved Hall of Fame distinction.