From Lego building to building cars: Garrett Royal learns by doing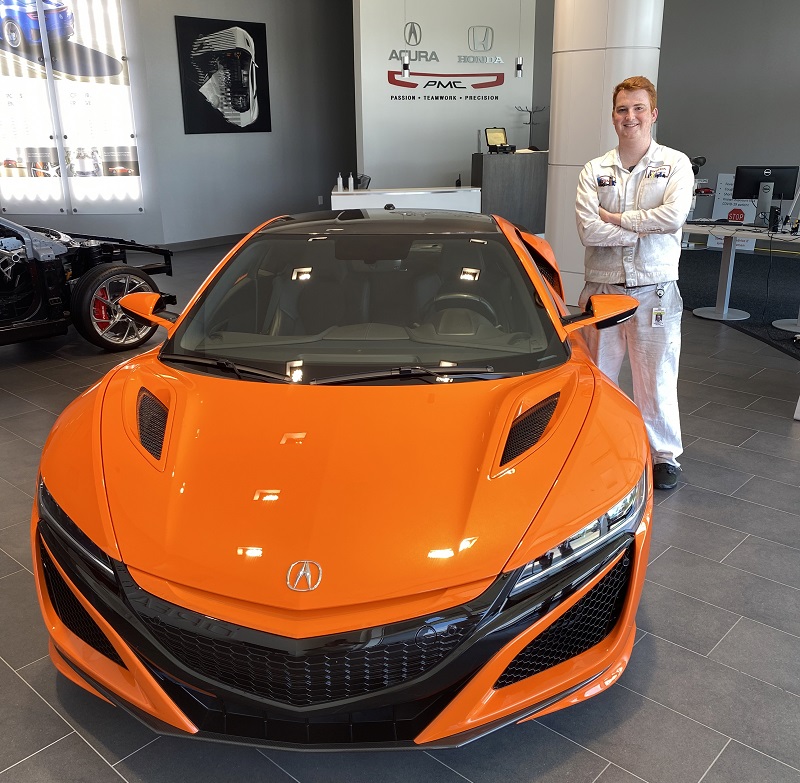 Garrett Royal, BSETM '22, identified his passion for robotics when he was in elementary school and joined the Loveland Lego Legends team. This team was the beginning of his extensive journey into robotics where he discovered his passion for hands-on learning in engineering. 
As a fifth-grader, Royal was trying to find his place in the world. Through an "About Me" project, he had the opportunity to share a piece of himself with the class and he chose to communicate that through a 4-foot-tall Lego tower. This caught the attention of his teacher who then connected him with the Loveland Lego Legends team. 
"I was working on a high-performance team with nine kids who were all in advanced classes. I was extremely humbled being the first person who was not in the advanced program to join the team," said Royal. 
This experience launched Royal's love for robotics. As he progressed through school and into high school he stayed committed to robotics, learning the ins and outs of building and operating his team's creations. His experience was not without its challenges, though.
"When the mentor for robotics retired, my team had nowhere to go, so we operated out of my basement. My mom jumped in as the new mentor, which shifted to my dad when I got into high school. He pushed us to do a lot of things high schoolers aren't so good at, like organizing and documenting our processes," said Royal.
As he wrapped up his high school career, Royal attended 23 competitions, five state championships, two super regional championships and two world championship in robotics. In the second world championship, his team finished second place overall, beating out over 6,000 teams across the world. 
This journey laid the foundation for Royal's career goals. He knew he wanted to attend a university that embraced a hands-on approach to learning. He also wanted to enroll in a program that allowed him to learn about every stage of the engineering process. These stipulations led Royal to choosing to study Engineering Technology and Management (ETM) at Ohio University's Russ College of Engineering and Technology. 
"No other school had a program where you really aimed to understand how every aspect of a project works, which was a big part of the ETM program," said Royal.
Throughout his time at OHIO, Royal embraced every aspect of the ETM program. Each ETM class was paired with a lab component, which allowed him to tinker and understand what he was learning in the classroom by applying his knowledge in the lab. His capstone course was his opportunity to put all of his skills to the test. 
"We designed the project, learned how to build it and learned how to build the tooling and fixtures to make it. We built those in the lab and then gave our plans to another group to make our product. We had to stand on the sideline and watch to see if our plan was good enough for the new group to follow," said Royal. 
Understanding every step of the engineering process was a priority for Royal and it was a priority he developed as early as the fifth grade when he began his journey in robotics. The Russ College helped him to develop those skills, so he would be ready to pursue his career upon graduation. 
Throughout his undergraduate experience, Royal completed three cooperative education experiences with Honda, which laid the groundwork for his future career with Honda, where he works today. 
"At Honda, I don't design the stuff we make. I look at the plans, understand them and figure out how to make the plan come true," said Royal. 
Today, Royal works as a quality engineer for Honda in Marysville, Ohio. He is responsible for assessing the structural integrity of each car, looking at the welds on the body, roof, floor components and engine bay. His team spends time on the line identifying trends and patterns in production and finds new ways to improve the Honda production process.
"We have different issues on the line every day; I haven't done the same thing yet, which is what I always wanted," finished Royal.