Athens County Bike to Work Day to be celebrated Sept. 14
Published: August 18, 2022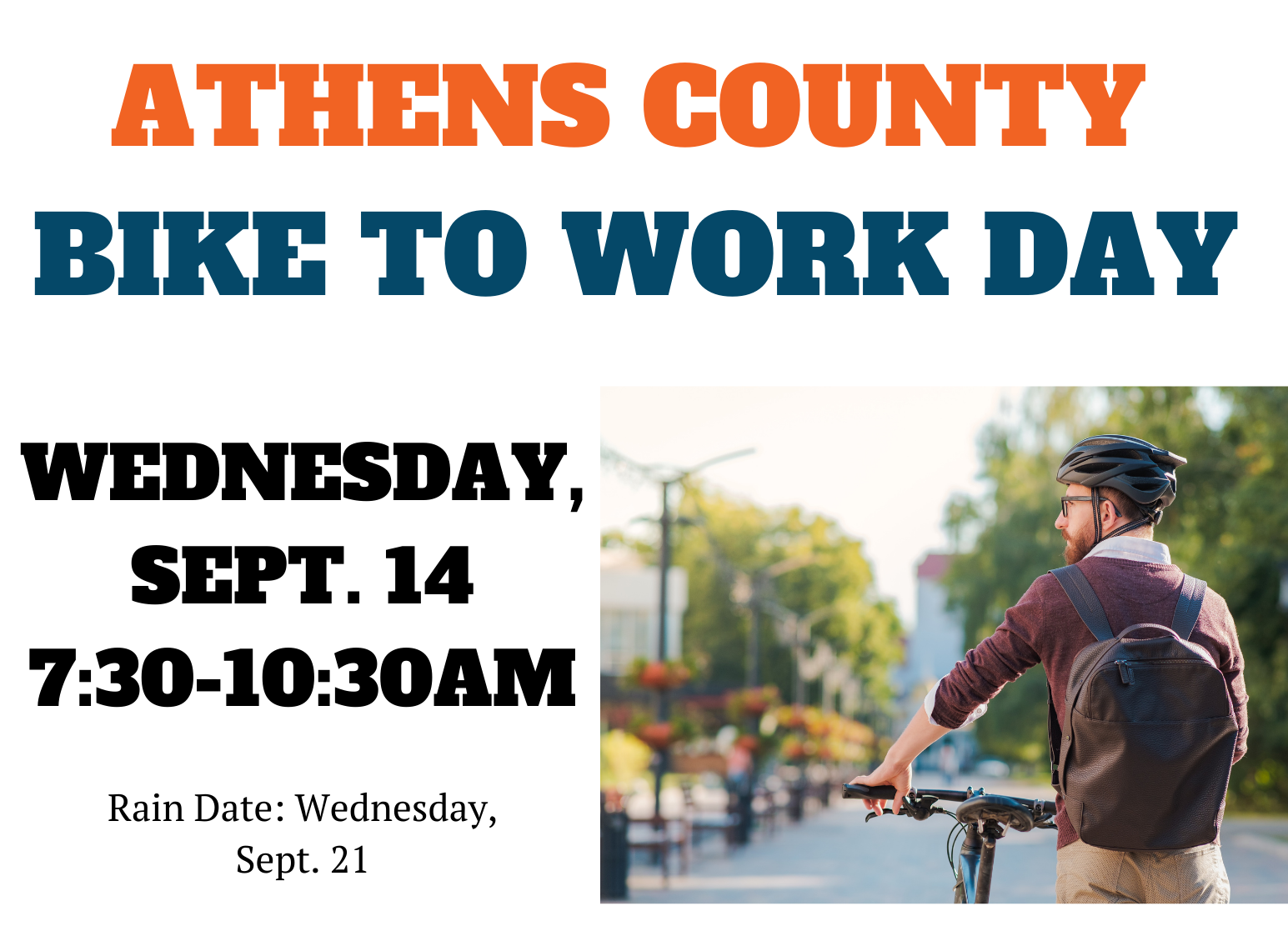 Athens County Bike to Work Day 2022 will be celebrated on Wednesday, Sept.14, and the Ohio University community is invited to participate.
Organized by HAPCAP transit, Ohio University, the Athens City-County Health Department, and Kindred Market, the event is being held as a way to celebrate and support active commuting and to encourage people to try biking to work or school.
"All people are welcome to participate and give bicycling to work that day a try," explained event coordinator Megan Buskirk. 
Four "Pop-Up Pit Stops" with refreshments will be located throughout the City of Athens on that day and commuters are invited to stop by from 7:30-10:30 a.m. for free coffee, water, and snacks.  Bicyclists of all skill levels are encouraged to participate.
The Pop-Up Pit Stops will be set up at the following locations:
Habitat House on West Union Street
Uptown Athens at the Athens County Courthouse
OHIO Campus: Corner of Richland Avenue and South Green Drive
East Side: Stimson Avenue/ Mill Street on bike path
The day is designed to provide a safe environment for all participants to engage in active transportation. 
Long-distance commuters are encouraged to participate by adopting the "Park and Pedal" mentality. With various public parking lots available along the Hockhocking Adena Bikeway, a commuter can place a bicycle in or on their vehicle, park the vehicle in a designated lot and then bike the remainder of the commute. 
The Bike to Work Day Committee is working to remind bicyclists of some basic bicycle safety tips to make active commuting even more enjoyable: 
Perform routine maintenance. Bike owners unsure about how to repair and maintain a bicycle are encouraged to have their bike(s) checked over by a professional at a local bike shop before traveling via bicycle.
Always wear a helmet to protect against head injury in the event of a crash.
Ride in the right-most lane that goes in the direction in which you are travelling.
Obey all stop signs, traffic lights and lane markings.
Look before changing lanes or signaling a turn; indicate your intention, then act.
Be visible and predictable at all times, wear bright clothing, and signa alll turns. 
Lock bicycles in designated bike racks. Locking bicycles to other fixed features such as light-posts and railings can interfere with the accessibility of a given location and could result in removal and confiscation of a bicycle. 
Those parking bicycles on campus are encouraged to register their bikes with Ohio University Police Department. In the case of a lost or stolen bicycle, owners are more likely to have their property returned to them if the bicycle was registered. 
For more information about this event, please contact Bryan Hinkle at Hocking Athens Perry Community Action. 740-767-1085, bryan.hinkle@hapcap.org.