Japanese students return to Chubu with new English skills, fun memories
Published: August 1, 2022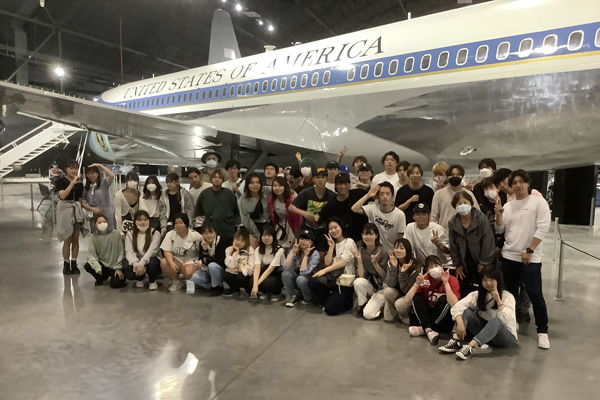 Chubu University students—46 of them—returned home to Japan in July after spending four months in Athens in an English as a second language program with the Ohio Program of Intensive English (OPIE).
The Chubu students studied in Athens to improve their English skills, immerse themselves in American culture, and start to build an international network of friends and mentors.
Takaya Mizutani, for example, plans to apply for a Chubu scholarship to return to Athens to pursue a degree in international studies. Upon returning to Chubu, he visited with Yeong Kim, an OHIO associate professor in geography who teaches in the International Studies program as well as in the Geography Department in the College of Arts & Sciences. Kim spent the summer at Chubu as the 2022 Kohei Miura Visiting Professor and was on hand to greet the students as they returned home.
For Ami Nakagaito, the program improved her English skills, not just in interacting with people in another culture, but also when reading material that is written in English, both key skills for students who want to pursue academic study or eventual employment in the United States.
"This experience is useful," she said. "In addition, I want to expand my network not only in Japan but also overseas."
"This program definitely will change your life," Mayu Kishita said. "In this study abroad, I learned a lot of differences between Japanese culture and American culture. These things will make you better person. In the future, I hope I make use of this experience."
"Don't miss this important opportunity! Your English skill would be improved and you would know cultural differences," Kishita added, giving special thanks to "Gerry Krzic sensei and Joung Hee Krzic sensei." Gerry Krzic is the director of OPIE, and Joung Hee Krizic is assistant professor of instruction in Japanese in the Linguistics Department in the College of Arts & Sciences and the program advisor for the Chubu students.
"The transformation we see in students in just four short months is amazing. Aside from improved language and cross-cultural communication skills, they also gain self-confidence and critical thinking skills, and most come back to Japan with a clearer vision of their future goals and aspirations," said Amy Oya, program coordinator for the Center for International Affairs at Chubu.
"The onsite support from the OPIE faculty and staff, as well as the student helpers, give students a structured and safe framework from which they can test their boundaries and challenge new ways of thinking," Oya added.
Modeled after the Peace Corps
This study program started almost 30 years ago, with more than 1,500 students having taken part.
What makes the Chubu program so successful?
"In OPIE, we used an experiential model like the Peace Corps when we designed this program in collaboration with our colleagues at Chubu," Gerry Krzic said. "We want to make sure the Chubu students have an experience that gives them the opportunity to learn and interact with a broad spectrum of American citizens in a variety of contexts."
The Chubu students' itinerary includes classes and conversation partner programs with OHIO students, conversation hours that can include senior citizens, service learning at local public schools and community agencies, living with non-Japanese students in the residence halls, and cultural trips off-campus.
Cultural excursions included some experiences beyond Ohio. The students visited Niagara Falls, Mount Vernon in Virginia, and Washington, D.C.
Krzic described the importance of guided reflection in the program: "We also build in guided journal writing so they can reflect on what they are experiencing," Gerry Kryzic said. "All of this allows them to improve their language skills and cultural knowledge and, most importantly, gain confidence in themselves. We see the results at the end of the program — the students have changed and grown personally and professionally. We hope they carry the lessons learned in this program throughout their lives."
Joung Hee Krzic provides the necessary support to help the students adjust to American culture.
"I see them mature over the four months," she said. "They genuinely enjoy American university life even though sometimes it can be difficult, particularly in the beginning. By the end, the tears they shed are about their having to say goodbye to the friends they have made. It is very gratifying to witness and be a part of this."
Entranced by the aura of Athens
As they debriefed about their learning experience, the natural beauty of Athens was a lasting memory for many.
"I was surprised at the deer and squirrels in the university. There are many animals and nature in the university," Nakagaito said. "So I thought Ohio university is very beautiful university."
Learning about the differences between the two countries ranged from the things everyone should know, such as how to greet someone in a different culture, to the little things students noticed along the way.
"Most cars have only one license plate attached," Kishita observed.
"I was interested in that there are many events," noted Nakagaito. "It's like Easter, fashion show, drag queen show, and the skate which a group held. It makes us a lot of fun. In Japan, there are some events but it's less than the U.S."
Just as some of the Chubu students may sometime return to Athens, OHIO students can also find their way to Japan's third largest city, Nagoya, through the Chubu Exchange and Study Abroad program. The program offers courses in Japanese to students at all proficiency levels, and qualified students who successfully complete one semester of full-time Japanese study in the fall may be eligible for internship opportunities and tutorial programs in engineering, the natural sciences and the humanities during spring semeste
Read more about the long-standing relationship between Ohio University and Chubu University.