LGBT Center welcomes new and returning students to campus with exciting and inclusive fall programing
Published: August 18, 2022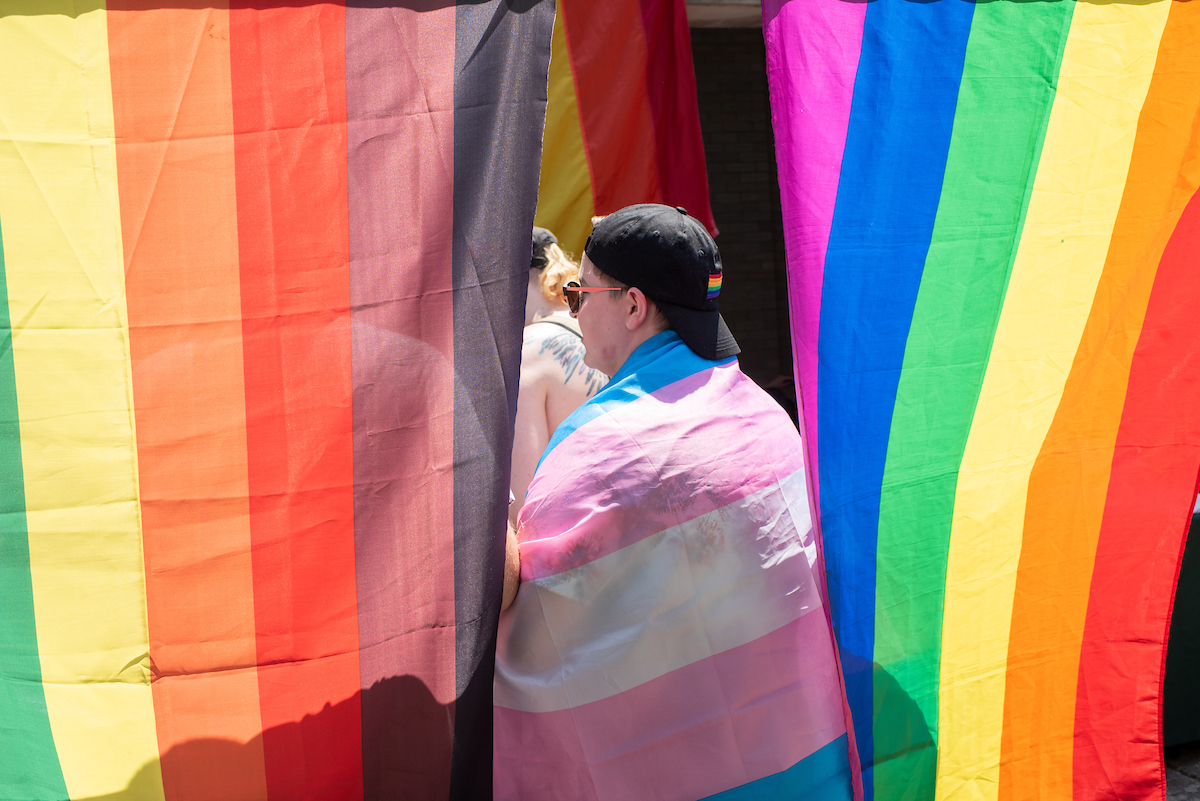 Ohio University's LGBT Center is welcoming students back this fall with programming all throughout the semester that is sure to excite and create community for new and returning students.
"LGBT Center staff members recognize the importance of providing resources to help LGBTQ+ community members navigate challenges such as 'coming out,' while also supporting students seeking professional guidance in intentionally affirming and inclusive spaces," Micah McCary, director of the LGBT Center, said.
To kick off Welcome Week, the LGBT Center will host a virtual LGBTQ+ community welcome via Microsoft Teams on Friday, Aug. 19, from 1 to 2 p.m. and from 4 to 5 p.m. to provide multiple opportunities for community connection for LGBTQIA+ community members and their allies.
On Friday, Aug. 26, from 7 to 8:30 p.m. the center will then host a Welcome Week Drag Show in the Baker Center Ballroom on the fourth floor of Baker University Center featuring headliner Silky Nutmeg Ganache from RuPaul's Drag Race, local drag performers, and LGBTQ+ affirming community messages. Following the Welcome Week Drag Show from 8:30 to 10 p.m., the LGBT Center will host an open house to introduce interested individuals to the Center's physical space in Baker Center 348.
To continue an exciting Welcome Weekend, the LGBT Center in collaboration with Out OHIO will host a family-friendly LGBTQ+ community walk-and-roll and gathering that will meet at West State Park at 11:30 a.m. Due to recent construction on the sidewalks on Union Street, a direct route to the restaurant is inaccessible to wheelchair users and people pushing strollers, so the walk-and-roll will be a loop on the bike path, and people who want to continue on to the restaurant may need to drive there. Those interested in gathering directly at Larry's Dawg House can plan to meet the walk-and-roll group at 12:30 p.m.
On Monday, August 29, from 5:30 to 6:30 p.m., there will be an A-Spec Meetup Kickoff event for people on the asexual spectrum, aromantic spectrum, or questioning whether they are a-spec. This community building opportunity will be a hybrid event with more information on the location to come. A-Spec will also host community meet ups on Sept. 26, Oct. 24, and Nov. 14, both in the LGBT Center and via Microsoft Teams.
As fall semester continues, the LGBT Center will host its first SpeakOUt panel of the academic year on Tuesday, Sept. 6, from noon to 1:30 p.m. via Microsoft Teams. SpeakOUt panels provide an opportunity for audiences to engage sexual and gender diversities via personal experiences of volunteer panelists, questions and discussions. Ohio University students, faculty, staff, as well as community members are welcome to participate, share their story and ask questions.
For those interested in learning more about the community, a LGBTQ+ 101 workshop will be held on Monday, Sept. 12, from noon to 1 p.m. via Microsoft Teams and is open to the whole community.
A LGBTQ+ Disabled/Deaf/Mad/Chronically Ill/Neurodivergent community meet-up will also be held on Monday, Sept. 12, from 5:30 to 6:30 p.m. and continue once a month for fall semester. This event will be held in the LGBT Center and on Microsoft Teams.
In honor of National Coming Out Day, the LGBT Center will host an event on Oct. 11 from 11 a.m. to 2 p.m. in the third-floor atrium in Baker University Center where students can celebrate their coming out and hear and learn from others about their experiences. Students will have the opportunity to get creative, making some crafts and buttons while getting to connect with each other and learn more about the center. From noon to 1 p.m., there will be a National Coming Out Day SpeakOUt, and from 1 to 2 p.m., an open mic for students, faculty, and staff to come and share their stories and thoughts. Both events will also take place in the atrium, as well as via Microsoft Teams.
Trans Awareness Week is from Nov. 13-19, with Transgender Day of Remembrance on Nov. 20. The LGBT Center will host a trans community SpeakOUt panel from 1 to 2 p.m. on Nov. 15 and is planning a trans community social for Nov. 19, as well as other events for throughout the week.
Throughout the fall semester, the LGBT Center will also host a coming out support group every second Tuesday of the month starting in September. The support group will meet from 2:30 to 3:30 p.m. in the LGBT Center or via Microsoft Teams for an informal discussion group facilitated by LGBT Center staff. The discussions will serve as a non-clinical space for any undergraduate or graduate student seeking support during their process of coming out and communicating their identity to others. Those participating in the group are expected to maintain confidentiality and respect. Consistent monthly participating is encouraged but not required and students who are unavailable during the monthly meeting team but interested in seeking support can contact the LGBT Center to connect with alternative resources.
In addition to the coming out support group, a personal and professional development support group will also be held throughout fall semester starting in September. This support group, which will meet the second Thursday every month from 4 to 5 p.m. (either in person in the LGBT Center or via Microsoft Teams), focuses on providing space for LGBTQ+ faculty, staff, and students to gather for supportive discussions about their personal and professional development. Participants are encouraged to come discuss their aspirations, challenges, and support needs so that LGBT Center staff and other group participants can help share resources and networking opportunities.
A formal clinical support group for transgender community members, Spectrum, is also offered by Counseling and Psychological Services (CPS) and will meet Wednesdays from 3 to 4:30 p.m. during fall semester. Those interested in participating in Spectrum should reach out to CPS at counseling.services@ohio.edu.  
Students are encouraged to visit the LGBT Center's physical space from 8 a.m. to 5 p.m. any weekday that the University is open. The center's staff works to maintain a welcoming and inclusive environment where visitors can make new friends, borrow books, help themselves to free clothing, participate in educational discussions, and more.
To make a gift to the LGBT Center Pride Fund, visit https://ohio.scalefunder.com/amb/LGBT or contact The Ohio University Foundation at 800-592-FUND or giving@ohio.edu. Checks may be made payable to The Ohio University Foundation (be sure to write LGBT Center Pride Fund in the notes section) and sent to the Foundation at P.O. Box 869, Athens, Ohio 45701.