Unexpected career in horse racing media has been like winning the Triple Crown for Terrence Theetge
Published: August 10, 2022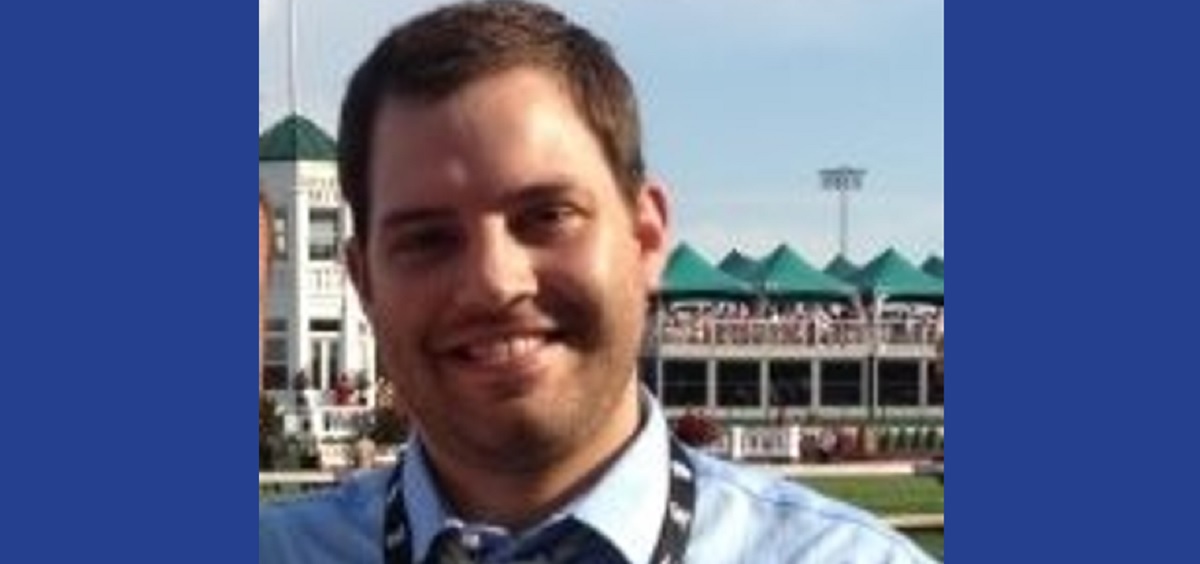 Most of the time when students come to Ohio University to study sports broadcasting or media, they think their career will allow them to cover their favorite football, basketball and baseball teams. And that's what Terrence Theetge thought when he came to Athens from Cincinnati, Ohio in 2002.
"When I was graduating from high school, I knew I wanted to major in journalism and cover sports, and OHIO has a spectacular program. But I wasn't sure if I would get in, so I applied to a couple of other schools," said Theetge. "My mom went with me on a visit to Athens, and before we got there, she told me she thought it was too far away. But after the visit, on the way home, she said, 'If you get in there, you are going there.' She was blown away by campus, the tour, and the journalism program. She fell in love with it just as much as I did."
During his freshman year, Theetge started working on WOUB's Gridiron Glory, a half-hour weekly high school football show.
"The best part about Gridiron and WOUB was that as a freshman, you could really get involved," said Theetge. "By the second week, I was taking phone calls for scores and typing in the score ticker. By the third, I was writing up highlights for some of the smaller games in the region, and my responsibilities grew from there."
Theetge worked on Gridiron Glory each year he was studying at Ohio University, eventually working as a reporter and producing the show.
"One of my favorite memories from Gridiron was when we produced the show live on site from Nelsonville York High School," said Theetge. "It was such a great memory, producing a live remote show when I was 22 years old. The resources that WOUB gives you to do things like that are pretty incredible."
Theetge also got involved in the WOUB newsroom working in the sports department, producing, anchoring and reporting for NewsWatch.
"What really stood out to me at WOUB was the collaborative effort. It was not a one-person opportunity, all the students and professional staff worked together to get it done," said Theetge. "Because everyone was so busy with school and other extra curriculars, you had to rely on each other to make Gridiron and NewsWatch happen. Even if you weren't on the air that night, you were willing to go to the station and do something to help because you wanted the show to go well."
After Theetge graduated in 2006, a fellow WOUB student who had already graduated called him with an opportunity.
"He told me that he could get me a job, if I was willing to move to Los Angeles," said Theetge.
The job was in television sports, but not the kind of sports Theetge was expecting. The job was at Horse Racing Television (HRTV).
"He said that he knew the job and Los Angeles seemed far away and intimidating, but he told me that because of Ohio University and WOUB, I already knew TV and how to produce a TV show, and he could teach me about horse racing."
Two weeks later, Theetge left Ohio for LA to work at HRTV. He started as a production assistant and worked his way up to a lead producer during his seven years there. Theetge was involved in producing live TV coverage of horse racing around the country.
In 2011, Theetge decided it was time to move closer to home and possibly change his career. Originally, he planned to go back to college to study finance, so he moved to Chicago and enrolled at DePaul University. But, after a couple of semesters, Theetge realized this wasn't the right path for him. He moved home to Cincinnati and got a job back in television working at WKRC writing and producing stories for the website and managing social media. But horse racing wasn't done with Theetge yet.
"I had been working at WKRC for about three and half years when I got the call from a former co-worker at HRTV," said Theetge. "She told me that she was involved in producing a horse racing show in New York and wanted to know if I was interested in being a part of it."
At first, Theetge said no. He was just about to get married and had a life in Cincinnati. But his fiancé convinced him to take the job with the New York Racing Association. Now Theetge works about three months out of the year in New York and spends the rest of his time working from Cincinnati. He works on the TV production of races in New York, as well as places like the famous Churchill Downs.
"I produce live television coverage on Fox Sports for the New York Racing Association at Belmont, Saratoga and Aqueduct," said Theetge. "We produce The Travers Stakes, which has the same horses that run in the Kentucky Derby, and it has been broadcast on the Fox national network for the last three years."
Even though it's something he never thought he would have an interest in, Theetge now says he loves horse racing more than he ever thought possible.
"Don't be afraid to take an opportunity that is uncomfortable or unfamiliar to you. I took a chance, and it led to a career that's been outstanding to me," said Theetge. "The preparation I received at WOUB, without a doubt, gave me the confidence to do any role asked of me and the versatility to do that. At WOUB, students can do anything they want and taking advantage of that put me where I am today."
To learn more about WOUB, visit woub.org.