Voinovich School partners with PORTSfuture Program to engage young learners in STEM-based experiences
Published: August 25, 2022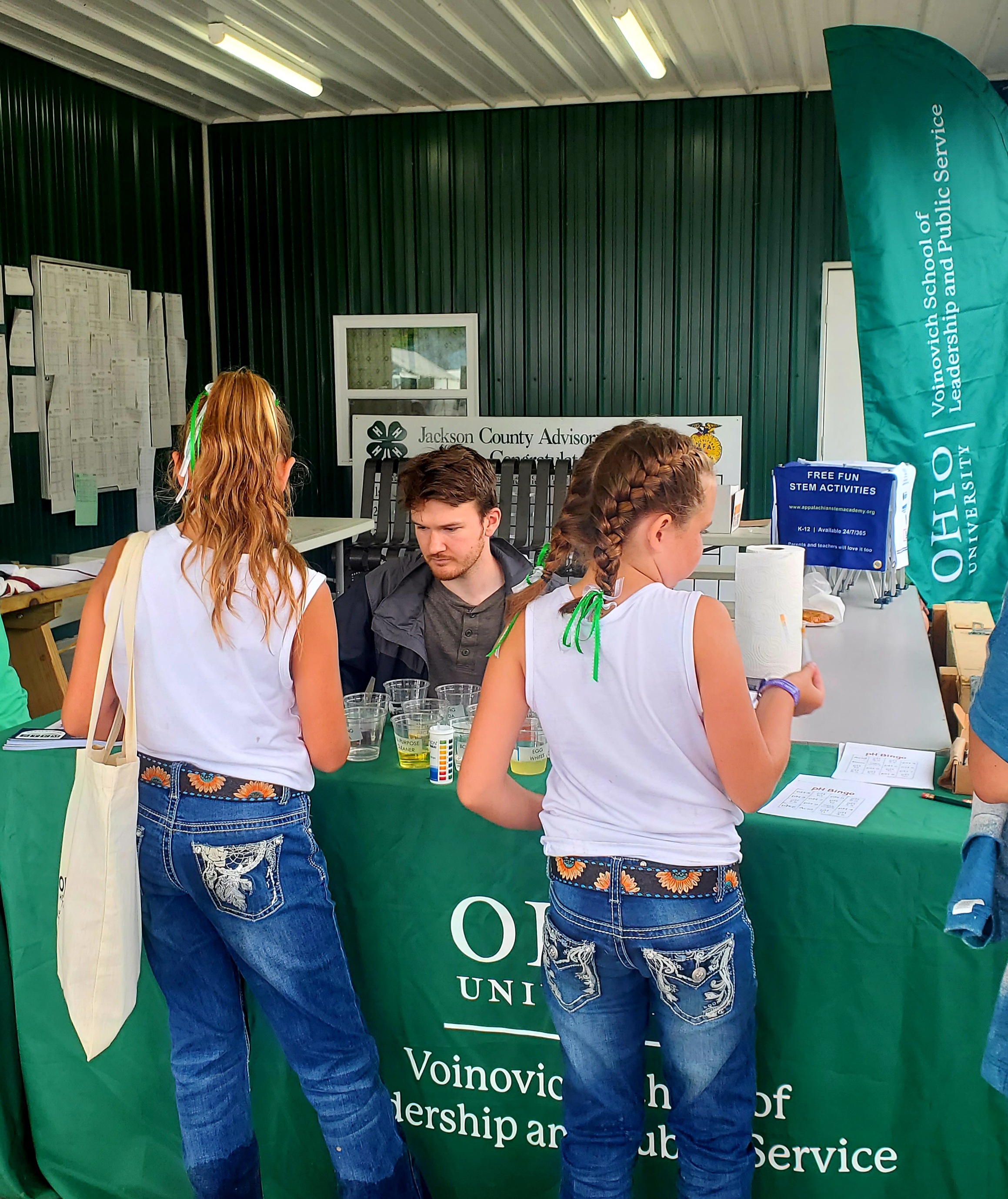 Storm water displays can create residential storm water pollution scenarios by activating rain simulations and showing the results of mitigation and non-mitigation pollution prevention strategies.
When young learners see this in person, they can begin to understand how simple at-home mitigation techniques such as using rain barrels, washing cars on pavement rather than grass, and cleaning up yard waste can help reduce residential storm water pollution.
That's just one way Ohio University's Voinovich School of Leadership and Public Service shows Ohio's young learners the power of science through STEM-based learning. Thanks to a grant from the PORTSfuture Program, the Voinovich School hosts a variety of youth outreach activities.
Over summer, Ohio University staff and students hosted Summer STEM Days for regional youth in Jackson and Pike counties to learn the importance of water quality and residential stormwater pollution mitigation. 
"The regional youth really love the interactive nature of science-based learning," said Nichole Mazzone, environmental specialist at the Voinovich School. "It gives them the opportunity to engage in a way that offers confidence in educational development."
Mazzone, Nora Sullivan, Sebastian Teas, and Tatiana Burkett led fair-goers in many hands-on activities that included a fun, interactive "pH Bingo" game that teaches the pH scale and how it affects water quality. The game uses pH strips to test a variety of common acidic or alkaline household substances. 
These events were funded by a collaboration between Ohio University's Voinovich School of Leadership and Public Service and the School's PORTSfuture grant, which is funded by the US Department of Energy Office of Environmental Management Portsmouth/Paducah Project Office.  
The PORTSfuture Program is developing additional offerings that will increase hands-on STEM learning in the coming academic year and expanding partnerships with the Appalachian STEM Enrichment Academy, the Ohio STEM Learning Network Southeast Ohio hub, the AEP Ohio Fund of the Columbus Foundation, and US DOE site contractor Fluor BWXT. 
Learn more about the PORTSfuture program here.