OHIO media students gain experience in live music production through Nelsonville Music Festival
Published: September 22, 2022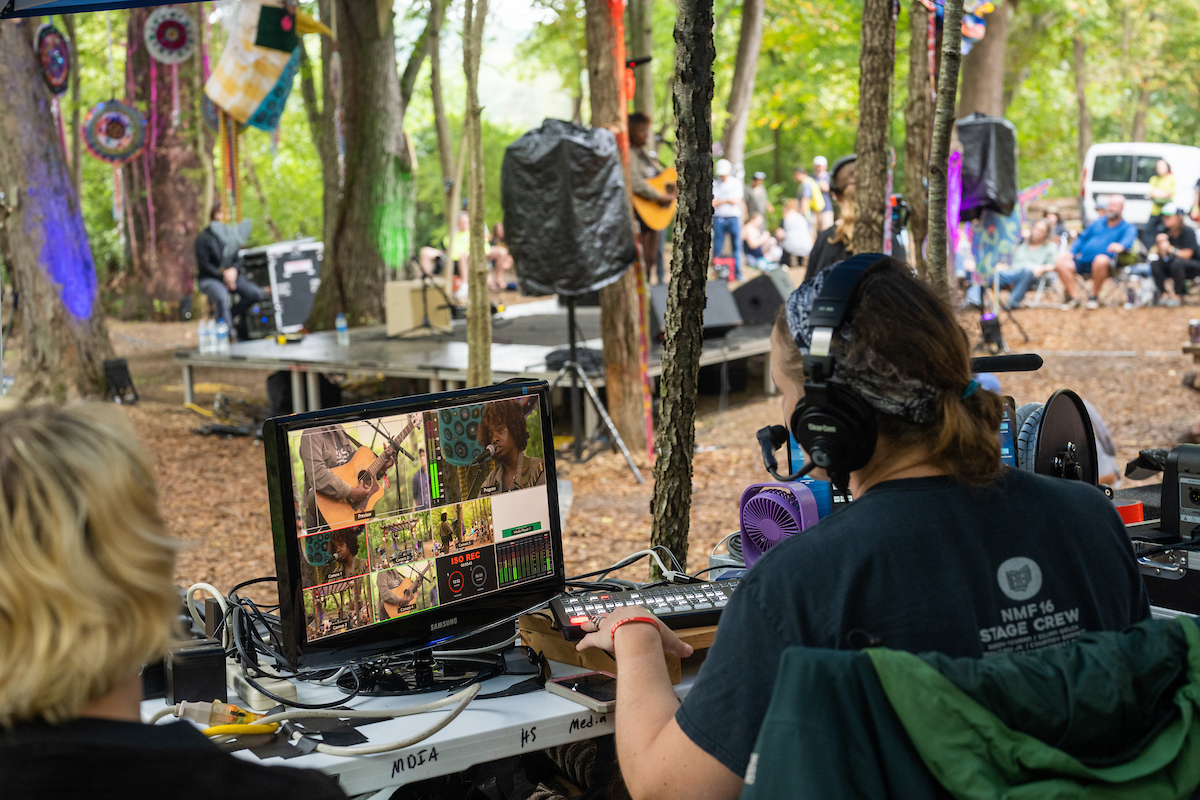 Music, mud, and memories encapsulate this year's Nelsonville Music Festival, but for 27 media students, the festival provided much more than just that.
They gained insight into what it is like to produce a major live music event right in their own backyard, an experience that few college students may get the chance to participate in and one that will allow them to add new skills and portfolio pieces to help them achieve their goals.
The Nelsonville Music Festival, or NMF, is an annual music festival that brings in artists from the region, as well as top headliners and Grammy-nominated artists to perform for three days. This year the festival returned live in a beautiful new venue in Buchtel, Ohio, after a two-year hiatus due to COVID.
Over the last eight years, OHIO media director Josh Antonuccio and a team from WOUB Public Media have collaborated with NMF and Stuart's Opera House to bring in over 80 students to help work the festival and gain real-life experience producing live music performance and interview sessions. During the three days, students learned how to film each artists' set, work on stage management, oversee artist relations, record performances, and overall learn about the ins and outs of producing a live event.
"This partnership with NMF and Stuart's Opera House creates an access point to allow students to have real tactile experience on-site and see the high-pressure environment they could be working in," Antonuccio explained. "They learn how to work with different people and interface with leadership and artists directly, manage and prepare the stage, research, and do technical direction – everything that is needed to produce a live music event. This experience provides students with resume-ready experience and learning opportunities where they are working with established and rising artists and get to produce on a number of levels."
For NMF, four stages were set up to showcase the different artists all day and evening, with one stage, the Creekside Stage, specifically dedicated to allowing OHIO students to learn and produce their work on that stage.
"This is a great opportunity for students to get practical experience outside the classroom," Andie Walla, an associate professor of instruction in the School of Media and one of the faculty members who helped work on NMF, said. "What better way to gain this experience than through working a live music festival. This experience is really unique to students, especially those going into multicamera work, because it allows you to see the stress of working a live event and for a lot of students it's a sink or swim moment. It's a safe way to experience this type of work an educational setting and see if it's something that they want to continue."
Although Walla has previously worked with students in producing and directing the video production at NMF, as well as helped with the virtual NMF festival last year, this was her first time working with a team of students on the "Snowfork Sessions." She led 16 undergraduate students and one graduate student on multicamera producing, directing them on the cameras and allowing them to take turns technical directing, switching cameras and editing live.
"Just learning how to set up and tear down and how to be prepared for the external obstacles that can come from a live event is such valuable knowledge for these students," Walla added. "Learning how to focus and take direction and why you shoot things in multicamera, and how to effectively communicate over headset are all great skills to have when going into this industry so being able to offer a variety of things for them to learn and work on is really helpful for them."
Their work isn't done once the festival is over, though. Following the festival, Antonuccio, Walla, and their students partner with WOUB to distribute videos of numerous performances out to the general public on WOUB's platform through the Snowfork Sessions, formerly known as the Gladden House Sessions. Similar to NPR's "Tiny Desk Concerts" and named after the location in which the festival takes place, the Snowfork Sessions are shot live during the festival, then edited together in post-production to create a video for viewers to watch of the performance. This year's Snowfork Sessions consist of 14 episodes that will be aired on WOUB in the following weeks.
"Participating in the Snowfork Sessions provided me with experience in live video production that I didn't think I could get while in college," Dana Copeland, a junior Media Arts Production major from Columbus, said. "While some video production is scripted before it is shot, other projects are simply captured in the moment, like live music. Snowfork gave me the opportunity to capture unscripted performances, which is a skill I hope to utilize in my future career."
Since the inception of the series in 2014, Antonuccio and a team comprised of WOUB staff members Adam Rich and Emily Votaw, Scripps College of Communication students, as well as other OHIO faculty members, have now produced six seasons of the sessions; over 90 episodes have accumulated nearly three million views. In 2019, the series was nominated for a regional Emmy.
"Students get to apply everything they've been learning to actual projects and those projects then become available for them to use as part of their own portfolio. Every student gets credit in the production, so if they apply for jobs or internships, they have production experience already working on a major music festival," Antonuccio said. "It's impressive to have this type of experience where the work you've done has a million views and has been nationally distributed. Plus, it's always enjoyable to see the response and attraction from audiences."
Seth Rhodes, a junior music production and recording industry major from Ashland, Ohio, found that over the course of the three days, he picked up new skills he never would have imagined this early on in his career.
"Working sound at Nelsonville Music Fest was my first real live music experience, and it taught me a lot of important things about the workflow of it all. I think it was a great first step into the live industry, and the music was great too," Rhodes said. "I learned a lot of new things from NMF, but I think the most important was just how to work efficiently under pressure. It can get stressful having a new band setup and tear down almost every hour to play their set, but by the end of the weekend my classmates and I had gotten the hang of it."
To have the opportunity to work on NMF, students had to sign up for one of two classes associated with working at the festival. The first was overseen by Walla, focusing on multicamera production and video editing, while the other centered on audio production, stage management and event planning, as well as areas of publicity and booking. The second class was made possible through the help of Lindsey Rudibaugh, Executive Director of Experiential Learning, and was created to have an engaged experiential learning component included, aligning with the festival schedule to provide an exclusive opportunity to learn both live event production and postproduction.
"Experiential learning is most powerful when it happens in authentic settings, with real stakeholders in interdisciplinary settings," Rudibaugh said. "Josh Antonuccio is masterful at connecting students from multiple disciplines to industry, both in our home community of Southeast Ohio and with media giants around the country. Students undoubtedly left the Snowfork Sessions with new skills, an expanded professional network, and great Bobcat stories to tell. My team is ecstatic to play a role in supporting this and many other transformative OHIO experiences, especially those that partner with local treasures like the Nelsonville Music Festival."
Walla added that several alumni who started their work as students at NMF have now gone on to work in the live event industry, some directly touring with bands, and that it is the hope of faculty in the School of Media that the students who participated in NMF get to utilize their experience in the same way someday.