From press box to pressing send, graduate student tells OHIO Athletics stories digitally
Published: November 30, 2022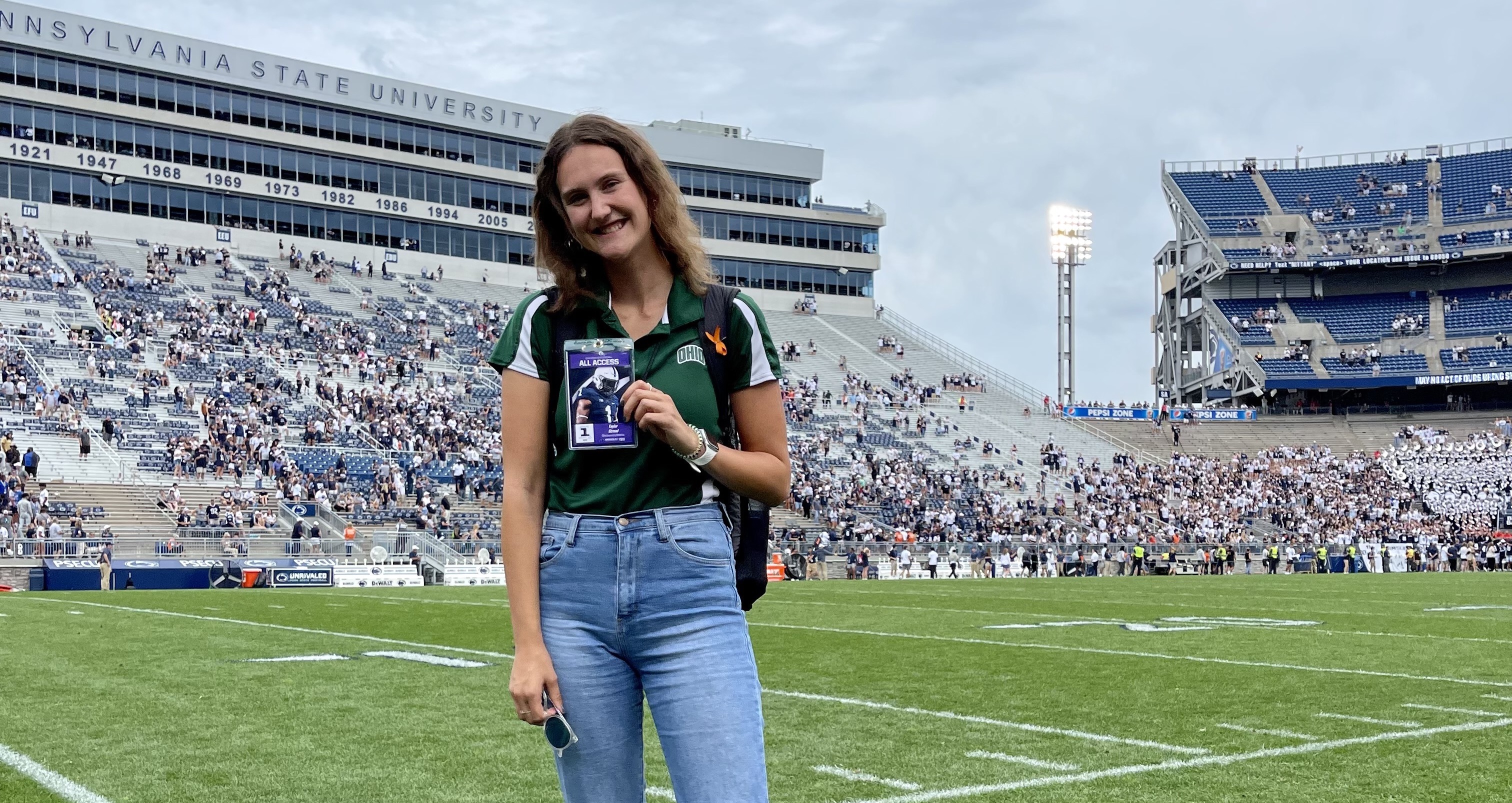 When journalism graduate student Taylor Strnad was searching for a job at Ohio University, she knew she wanted to do something involving athletics. Little did she know how integral she would soon become to the Ohio University Athletics Department.  
The Cleveland native has always had a passion for sports. During her undergraduate career, Strnad was a collegiate athlete for the University of Indianapolis' track and field team while studying communication and psychology with an emphasis in public relations.
As an athlete herself, Strnad thrives off the environment of comradery and excitement that sports provides.
"It's made my transition out of being an athlete so much easier," Strnad said of her role. "Getting to travel with teams and getting to interact with them for social posts has been fun!"
Though a graduate assistant position is not required of her program in the Scripps College of Communication, Strnad has used the role as assistant coordinator of digital strategy in athletics to elevate her career and gain tangible experience in the sports world.
"As a GA [graduate assistant] in the athletics department, I feel like my position is unique compared to other GAs," she acknowledged. "I get to travel a lot with the teams, almost every weekend I'm somewhere else. I also really enjoy my job. My boss gives me a lot of creative freedom and opportunities to try new things on social."
She helps run the OHIO Athletic Department's 15 social media accounts, and everything that goes along with content creation – designing graphics, sending tweets, making TikToks, writing copy – to name a few. She also works attentively in the press box during football and basketball season to update in-game web and video content.
Strnad manages six undergraduate students to help her accomplish all of this and provide support to all the Ohio University athletics teams.
"I hope to impact the undergraduate students that work underneath me," Strnad said. "I really try my best to help them and teach them new things— whether it be things on Photoshop or just tips and tricks for doing social media for an athletics account."
 
Things move fast in sports – Strnad is constantly travelling to new cities, staying up late in hotel rooms creating and editing content, and preparing for various outcomes – all while working as a student.
"To stay organized, I've learned to stay adaptable," she said. "Things change so fast."
Preparing for instantaneous outcomes is crucial in the world of athletics. Fans looking for live updates often go to teams' social media pages for information.
She described hurrying to create and post the victory graphic on a drive home from a road win against the Bobcats' archrival, Miami University.
"If we don't get the winning graphic out immediately, it doesn't get as much engagement," Strnad noted. 
As she prepares to travel to Detroit this weekend for the impending MAC Football Championship Game where the Bobcats will face the Toledo Rockets, Strnad reflected on one of her most exciting experiences in her role so far:
"One of the most memorable moments in my role so far is going to the MAC Championship for men's basketball in March," she said. "That was my first really big event I went to, and it was a lot of fun."
Surely, the football championship game will soon be added to that list. Strnad will be working behind the scenes live-tweeting and sending updates to Bobcats eagerly tuning in from Athens as the football team will try to win their first MAC Championship since 1968.
While it will be another busy weekend for Strnad, at the end of the day, she's excited for another opportunity to share moments from the game with students, faculty, staff, alumni and all of Bobcat nation tuning in — win or lose.
"You get to think about the way you want to tell the story."